Microsoft Dynamics 365 Business Central (formerly NAV) is Microsoft's latest Enterprise Resource Planning (ERP) offering for SMEs. First announced in 2017 as Dynamics 365 'Tenerife', and released in October 2018 as Business Central, the ERP solution is being used by countless businesses worldwide across a wide range of industries. While the solution was first released in October 2018, the platform is continually being updated with new capabilities and compliance to new regulations such as GDPR & Making Tax Digital.   
What is Microsoft Dynamics 365 Business Central? 
Microsoft Dynamics 365 Business Central brings the full power of Microsoft Dynamics NAV to the cloud.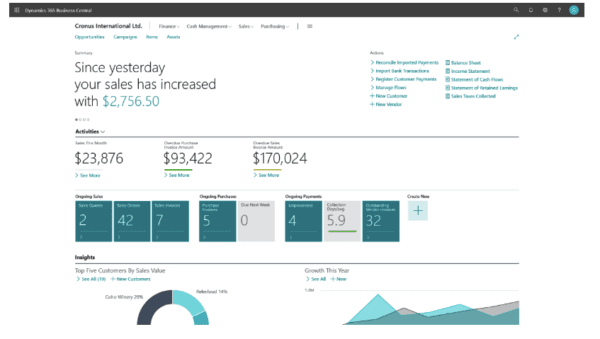 Microsoft Dynamics 365 Business Central is a cloud-based, all-in-one business management solution which enables customers to upgrade from their entry-level accounting software or legacy ERP system to one single, comprehensive solution to manage finances, operations, sales, and customer service. Helping organisations streamline their processes, improve customer relations, and enable growth through: 
Business without silos

– connecting businesses and boosting efficiency with automated tasks and workflows, all within the familiar Microsoft interface of applications such as Word, Outlook and Excel.

 

Actionable insights

– achieving more and gaining a complete view of the business with connected data, business analytics and guidance delivered by Microsoft's leading intelligent technologies.

 

Solutions built to evolve

– get started quickly, growing and adapting in real time with a flexible platform that makes it easy to extend beyond Business Central based on evolving business needs.

 
Notable changes for Business Central

 
Refreshed Desktop Experience 
One of the most noticeable changes when using Business Central is the refreshed desktop experience. The new UI helps users accelerate their productivity, with an improved layout which maximises screen space, allowing for easier navigation throughout the entire application. The back button is prominently displayed in the top left of the window with dynamic system commands occupying the middle section. Role centres can be customised to specific roles, only displaying the relevant and necessary functions.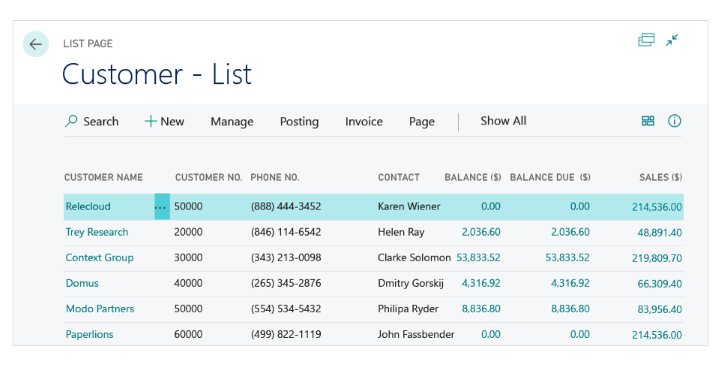 Available Everywhere
Microsoft Dynamics 365 Business Central is now available for on-premises, hybrid and cloud deployments. Users can connect to Business Central via the Universal Windows App, a web-based client, or mobile and tablet apps available for iOS, Android and Windows devices.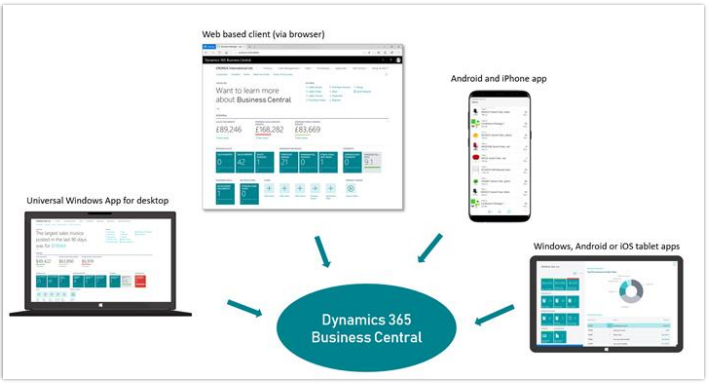 Tell Me
The Tell Me feature is an evolution of the capability to search for pages or reports, helping users find what they need more quickly and with fewer clicks. The window now also includes actions from the current page which can be immediately activated as well as online help content.
Filtering
A new filtering pane is available on the side of pages where lists represent the primary content, such as worksheets. This functionality allows you to easily apply multiple predefined or custom filters to your lists, which will be retained as you navigate across multiple pages.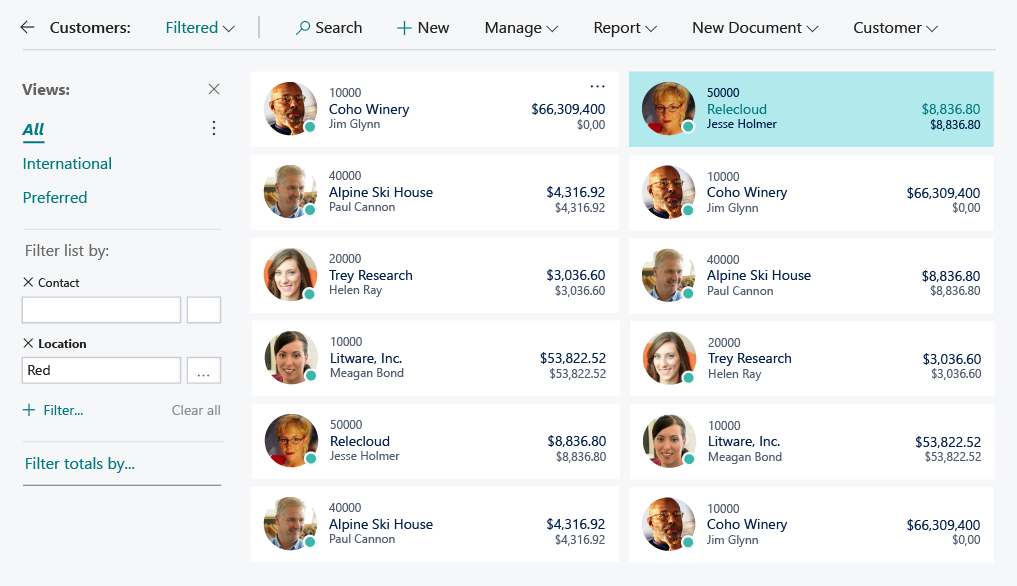 Copy & Paste rows
This new feature improves efficiency when working with data, allowing users to copy and paste rows into the same list or similar lists within Business Central. Alternatively, users can copy and paste rows from Business Central into Microsoft Excel or, vice-versa, copying data from Excel and pasting it into Business Central.
Enhanced Power BI embedded experience
Enhanced functionality allows for a more seamless connection between Microsoft Power BI and Business Central. Improvements include automatic deployment of Power BI reports in Business Central from the moment you first sign in. Without ever leaving Business Central, reports can also be customised and managed, including filtering, slicing and drilling through the data.
Changing permission sets
Every business works differently and the roles within organisations have different responsibilities. In Dynamics 365 Business Central, Permission sets are customisable, allowing users to add, delete and modify them to match businesses requirements.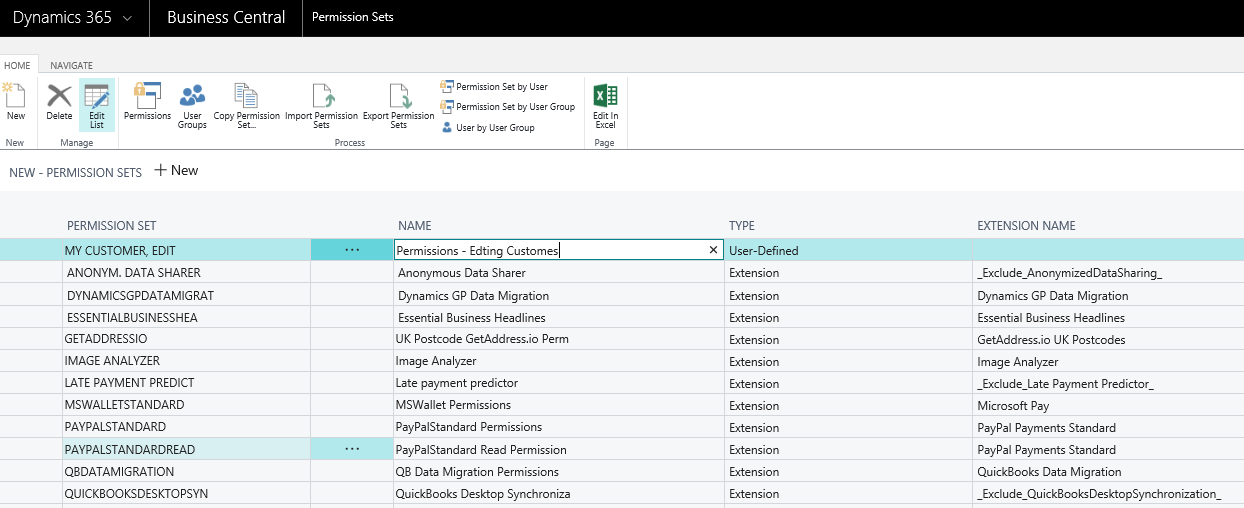 Integration
Microsoft's intelligent edge leverages solutions such as PowerApps, Power BI and Power Automate, as well as Machine Learning and AI to provide insight and actionable messages to help you run your business more efficiently. As a Microsoft application, you get seamless integration to Microsoft 365 productivity tools such as Outlook and Excel. Business Central can also work alongside other Dynamics 365 applications to add additional functionality across different departments. 
Customisations as Extensions
Standard functionality occasionally does not fully fit a businesses requirements, so customisations are required for the system. With Business Central, your customisations and third-party solutions are added as extensions, making them separate from the source code. This means future updates and upgrades to the system are seamless. You can see the extensions available for Business Central on AppSource.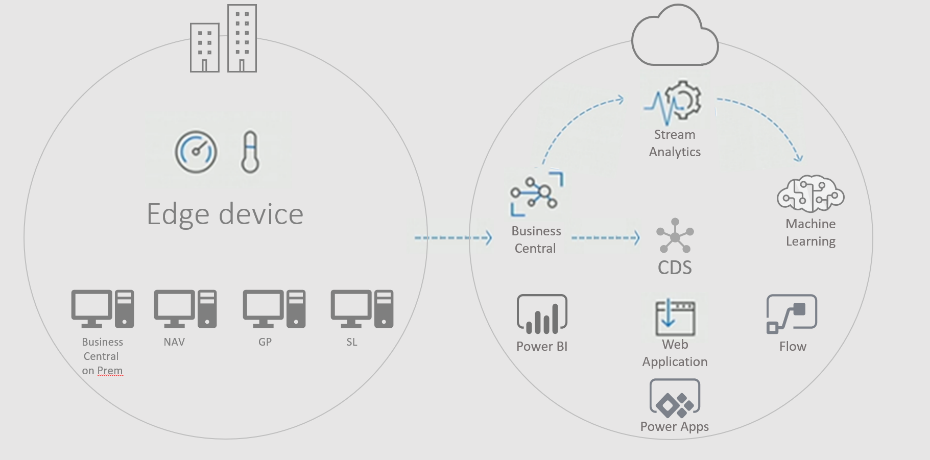 Where is Microsoft Dynamics 365 Business Central available?
Microsoft Dynamics 365 Business Central was released for general availability (GA) as a SaaS solution on April 2nd, 2018. On October 1st, 2018, Business Central was released with on-premises and hybrid deployment options. Business Central is sold through Microsoft's network of Cloud Solution Providers (including Mercurius IT) in over 100 countries worldwide. 
How can Microsoft Dynamics 365 Business Central be hosted?
Microsoft Dynamics 365 Business Central is primarily built for Cloud deployments, but Microsoft have made it so businesses can deploy the solution via: 
Cloud | On-premises | Software as a Service (SaaS) | Hybrid  
See more information about the deployment options available for Business Central  
How much does Microsoft Dynamics 365 Business Central cost?
Microsoft Dynamics 365 Business Central is available at two price points: Essentials and Premium. Licenses for Business Central Essentials cost from £52.80 per user/month, whilst Business Central Premium costs from £75.40 per user/month. 
All users in a tenancy must have the same license type, businesses are not able to mix and match Essentials & Premium licenses. 
It is also important to note that all Business Central licenses are named licenses. This differs from the concurrent license model which Dynamics NAV used previously. Named licenses are tied to individual users, meaning businesses must purchase a license for each user they wish to access the software.  
Microsoft Dynamics 365 Business Central has 3 licensing options available: Essentials, Premium & Team Member.  
License functionality: 
Essentials
Microsoft Dynamics 365 Business Central Essentials includes the following functionality: 
Financial Management – general ledger, workflows and audit trails, bank management, budgets, deferrals, bank reconciliation, dimensions, fixed assets and currencies.
Customer Relational Management – contacts, campaigns, opportunity management and built-in integration with Dynamics 365 for Sales.
Supply Chain Management – sales order management, basic receivables, purchase order management, locations, item transfers, and basic warehousing.
Human Resources – employees and expense management.
Project Management – resources, estimates, jobs and time sheets.
Other – multiple languages, reason codes, extended text, Intrastat reporting, scheduled tasks and Outlook integration.
This emulates the functionality of the Microsoft Dynamics NAV 2018 Starter Pack. 
Premium
Microsoft Dynamics 365 Business Central Premium includes the above functionality, plus: 
Service Order Management – service orders, service price management, service item management, service contract management, planning and dispatching. 
Manufacturing – production orders, version management, agile manufacturing, basic supply planning, demand forecasting, capacity planning, machine centres and finite loading. 
This emulates the functionality of the Microsoft Dynamics NAV 2018 Extended Pack. 
Team member

 
Team Member licenses will be available at £6 per user/month and will allow users to:
Read all tables across the application
Approve workflow instances
Edit purchase and sales quotes
Edit timesheets and personal information
Update existing financial entries
For a more detailed list of functionality, download our Microsoft Dynamics 365 Business Central Capabilities Guide.
What is the future of Microsoft Dynamics 365 Business Central?
Each year since its release, Microsoft Dynamics 365 Business Central has received bi-annual updates, in February and October. These updates are developed to improve the performance of the solution, provide new capabilities, enable users to be more productive, and more.  
You can see the full list of upcoming features for Business Central in Release Wave 2 in our blog post, or watch the on-demand webinar! 
How can I implement Microsoft Dynamics 365 Business Central to my business?
The best way to get started with implementing Microsoft Dynamics 365 Business Central is to book in a chat with a partner like us at Mercurius IT. We can look into your current systems, processes, and requirements to see how we can best suit your needs with Business Central.  
For new customers of Dynamics 365, Microsoft currently has a 16.67% discount available when licensing Dynamics 365 & Power Platform products. See more