A time-tested method for outstanding results
Introduction
When delivering a tailored solution for your business, we focus on minimising risk, cost, and time. Our implementation approach is based on the best practice Microsoft Dynamics Sure Step Methodology.
Sure Step is an end-to-end customer lifecycle designed for implementing the Dynamics product and it has built on many years of experience to ensure the successful completion of projects.
Phases of the Sure Step methodology
Diagnostic Work alongside the customer to determine the right solution and develop a thorough understanding of solution requirements.
Analysis – Define the required activities to initiate and effectively plan the entire project.
Design – Configure the overall Microsoft Dynamics solution and design specific customizations needed to satisfy business requirements identified during the Analysis phase.
Development – Build and test the system components defined and approved in the design specifications, including developing the customizations, integrations and interfaces and data migration processes.
Deployment – All the efforts of the project team come together for a successful transition to the new Microsoft Dynamics solution. Key activities in this phase include End User Training, User Acceptance Testing, and the actual cutover to the new or upgraded production environment.
Operation – Define the activities required to close the project, provide post-production support, and transition the solution and knowledge to the customer.
The Benefits of Sure Step
Faster Implementation Time – The Sure Step model provides tools, templates, and best practices that cover all aspects of projects to increase consistency, timeframes, quality, and success of projects.
Repeatable Model – Sure Step is a flexible and repeatable model which can fit any business or project type, this assures customers you're using the same consistent approach and following the correct procedures during a Dynamics integration.
Increased Customer Satisfaction – Sure Step allows for faster project completion with minimal risk and a lower total cost of ownership (TCO), which can all lead to increased customer satisfaction.
Resources – Sure Step provides a standard set of tools and templates which can be used to guide through the implementation process and help ensure customers' projects are completed efficiently. The methodology can be applied to projects of any size and in any industry, as well as working with multiple project types, helping fit unique business requirements.
Methodology Content – A flow of implementation activities that lead from the initial business diagnosis through implementation and handoff to operations.
Tools and Templates – Documents and resources help guide the project activity and system configuration for the end-to-end implementation process. Documents can be filtered and searched for to provide you with only the relevant content you need. 
The Sure Step Client – The Sure Step Client provides a fully interactive application with a large selection of documents and templates which can be adapted to unique requirements. Projects can be created within the application with prescribed templates based on your choice of solution, product and project type.
Community Resources – Links to other resources available in the Microsoft Dynamics community.
Suitable Dynamics Solutions
The Dynamics Sure Step Methodology covers the following products:
Microsoft Dynamics Business Central
Microsoft Dynamics NAV
Microsoft Dynamics CRM
Suitable Project Types
Whilst Microsoft Sure Step is primarily a Waterfall project execution methodology, we have adapted this in conjunction with Agile to give customers the best of both worlds. 
Sure Step provides the relevant documents to fit each project type. These offer guidance at specific industry levels, including manufacturing, public sector, retail and service.
Standard – The Standard project type can be used for implementing Microsoft Dynamics solutions at a single site requiring specific features and moderate-to-complex customisations.
Rapid – The Rapid project type can be used for implementing Microsoft Dynamics solutions in situations characterised by a limited scope, where the basic application features are desired and/or where the majority of the customer's business processes are not considered as complex.
Enterprise – The Enterprise project type is a standardised approach for implementing Microsoft Dynamics solutions in complex single-site deployments, or in global/multi-site organisations where unique business needs have to be factored on top of a core solution.
Agile – The Agile Project Type represents an iterative approach to implementing Microsoft Dynamics Solutions at a single site requiring specific features and moderate-to-complex customisations. This project type gives customers greater control over the final solution because they can quickly change the direction of solution development and implementation from one sprint cycle to the next.
Upgrade – The approach to progress an existing Microsoft Dynamics solution to a subsequent release of that solution.
Delivering projects remotely with AnyShore 
With Mercurius IT, remote delivery and support is guaranteed. A blended model enables our onshore and offshore teams to complete projects according to your needs from concept to implementation and support.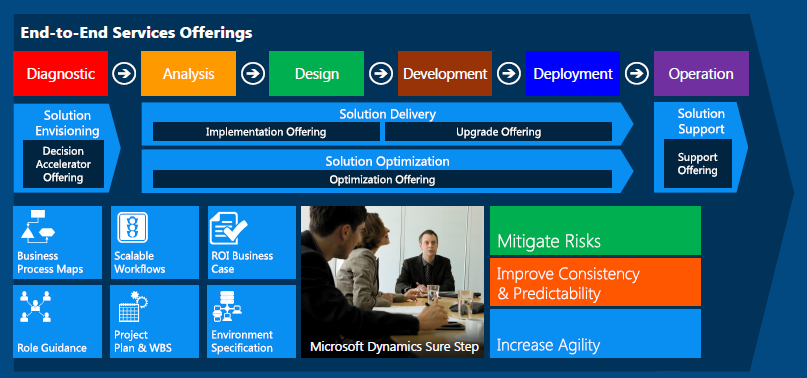 Tap or Click on the image to enlarge.
Get in touch with our team
Mercurius IT provided very competitive onshore and offshore rates for our Dynamics NAV implementation. In addition, they demonstrated flexibility and resourcefulness in order to meet our short implementation deadline successfully. Their functional consultants possess a high level of expertise in the product and were willing to go the extra mile to handhold our Finance team during the implementation.
Not only did Mercurius beat our existing partner's quote by a significant margin, they did it at a fixed price - removing our commercial risk.
In the end, they guided us carefully through the process and also implemented some great improvements to our business using the new features.
The upgrade of NAV went perfectly thanks to the support of the Mercurius IT team present on our site. The numerous tests and various problems were resolved quickly in accordance with the announced schedule.