An efficient and comprehensive ERP (Enterprise Resource Planning) solution is crucial in today's business Landscape.
Microsoft Dynamics 365 Business Central, the evolution of Dynamics NAV, has emerged as a powerful contender in the ERP market. However, choosing the right licensing plan for your organisation can be daunting.
The decision between Business Central Essentials and Business Central Premium hinges on various factors, including your company's size, industry, and specific needs.
In this blog post, we'll delve into the key differences between these plans to help you make an informed decision.
Understanding Dynamics 365 Business Central
Before we delve into the differences between both plans, let's briefly examine what Dynamics 365 Business Central is and why it's become a go-to choice for businesses seeking an ERP solution.
Dynamics 365 Business Central is a cloud-based, all-in-one business management solution to simplify your organisation's processes.
It offers a unified finance, operations, sales, and customer service platform, making managing your business' critical functions easier.
Built on the solid foundation of Dynamics NAV, Business Central combines the flexibility of an on-premises solution with the advantages of a cloud-based system.
Dynamics 365 Business Central Licensing Options
Regarding licensing Business Central, Microsoft offers two primary options: Essentials and Premium.
Both plans cater to different business requirements, offering varying levels of functionality and pricing.
Make an Informed Decision with a Indicative Proposal
Unlock the power of Dynamics Business Central; Simplify operations and Accelerate growth. Request a tailored quote for Microsoft Dynamics 365 Business Central now!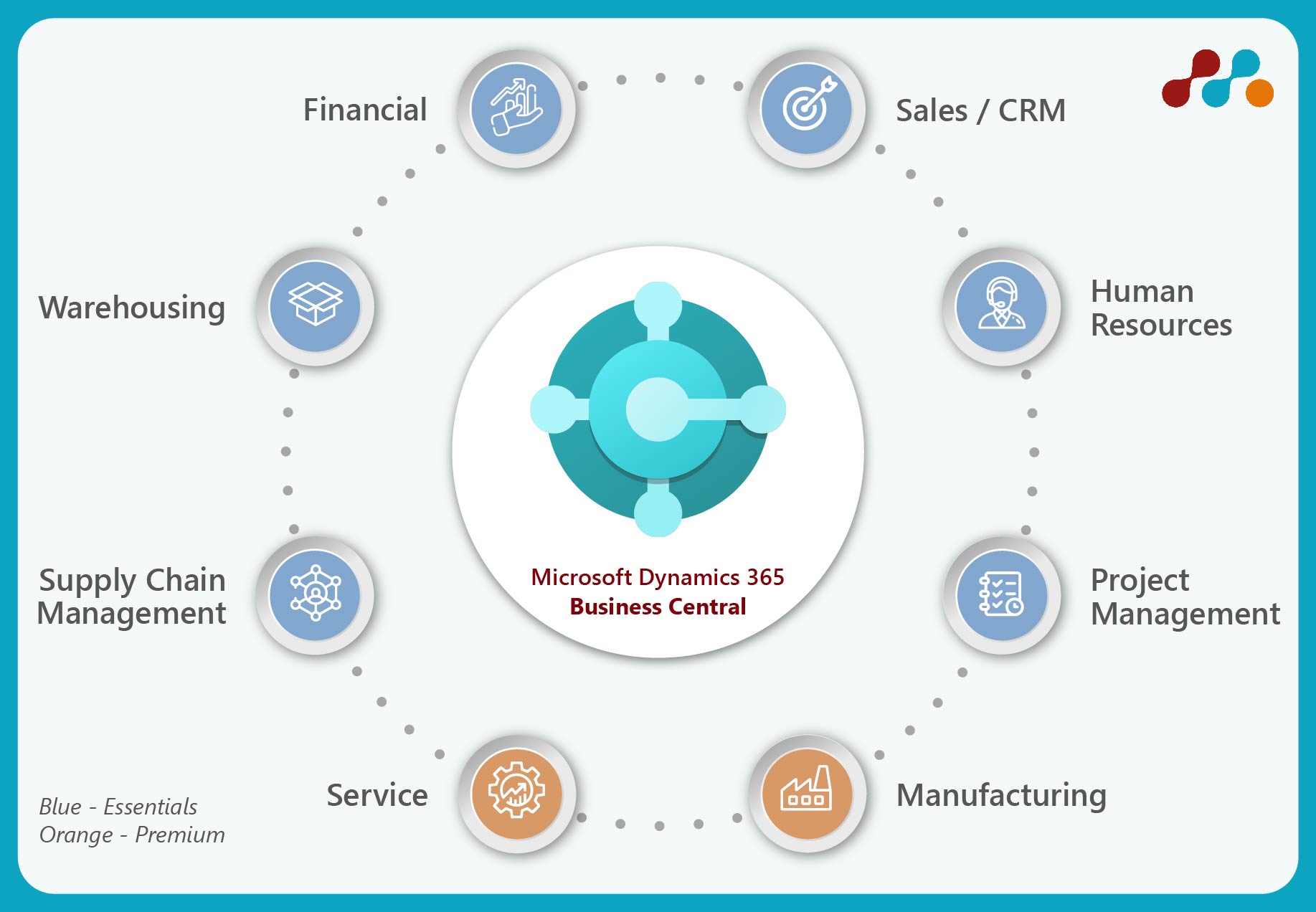 Business Central Essentials
Business Central Essentials is designed for smaller businesses with basic operational needs.
It offers essential functionalities for managing finances, sales, and customer interactions efficiently. Here's a closer look at what Business Central Essentials includes:
Financial Management: With Essentials, you get core financial management capabilities, such as general ledger, accounts receivable, accounts payable, and fixed assets.
Sales and Marketing: You can manage orders, create quotes and invoices, and track customer interactions.
Purchasing: Essentials allows you to handle your procurement processes, from creating purchase orders to managing supplier relationships.
Inventory Management: You can maintain inventory levels, track stock movements, and optimise your inventory with Essentials.
Basic Reporting and Analytics: While less comprehensive than Premium, Essentials provides basic reporting and analytics tools to help you make informed decisions.
Customisation Requirements
It's important to assess your need for extensive customisation options. With Business Central Essentials, you can tailor the system to your unique processes, offering greater flexibility.
Business Central Essentials suits smaller businesses with straightforward processes and limited customisation needs. It offers an affordable entry point into the world of ERP solutions.
Business Central Premium
On the other hand, Business Central Premium is a more comprehensive solution suitable for mid-sized to large enterprises with more complex operational requirements. It includes all the features of Essentials and adds several advanced functionalities:
Service Management: Premium includes service order management, enabling you to manage service contracts, work orders, and field service activities effectively.
Manufacturing: For manufacturers, Premium offers advanced manufacturing capabilities, including production orders, demand forecasting, and capacity planning.
Advanced Reporting and Analytics: Premium provides enhanced reporting and analytics features, making gaining insights into your business performance and trends easier.
User Productivity Tools: Premium also includes the ability to customise and extend the solution, ensuring it can meet your unique business needs.
Business Central Premium is ideal for businesses that require advanced functionalities, such as manufacturing or service management. It's also a great choice if you need robust reporting and customisation options to adapt the system to your specific processes.
Factors to Consider When Choosing Between Essentials and Premium
Now that we've outlined the key differences between Business Central Essentials and Premium let's discuss some factors to consider when making your decision:
1. Business Size and Complexity
The size and complexity of your organisation play a significant role in determining the right plan. Smaller businesses with simpler processes and fewer users may find Business Central Essentials sufficient. In contrast, larger enterprises with intricate operations needing advanced features may benefit from Business Central Premium.
2. Industry-specific Requirements
Consider your industry and whether you have specific requirements that require premium features. For example, if you're in the manufacturing sector, the advanced manufacturing capabilities of Business Central Premium may be indispensable.
3. Budget Constraints
Budget is always a crucial factor in any business decision. Business Central Essentials is more cost-effective, making it an attractive option for businesses with limited budgets. However, if your organisation can afford it and the additional features are essential, Business Central Premium may offer a better return on investment.
4. Growth Plans
Think about your company's growth trajectory. If you anticipate rapid growth or changes in your business processes, investing in Business Central Premium from the outset may save you the hassle of migrating later. Premium's scalability and advanced features can accommodate evolving needs.
5. Customisation Requirements
Consider whether you need extensive customisation options. Business Central Premium provides greater flexibility for tailoring the system to your specific processes. If your business relies on unique workflows, Premium might be the better choice.
Making Your Decision
In conclusion, choosing between Business Central Essentials and Business Central Premium depends on your organisation's unique requirements.
Smaller businesses with straightforward needs and tight budgets may find Essentials the ideal choice, providing essential ERP functionalities at a lower cost.
On the other hand, larger enterprises with complex operations, industry-specific demands, and growth aspirations may find Premium to be the better investment, offering a broader range of capabilities and customisation options.
Before making your decision, it's advisable to consult with a Microsoft Dynamics 365 Business Central expert or a trusted ERP consultant who can assess your specific needs and guide you toward the most suitable plan.
As an award-winning Microsoft Gold Partner with a proven track record of over 16 years, we are happy to navigate your options. Chat with one of your Business Central experts today. 
Remember that the right ERP solution can significantly impact your business's efficiency, productivity, and competitiveness, so choose wisely to ensure long-term success.
Whether you opt for Business Central Essentials or Business Central Premium, Microsoft Dynamics 365 Business Central is poised to empower your organisation with a modern, efficient, and integrated ERP solution that can drive growth and success in the ever-evolving business landscape.
Act now to elevate your business to new heights of efficiency and profitability. Contact our team today.
Do you have a question?
If you have a question about the content on this page, let me know. If I can clarify something or guide you in the right direction, I will be happy to help.