To enable businesses of all sizes to utilise the power of Dynamics 365 Sales, Microsoft have a selection of license types available.
Whether your business is in the market for its first Customer Relationship Management (CRM) solution, or looking to upgrade from legacy software to a more modern solution with automation and AI-driven functionality, there is a license for you.
What is Dynamics 365 Sales?
Before getting into the license types, we must cover what Dynamics 365 Sales is.
Sales is a CRM module in the Dynamics 365 suite that has been developed so teams can easily keep track of accounts and contacts, build and nurture relationships, and close deals faster.
Sales has capabilities for full pipeline management, automates processes with configurable tools, and provides actionable insights so you always know the next best step.
Professional
Sales Professional is the first tier of license available and is intended to help businesses get up and running quickly with sales force automation.
This Software-as-a-Service (SaaS) only license provides the core functionality of a CRM system that integrates with Office 365 applications to help power your business with easy to use, powerful sales tools.
The solution includes capabilities for managing leads, opportunities, accounts and contacts in a centralised environment, with visibility throughout whole sales process for teams.
Cost:
£49 per user/month
Who is it for?
We would recommend a Dynamics 365 Sales Professional license to businesses with a less complex sales process and more basic requirements from a CRM solution. It is perfect for those who are looking for their first sales automation tool and moving on from manual, spreadsheet based processes.
Enterprise
Enterprise is the mid-level license available for Sales, providing users with more complex functionality including contextual insights and advanced customisation to fit your sales process seamlessly.
In addition to all the functionality available with a Sales Professional license, Sales Enterprise capabilities include customization, extensibility, embedded intelligence, and manual forecasting.
Licensing Sales Enterprise also automatically entitles you to 2000 Customer Voice responses per tenant per month. (Additional response packs can be purchased)
Cost:
£71.60 per user/month
Who is it for?
Sales Enterprise licenses are suitable for those who want to move beyond core sales functionality to a solution that has more options for customisation, provides analytics and utilises predictive intelligence.
We would recommend an Enterprise license for those businesses who are looking for an end-to-end CRM solution that can help provide all the necessary tools and ease-of-use so sales teams can work productively.
Premium
Dynamics 365 Sales Premium is the third tier of licence available from Microsoft. The Premium license combines the functionality of the Enterprise license with Sales insights, an add-on application that provides a selection of advanced AI-driven analytical capabilities.
Cost:
£101.80 per user/month
Who is it for?
A Sales Premium license is recommended for those who want to utilise the powerful CRM functionality that you get in the Enterprise license but expand upon the standard analytical capabilities that are available with AI-driven tools that continuously learn from customer-interaction data.
Team Member
The final type of license which is available is a 'Team Member'.
These basic licenses are designed for light users of the system who are only required to perform simple tasks.
In the Team Member license is the Sales Team Member App, which provides capabilities for lightweight sales scenarios.
At a high level, users with the Team Member license can perform the following tasks in the Sales Team Member app:
Customer management: work with contacts or see accounts.
Lead and opportunity management: see leads or opportunities linked with accounts or contacts, or see other sales-related data.
Add notes and activities, such as tasks.
Cost:
£6 per user/month
Who is it for?
Team member licenses are a great, low-cost option for members of an organisation whose role doesn't require full functionality of the application, but still need to use basic functionality to complete simple tasks.
Dynamics 365 Sales Insights
Sales insights comes included with a Sales Premium license but can also be added to a Sales Enterprise or Microsoft Relationship Sales license. Sales Insights license includes the following functionality:
Predictive scoring
Predictive forecasting
Business Card Reader
Relationship Analytics
Assistant Studio
Sales Accelerator
Pipeline Intelligence
Notes Analysis
Conversation Intelligence
Connection Insights
Microsoft Relationship Sales
Microsoft Relationship Sales helps sales professionals harness the power of relationship selling, by combining the power of LinkedIn Sales Navigator with Dynamics 365 Enterprise or Sales Premium. This solution powers sellers to have more personalised and valuable interactions with customers by:
Embedding Sales Navigator in Dynamics 365 Sales
Synching activities from Sales Navigator
Saving accounts, leads, and contacts to Sales Navigator
Smart Links
Dynamics 365 Sales Licensing FAQs
Can you upgrade your license type after implementing?
For users of Sales Professional who are outgrowing the application and require full sales capability, migrating to Sales Enterprise/Premium can be easily done. (see more information)
Can you mix and match licenses?
Customers are not able to deploy different license types within the same environment, so all licenses will have to be for the same version (Professional, Enterprise, Premium)
Users of Professional are also unable to utilise add-ons such as Sales Insights
Is there a limit to user numbers?
There is no limit to the number of licenses you can purchase for Microsoft Dynamics 365 Sales.
Functionality differences between license types
This sales use rights information is taken from the Dynamics 365 Licensing guide.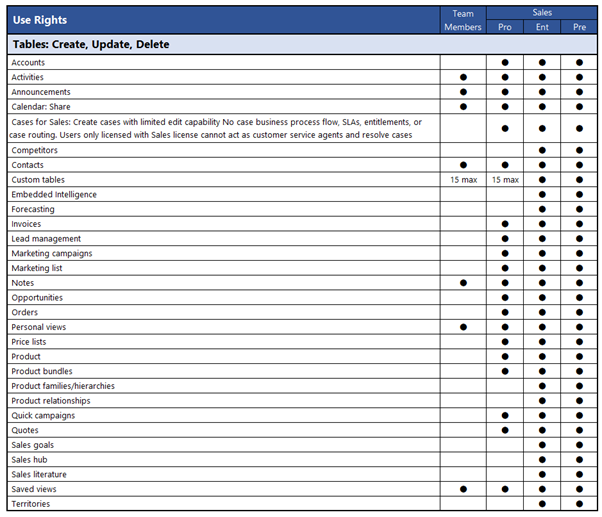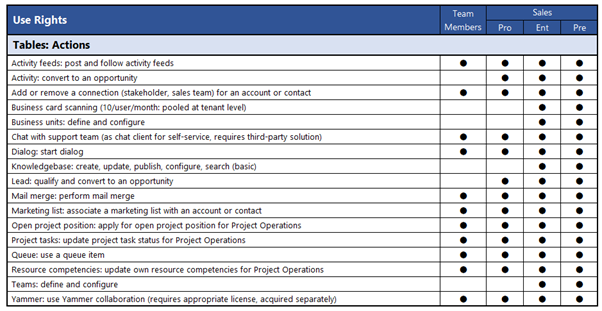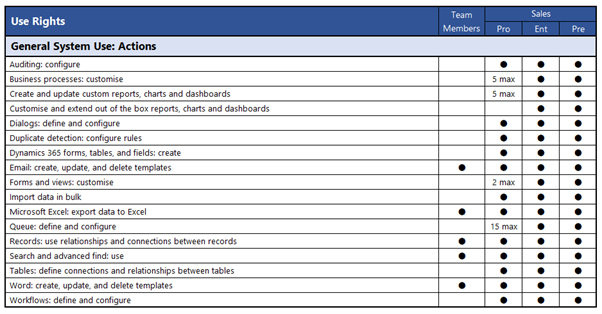 Request a Free Demo for Dynamic CRM Sales