Value-added services at the best possible price.
Our unique support services suite empowers your business to make the most of the latest technology. Guaranteed Service Level Agreements are offered through our integrated portal-based help desk, enabling us to resolve issues quickly and efficiently.
What support is included
Application Support
MaxCare® Application Support is primarily geared towards:
Virtualisation & Cloud Migration
Specialist planning and implementation services in the migration from legacy infrastructures to virtual and cloud-based environments.
IT Infrastructure Managed Services
IT Infrastructure outsourcing with permanent on-site presence, if required, backed up by experienced offsite support specialists and service management professionals.
Business Continuity & Disaster Recovery Support
Consulting and implementation services for holistic Business Continuity Planning and Enterprise Risk Management, across the entire IT landscape.
Raise a ticket
Existing customer? Raise a ticket with our support team.
Get in touch about MaxCare
See how easy it is to create a case with our MaxCare Support Portal
Why choose MaxCare? 
Developed based on industry best practice
IT Infrastructure Library (ITIL) standardised processes with stringent Testing & Quality Assurance processes
Periodic reviews and clear escalation customer meetings
Easy to understand and follow with 'lighthouse' learning
Guaranteed Service Level Agreements (SLA)
Off the shelf with standardised industry scope and service levels
Tailored to unique services or service requirements 
Onshore Helpdesk & 1st Line
Ensures a high level of customer service and customer contact
Onshore team of consultants for the quick response and onsite work 
Offshore Delivery & Support centre for 2nd & 3rd Line
Low risk & cost-effective with the ability to resolve issues in any time zone
Benefits of working with Mercurius IT
Simplicity
We let customers know what they're buying and how it works
Clarity
We create a linked map, connecting technology with business benefits
We give you the tools to clearly track projects to delivery
Flexibility
We provide solutions which can be incrementally expanded and easily altered
Value
We structure delivery to align with your budget and priorities
We provide a range of 'rates' of return for you to consider
How AnyShore works
A staged approach removes risks.
Stage 1
Set up support infrastructure – access, connectivity, documentation etc.
Onshore support team meets key users and builds knowledge in the customer systems
The onshore team attend to support & development calls
Stage 2
The onshore team start transferring knowledge to the offshore team
The offshore team start attending to support & development calls with help from onshore consultants
The offshore team provides full support
Onshore support & development head
Continued customer management and Support management throughout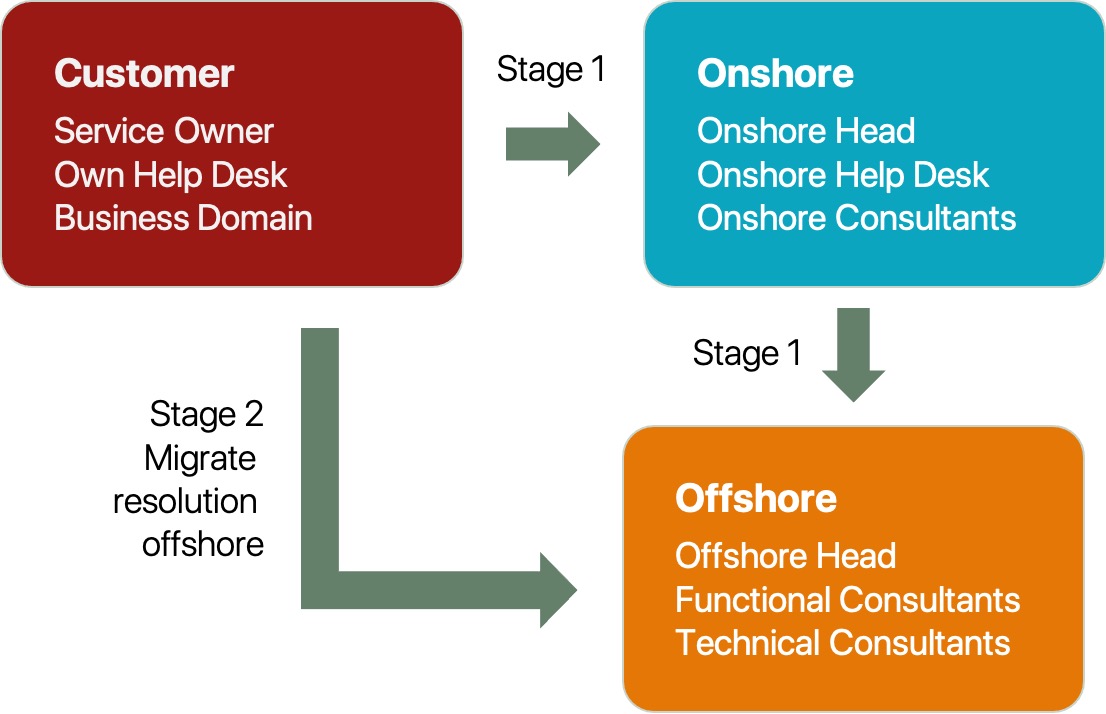 MaxCare Application Support Pricing
Low cost, high-value support that fits your business priorities.
Incident Management and Change Request Support, purchased in advance in 40-hour blocks at a very competitive rate.
Change requests charged on a time and materials basis.
Since moving to Mercurius in 2016 I have used their online web portal to log any support cases. The system is simple to use. It allows me to easily prioritise my cases. Additional information can be quickly attached to help support the case. The portal is linked directly to my email address so I'm informed of any updates immediately. There is the added benefit of looking at closed cases, in case you need to see the solution to a problem that has been fixed previously. The portal has very quickly become an essential tool for our business.
We've been working now with Mercurius for over 5 years, with them providing a total IT Services Outsourcing service for us. Our relationship has been excellent and we've always felt that Mercurius are working in our best interests.
They not only understand our business but also how IT can help deliver our objectives. As a business with a global market, our IT infrastructure is fundamental to our competitive success and operational performance, so it's absolutely critical for us to know it is in safe hands. Mercurius provide a cost effective solution for our IT requirements.