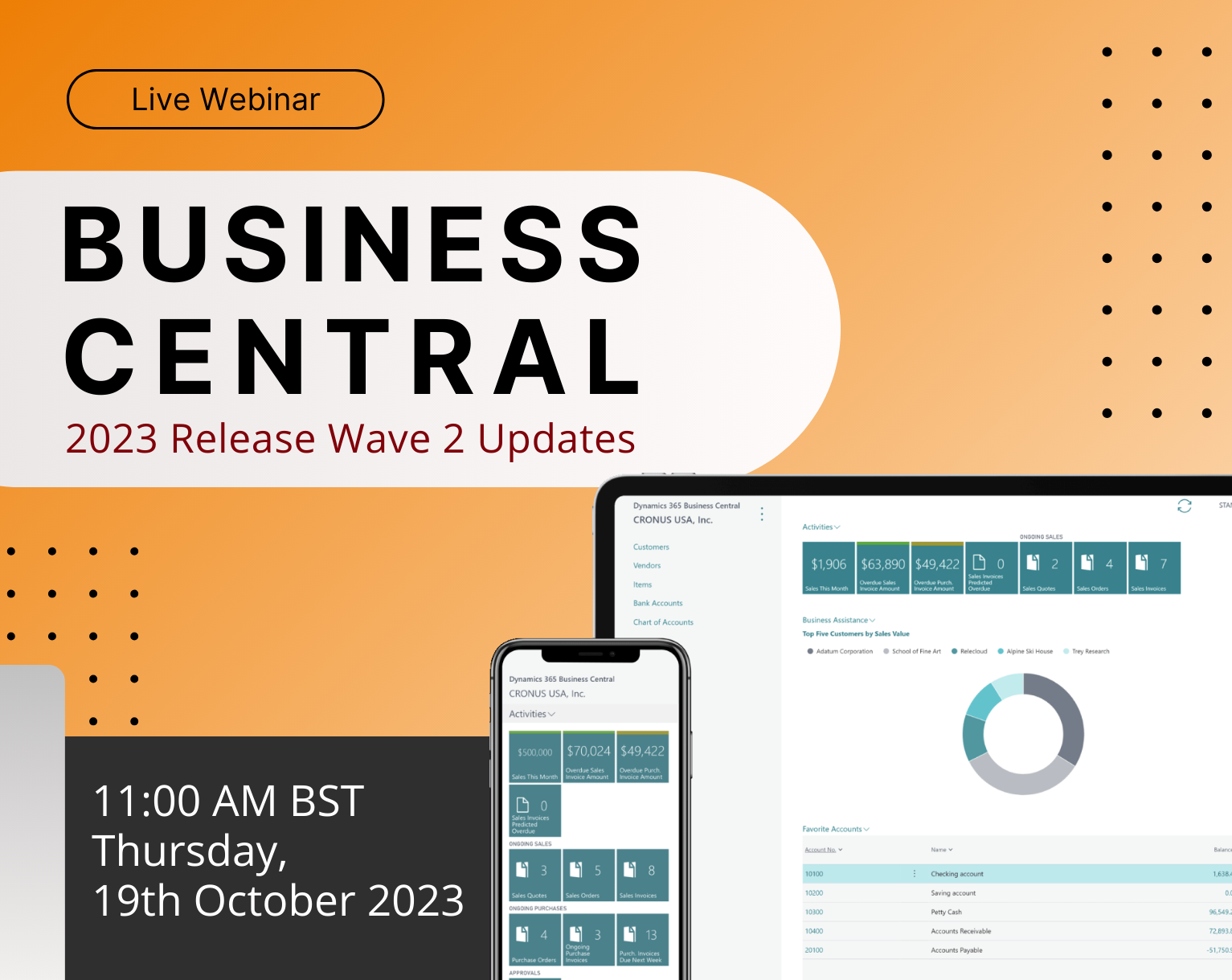 We are thrilled to announce our upcoming "What's New in Business Central" webinar on October 19th, 2023, BST. Hosted by Mercurius IT, this webinar will cover important topics related to Application and Functionality Improvement and Copilot and AI Innovation. Don't miss this opportunity to enhance your Business Central skills and streamline your operations. Register now for the webinar and unlock the full potential of your business.
Why Attend?
Attending the 'What's New in Business Central' webinar is a must for anyone looking to stay ahead in the ever-evolving business landscape. Discover the latest Wave 2 updates, including game-changing functionalities like multi-company financial consolidations and seamless intercompany transactions. Harness the power of AI innovation with Copilot to accelerate bank account reconciliation. Join us to unlock these powerful tools and supercharge your business processes.
MICROSOFT DYNAMICS 365 MARKETING & CUSTOMER INSIGHT
In this webinar, our expert shed light on its diverse capabilities that hold the potential to propel your business to new heights. Discover how Microsoft's latest updates on Marketing and Customer Insights are set to transform how you approach marketing, empowering you with the tools to enhance your marketing skills while optimising data storage through invaluable insights.
DYNAMICS 365 SALES
A leading financial services company providing investment and advisory services faced challenges managing customer data efficiently and needed a centralised system to track client interactions. To address these issues, they implemented Microsoft Dynamics 365 Sales (D365 Sales) and sought assistance configuring and customising the platform to meet their needs. Additionally, they required integration with their legacy portal for real-time data synchronisation, integration of their telephony system with D365 Sales, and development of Power BI reports for data analysis and decision-making.
Explore our comprehensive article library that spans various topics to help your business thrive. Our expert-curated articles cover everything from BC to Third-Party Logistics, providing valuable insights and information. Use our search feature to find articles on specific topics that interest you.
COSMOS
Cosmos revolutionises Business Central reporting by streamlining data analysis, eliminating bottlenecks, and enhancing performance. Utilising Microsoft Excel empowers users to effortlessly construct and share impactful reports and Power BI dashboards with no required technical skills. With its seamless Power BI integration, Cosmos simplifies dashboard creation, delivering answers instantly without writing a single line of code. Unlock the true potential of data-driven decision-making at the speed of business.
WHAT'S NEW – POWER PLATFORM
POWER APPS FUTURE UPDATES
We are happy to announce that you can see all the users with access to a record. This allows you to view who you have shared your record with and who has access to it from their security role assignment. The feature is being rolled out and will be available globally by the end of September.
WHAT'S NEW – MANAGED SERVICES
Improve VM resiliency with Azure Advisor's Availability Zone recommendation
According to the Well Architected Framework (WAF) guidelines, one of the best practices is zonal deployment. By adopting this recommendation, you can now design your solutions to utilise zonal VMs, ensuring the isolation of your VMs from potential failures in other zones. With this, you can expect enhanced resiliency in your workload by avoiding downtime and business interruptions. 
WHAT'S NEW – BUSINESS CENTRAL
BUSINESS CENTRAL NEW WAVE 2 RELEASE  
Business Central Release Wave 2 anticipated rollout is between October 2023 and March 2024.
Access the release outlines from the preceding phase and visit the plan for the first release wave, 2023, by clicking the link below. 
In the "General Availability" column, the feature is set to be deployed within the indicated month; the exact delivery date remains flexible within that timeframe. Features that have been launched exhibit the complete date, inclusive of the release day.
SOLUTION FOR LOGISTICS SERVICE PROVIDERS
WAREHOUSE ROBOTICS TO ChatGPT
The pace of change in our world is nothing short of astounding. In the not-so-distant past, we were accustomed to the sight and sound of polluting diesel trucks rumbling down the streets. Fax machines were the go-to method for efficiently communicating transportation orders. When we thirsted for knowledge, our trusted companion was Google. But as the wheels of progress turn, our way of life and work transforms. Today, the landscape is vastly different. Clean and eco-friendly electric cars glide silently along the roads, leaving behind the era of smog-choked exhaust pipes. When curiosity beckons, we turn to our new best friend: Chat GPT.
Until next time!
The team is always ready to help if you have any queries.
Please look out for our October 2023 Newsletter.