In this blog post, we're delving into the Dynamics 365 2023 Release Wave 2—a wave of updates designed to transform the business management solution.
Let's explore the core updates & enhancements that are set to improve the Dynamics 365 platform, with a special focus on Microsoft Dynamics 365 Business Central.
Microsoft's bi-annual Release Waves ensures the Dynamics 365 platform stays at the forefront. Twice a year, Microsoft introduces a set of updates that revitalise your toolkit, bringing innovative new features, capabilities, and improvements to the Dynamics 365 suite.
This blog post will dive into the 2023 Release Wave 2 for Dynamics 365 Business Central. Looking at the most significant investment areas that Microsoft are focusing on in this Release Wave, and what changes and features are being introduced with it.
What is Dynamics 365 Business Central?
Microsoft Dynamics 365 Business Central is more than just a software—it's a dynamic business solution tailored to meet the unique needs of small and mid-sized organisations.
Designed to streamline operations and foster growth, Business Central acts as a compass, guiding businesses through financial management, supply chain optimisation, manufacturing, project management, and more.
Request a quote for ERP Today
Unlock the power of Business Central; Simplify operations and Accelerate growth. Request a tailored quote for Microsoft Dynamics 365 Business Central now!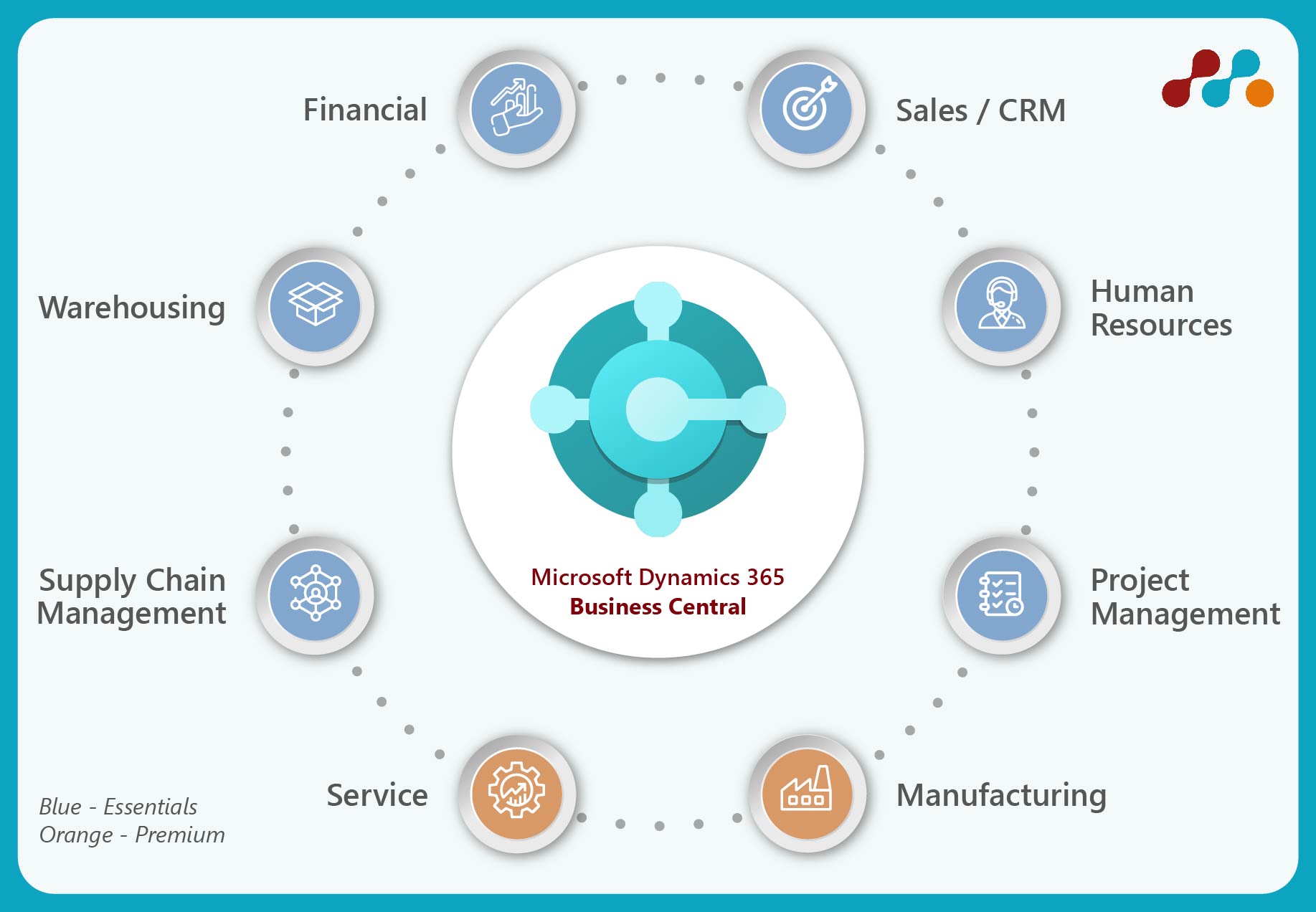 It's a versatile solution that can be utilised in industries spanning manufacturing, retail, distribution, services, and more. Every department, from finance and operations to sales and customer service, can harness its power to enhance efficiency and collaboration.
What was introduced in Release Wave 1?
2023 Release Wave 1 was announced in January this year, with General Availability from April 1st, allowing users to utilise the features and capabilities announced with the updates.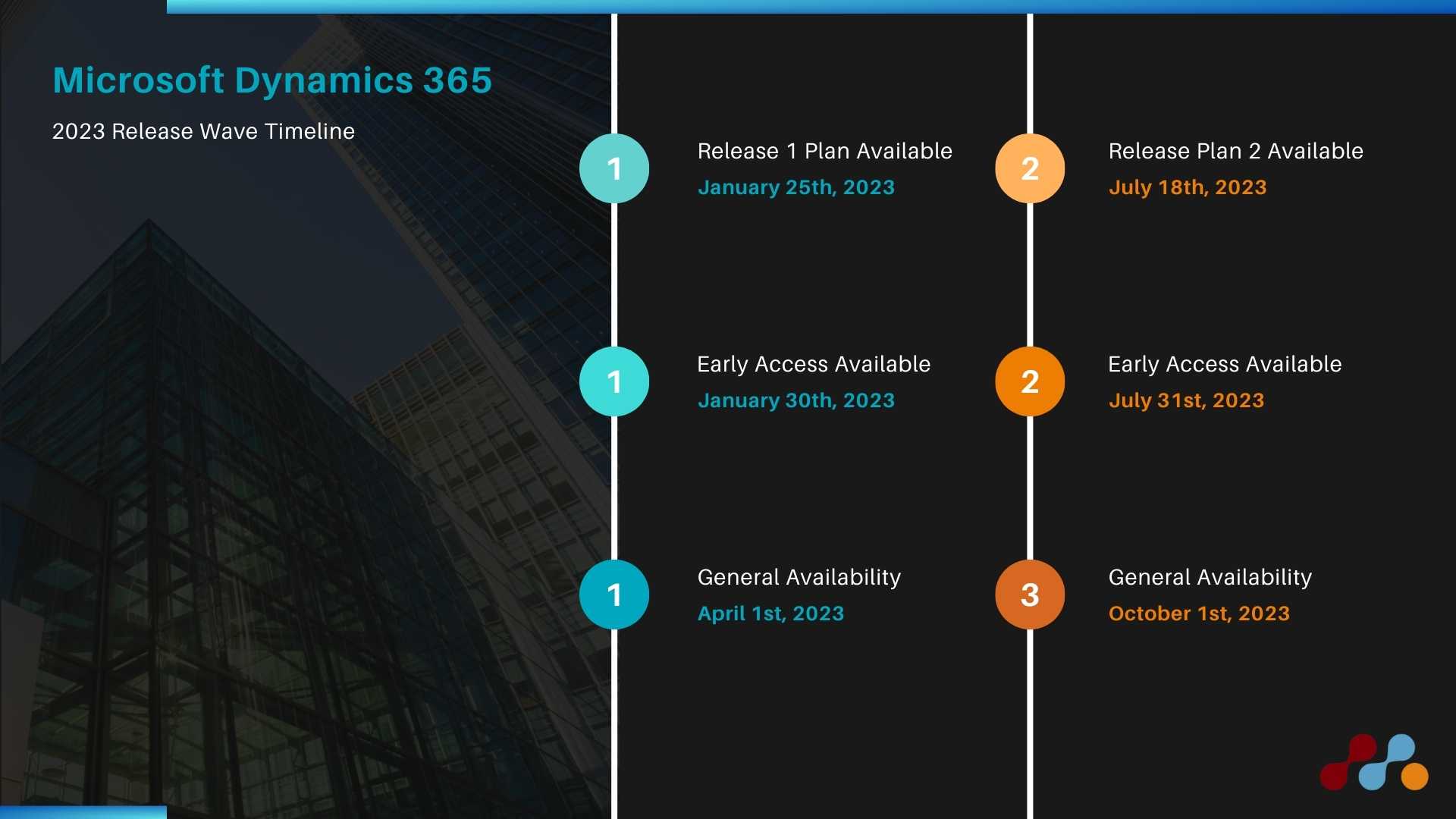 As depicted in the image above, both Release Waves adhere to a consistent timeline, with the release plans becoming accessible a few months before the actual release. Following the unveiling of the Wave 2 release plan in July, the general availability of the upcoming features is scheduled to start in October 2023, through to March 2024.
We've explored the Release Wave 1 updates to Business Central in a dedicated blog post, which you can access right here. Furthermore, we've also delved into the changes within the Dynamics 365 CRM applications. Feel free to check it out by clicking here.
Business Central Release Wave 2: Early Access features
As shown in the timeline, early access features are available from July 31st. With each Release Wave, there are a selection of updates which are available for users ahead of the general release of the wave.
With 2023 Release Wave 2 for Business Central, the following features are available now with early access:
Microsoft's Investment Areas in Release Wave 2
As we delve into the updates coming to Dynamics 365 Business Central's in Release Wave 2, let's explore the areas Microsoft continues to invest in with this set of updates.
User Experiences
Microsoft's 2023 Release Wave 2 for Dynamics 365 Business Central brings an enhanced user experience. With a diverse set of interfaces, including an installable desktop app, web app, and mobile apps, users can seamlessly access and work with their data from anywhere, on any device.
This release focuses on usability, accessibility, performance, and reliability improvements, making it easier to work with actions across record selections and view summarised data for quick error fixes.
Development
For AL developers, Microsoft is laying the groundwork for namespace support within the platform and applications.
This feature simplifies app structuring, object naming, and prevents identifier conflicts. Developers also gain the ability to move ownership of tables and data between extensions, a valuable addition as apps evolve.
Enhanced debugging capabilities protect internal data by allowing developers to hide specific variable data. Moreover, developers can now turn off Analysis Mode on pages and specify how to embed content from Power BI, providing more control over data analysis and reporting.
Visual Studio Code integration for troubleshooting and code exploration is made effortless, reducing setup time and improving profiling for database-related performance issues.
AppSource publishers benefit from better handling of runtime packages, ensuring seamless development and troubleshooting across app dependencies.
Application
This release introduces significant supply chain improvements, enhancing efficiency, agility, and accuracy in warehouse management.
Users can access detailed inventory availability information, configure warehouse handling independently, and receive suggestions for order handling.
These enhancements reduce the risk of partial shipments and enhance customer satisfaction.
Intercompany transactions and financial consolidations receive attention too. Users can perform accounting tasks for multiple companies and consolidate financial data without handling files.
The addition of an approval workflow for intercompany general journals increases control and reduces errors. Custom allocation keys automate revenue or cost distribution, making data entry efficient.
Country and Regional
Business Central's global reach expands through partner-led localisation efforts.
Partner-created localisation apps published on AppSource, combined with built-in language offerings, enable Business Central to serve customers in over 140 countries and regions. Microsoft also ensures regulatory feature updates in countries where it handles localisation.
Reporting and Data Analysis
Investments in report discoverability provide faster access to business performance insights. Power BI integration receives enhancements, offering new and improved Power BI reports and advanced capabilities for on-the-fly embedded data analysis within Business Central.
Service and Platform
Performance, stability, resource governance, security, and compliance are the focus areas in this release.
Users experience fewer interruptions, improved sign-in stability, and optimised language (AL) runtime for enhanced database performance.
Application scenarios frequently used by customers are fine-tuned for efficiency.
Adapt Faster with Power Platform
Microsoft continues to improve Business Central's integration with Power Platform, focusing on Power Automate approval workflows and Power BI embedded experiences.
These improvements provide more control and capabilities for end-users and partners integrating Business Central with Power Platform in online environments.
Governance and Administration
Administrators gain more tools for managing environments, apps, and data migrations. Granular administrator roles, improved update release processes, and the ability to link Business Central and Power Platform environments help streamline administrative tasks.
Copilot and AI Innovation
The introduction of Microsoft Dynamics 365 Copilot empowers users with AI tools to reduce repetitive tasks. Wave 2 brings Business Central's first Copilot capability, generative marketing text suggestion capabilities.
Onboarding
Partners can now set initial roles for users during onboarding, providing a smoother start to their Business Central experience. Personalised greeting messages further enhance the onboarding process.
Legislation
Release Wave 2 addresses legislative requirements with automation and compliance features.
These improvements are standardised across supported countries and regions, focusing on e-invoicing and digitally scanned voucher storage as a foundation for local requirements.
This ensures compliance with government regulations, allowing businesses to concentrate on their core operations.
In summary, the 2023 Release Wave 2 for Microsoft Dynamics 365 Business Central is a game-changer. It's essential for businesses looking to enhance efficiency, streamline processes, and stay compliant with evolving regulations.
With its wide-ranging improvements, Business Central is the go-to solution for businesses aiming to future-proof their operations. Ready to explore its potential?
Contact us for more information or to schedule a demo today. Your future success starts here!
Interested in a D365 BC Updgrade for your Business?
Leave your details in the contact form to get started.