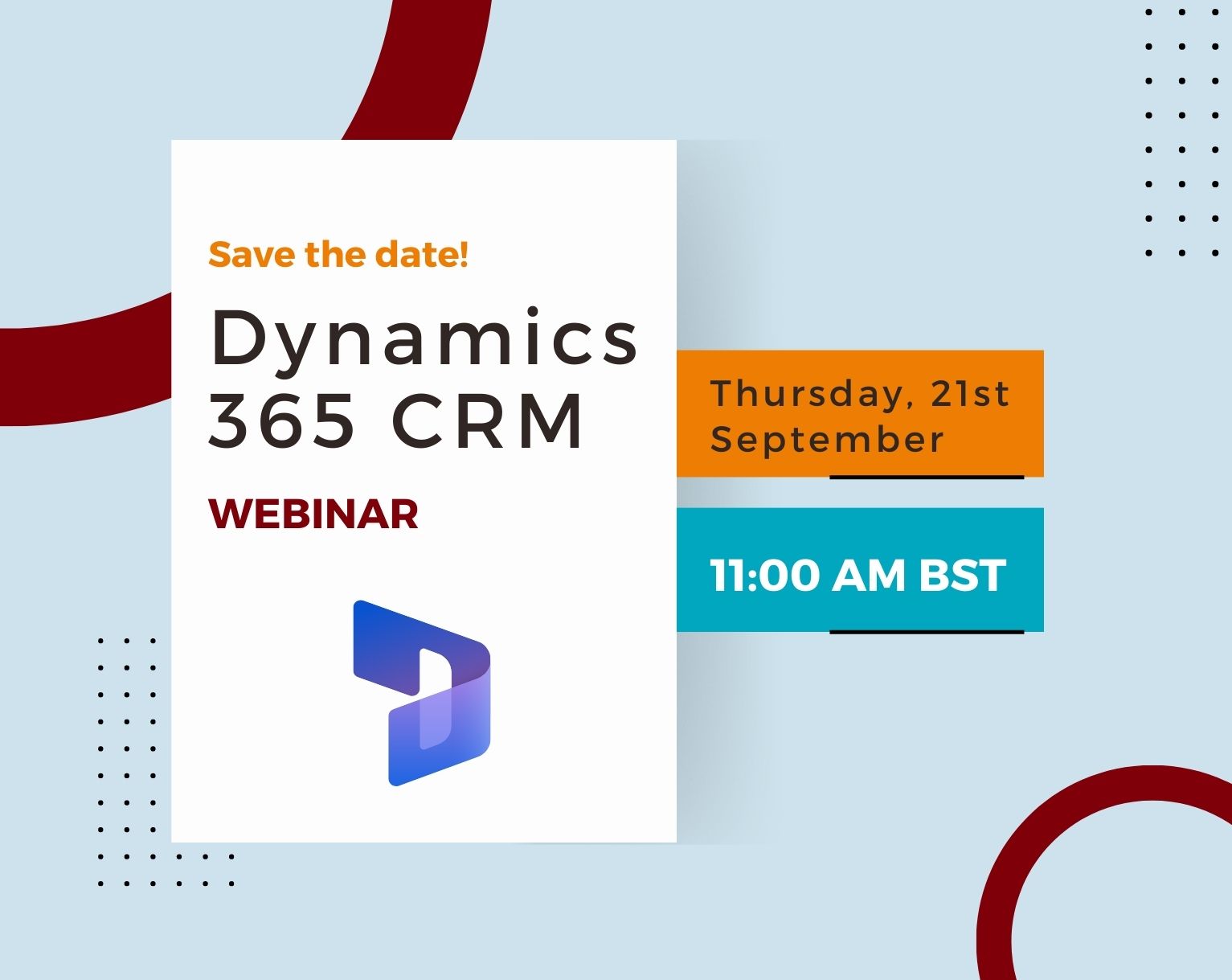 We are thrilled to announce a forthcoming event that will elevate your understanding of Microsoft Dynamics 365 Customer Relationship Management (CRM). Please mark your calendars for our exclusive webinar, designed to provide invaluable insights and updates on the latest developments in the world of CRM.
Why Attend?
This webinar will equip you with the tools and knowledge to fully harness its potential, whether you're a business leader or an IT professional. This event will offer insights that can drive enhanced customer engagement, streamlined processes, and improved business outcomes.
Stay tuned for further updates and registration details, which will be shared soon.
HOW TO STREAMLINE SALES WITH DYNAMICS 365
We invite you to watch our 45-minute webinar to learn how it optimises sales processes. Topics:
Lead creation, converting to opportunity, nurturing via channels, scoring, forecasting, and using quotes, orders, and invoices.
Unveil new Dynamics 365 Sales features.
Streamline sales effortlessly.
DYNAMICS 365 SALES
A leading financial services company providing investment and advisory services faced challenges managing customer data efficiently and needed a centralised system to track client interactions. To address these issues, they implemented Microsoft Dynamics 365 Sales (D365 Sales) and sought assistance configuring and customising the platform to meet their needs. Additionally, they required integration with their legacy portal for real-time data synchronisation, integration of their telephony system with D365 Sales, and development of Power BI reports for data analysis and decision-making.
Explore our comprehensive article library that spans various topics to help your business thrive. Our expert-curated articles cover everything from BC to Third-Party Logistics, providing valuable insights and information. Use our search feature to find articles on specific topics that interest you.
HOW EDI CAN HELP YOU STAY IN BUSINESS
Worldwide, companies find digitalisation the solution for the much-needed change to simplify the process and keep operating cost-efficient. Reducing manual tasks is one of the quick wins to do so. Indirectly, this also has an impact on your way of working. When your business partners digitalise the process of ordering, shipping and storing, this will also be expected from you.
WHAT'S NEW – POWER PLATFORM
The latest Power Apps home page is now accessible to all users. It ensures an intuitive, user-centric encounter. Within this new design, you'll encounter the enhanced AI Copilot app creation process and streamlined "Start from" selections, simplifying the process of initiating app development to address your business requirements.
WHAT'S NEW – MANAGED SERVICES
Structured Logs (general availability): New logging format that provides a more detailed view of firewall events. Structured Logs offer the following benefits: they are easier to work with data in log queries and help discover schemas; they improve performance and reduce latency; they allow the ability to grant Azure RBAC rights on specific tables.
Latency Probe (general availability): The Latency Probe metric is designed to measure the overall latency of Azure Firewall and provide insight into the health of the service.
WHAT'S NEW – BUSINESS CENTRAL
NEW RELEASE OUT SOON! 
Business Central Release Wave 2 anticipated rollout is between October 2023 and March 2024; therefore, save the date for a webinar we will be hosting on the 19th of October for all the latest updates. 
Meanwhile, to access the release outlines from the preceding phase, visit the plan for the first release wave, 2023, by clicking the link below. 
In the "General Availability" column, the feature is set to be deployed within the indicated month; the exact delivery date remains flexible within that timeframe. Features that have been launched exhibit the complete date, inclusive of the release day.
SOLUTION FOR LOGISTICS SERVICE PROVIDERS
Logistics service providers, including freight forwarders, transportation companies, and warehouses, constantly seek the perfect software solution.
They strive to move away from outdated custom-made systems or realise that their current Excel files and processes must be revised to meet the rapidly changing customer demands.
This has led to many LSPs joining the ranks and selecting Boltrics' branch standard solution. However, the question remains: how standard is this standard? 
Until next time!
The team is always ready to help if you have any queries.
Please look out for our SEPTEMBER 2023 Newsletter.