Both trade flows and the labour market have been affected by the pandemic and Brexit, thereby impacting cold chain logistics. Many goods have been imported from China to Europe in recent months and this growth is expected to continue. At sea, the full capacity is used, making shipping costs five times higher according to the
GCCA
. So, buckle down! Because fresh and frozen goods do not automatically arrive at your customers.
However, we see that despite these challenges, there is a lot of market demand and that offers opportunities. What are these opportunities and what trends do we see in cold chain logistics? In this blog we list all trends and challenges for you.
Despite the many challenges, the value of cold chain logistics is growing. According to a 2017 market research report, global cold chain logistics were estimated at 188.42 billion dollars and is expected to reach 269.61 billion dollars by 2024. In 2019, the global cold storage construction market was no less than 6.97 billion dollars and is expected to be nearly three times that by 2027. This high demand is driven by several factors, according to Emergen Research.
#1 Growing e-commerce
This can mainly be explained by the growth in e-commerce. Online food sales are increasing in developed and emerging economies. This, in combination with the increasing preference for online shopping as a result of the corona pandemic and the growing e-commerce channels, means that more and more online food orders are placed. The perishable food segment accounted for the largest market share of 36.0% in 2019.
This growth in the e-commerce sector provides an enormous boost to cold chain logistics because the need to use larger and more industrial cold storage facilities is growing too. The main reason? To enable better and faster delivery. Moreover, the increasing demand for processed and fresh food products through online channels is expected to continue to drive market growth.
Did you know that, the total capacity of cold stores in 2020 was no less than 719m3 according to the GCCA 2020 Annual Report. That is 16.7% more capacity than in 2018.
#2 Growing import and export
Secondly, it is not only e-commerce that stimulates the market demand. Worldwide, there is also an increasing demand for cold storage around ports to accommodate the growing import and export of perishable products.
#3 Government, pharmacy and catering
The government, pharmacy, and catering sectors also play a role in the growing market demand. To reduce food waste, governments want to enlarge the cold storage facilities. In addition, there is an increasing use of cold storage in hospitals, and other pharmaceutical sectors and research institutes. In addition, large restaurants and catering companies are increasingly using cold storage facilities due to the expansion of outlets and opportunities in the market. This creates an increasing need for cold store facilities.
How has this affected the cold chain market in 2021?
The market demand is growing, but what challenges are there for 2021 and beyond? In Europe, according to
GCCA's European Market Snapshot
, the cold chain market is characterised by high storage utilisation and low stock rotation. Electricity prices and insurance costs have gone up, impacting your already tight margins. Other challenges include recruiting and maintaining qualified personnel, reducing your carbon footprint, and enhancing cyber security. Moreover, consideration for more sustainable buildings is becoming increasingly important and the use of automation is increasing. So how do you overcome these challenges?
Did you know that 41% of the members of the GCCA invested in more automation in 2020?
Software for cold storage logistics
With the increasing use of automation, you may ask yourself: how do I ensure a strong competitive position? And how can I keep up with growing technological developments? Our partner Boltrics has developed 3PL Dynamics for Cold Storage, a software solution which connects with Microsoft Dynamics NAV and Business Central.
"Nowadays no one builds a house with a hammer and a saw. There are rotary hammers, impact wrenches and sawing machines that make building a house much easier, faster and more efficient. The same applies to your logistics processes. You can work with paper or Excel sheets, but a WMS or TMS solution ensures that you actually improve your efficiency."
– Daniel Feltham-Lauzon, Consultant at PL Solutions (Canadian partner of Boltrics).
If you use modern technology, it provides freedom, flexibility, and manoeuvrability: the ingredients for a profitable business. Would you like to know more about 3PL Dynamics for cold storage? Send an email to [email protected].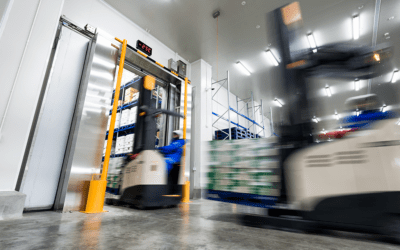 There has certainly been an increase in the need for cold storage solutions in recent years and facilities and systems have become increasingly sophisticated over that time. The ability to track food from farm to supermarket, for example, has never been so accurate.  ...
read more