To show how much the Dynamics suite has evolved, we're exploring the key differences between Microsoft Business Central and earlier Dynamics NAV versions.
It has been over 30 years since the first version of Navision came out. Now thousands of SMEs are using the solution daily to ensure their business processes run smoothly.
Throughout Navision's lifespan there have been approximately 20 different versions released, leading to the current and most advanced version: Microsoft Dynamics 365 Business Central. We often come across businesses still using legacy systems and wonder why they have not upgraded to a newer version.
It is extremely unlikely you're using a mobile phone that was created in 2009, so why run your business on software that old?
Microsoft Business Central (BC) has benefitted from a brand-new User Interface. This enables users to work more efficiently, no matter where they are or what device they are using. Seamless integrations with other Microsoft products and services such as Office 365, Power Platform, and SharePoint help improve productivity, while an extensive add-on list available via AppSource can broaden the capabilities of the standard solution to fit your unique requirements.
The days are gone of altering the source code of your ERP solution to create unique customisations. Business Central now uses an Extension feature which takes the customised code away from the source code. This saves you time and money in the long run since upgrades will be straightforward.

Similar to Dynamics NAV being available in Starter Pack & Extended Pack, Business Central is available in either 'Essentials' or 'Premium'. The former being the standard version of Business Central and latter providing Manufacturing and Service Management functionality.
One change to licensing with the introduction of Business Central is the end of concurrent users. Licenses are now named users, meaning each license you have can only be accessed by one specific user, rather than sharing the license. So that you don't need to buy dozens of licenses when upgrading to Business Central, Microsoft are offering 3 named user licenses for each concurrent license.
With Business Central, you also have the flexibility of purchasing your licenses either Perpetually or on subscription to suit your business situation.
The key aim when releasing Microsoft Business Central was to bring the functionality of Dynamics NAV to the cloud. Business Central is available to be hosted On-Premises, however, the solution has been primarily developed for the cloud.
Cloud hosting eliminates the need for investing and maintaining your own in-house servers, while providing the necessary flexibility to allow you to add/remove capacity with the click of a button.
Cloud hosting also lets you seamlessly connect to other services and access your data from anywhere. With working from home being the norm now, this is essential.
Now, you may be thinking 'I'm interested in upgrading but I need more information' so what's next?
At Mercurius IT, we have plenty of industry knowledge to make your upgrade journey as seamless as possible. Check below for the other blogs related to upgrading your NAV system.
We also hosted a webinar about upgrading to Business Central.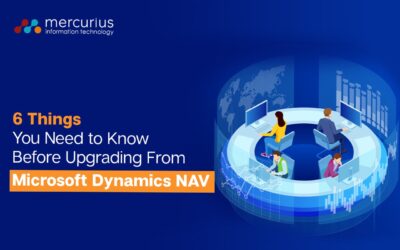 We often find businesses using Microsoft Dynamics NAV but they're delaying an upgrade due to unanswered questions. To shed more light on upgrading to Business Central, let's go through some common misconceptions.I will not benefit from upgradingBusiness Central is the...
read more