Recently at Microsoft Inspire, their annual partner conference, the Digital Contact Centre Platform was introduced. Wanting to build on the customer service services already on offer, the platform brings together existing solutions and services into a fully-fledged customer service contact centre platform. This platform has been developed to enable you to deliver exceptional customer engagements and provide agents with the tools required to resolve issues faster, while providing a more personalised service. The platform enables agents to engage with customers across voice, video, and various other digital channels and provides customers the ability to perform self-service or connect with virtual, AI agents.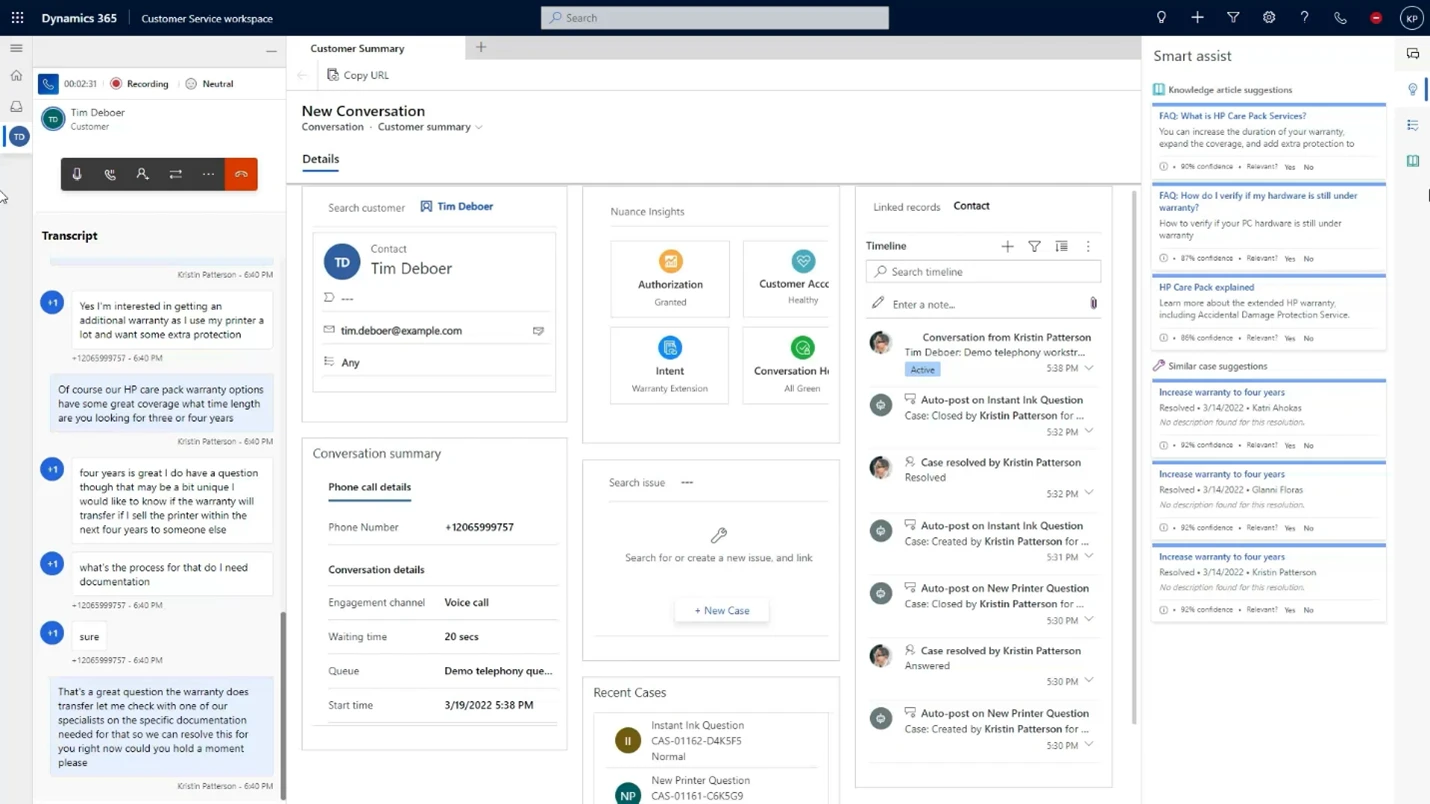 What is the Microsoft Digital Contact Centre Platform?
While the Microsoft Digital Contact Centre Platform isn't a product in its own right, the platform is made up of a combination of recommended solutions that build together to create an end-to-end customer platform equipped with modern, intelligent tools to engage customers across any channel.
What applications make up the platform?
The platform is made up from 5 applications & services:
Microsoft Dynamics 365
Microsoft Teams
Microsoft Power Platform
Nuance
Azure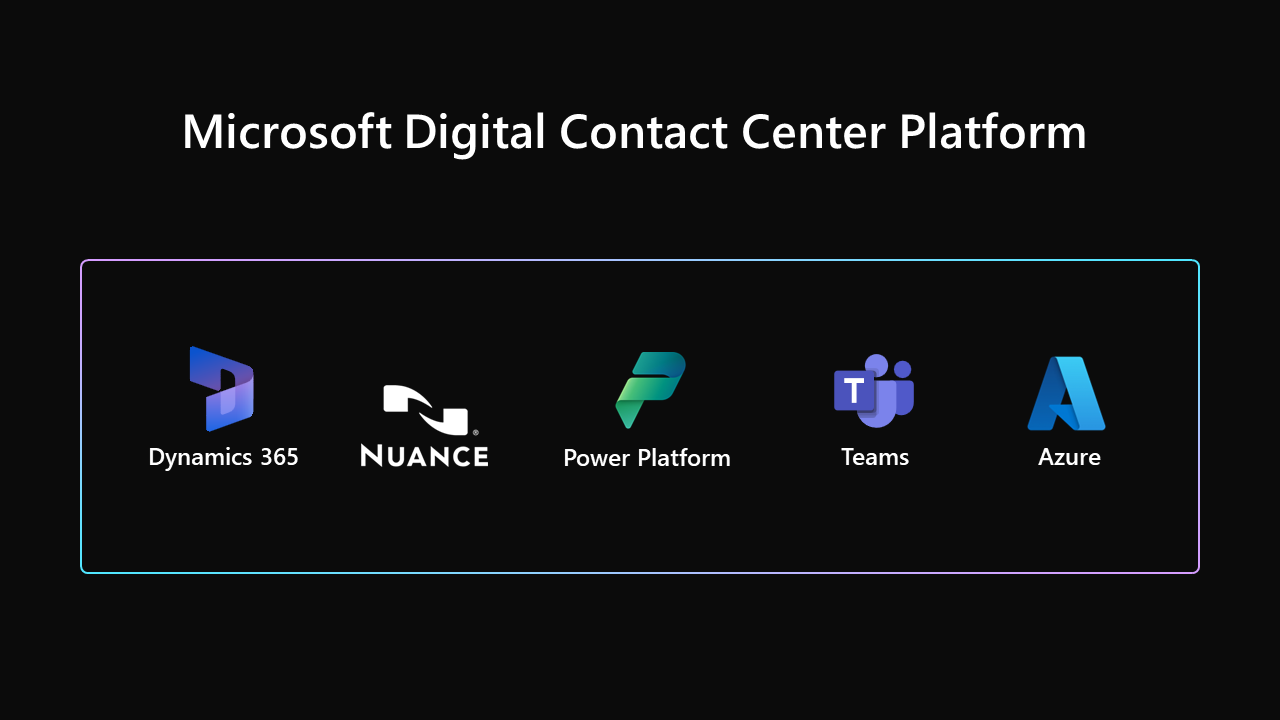 What role each application plays
Dynamics 365 – D365 Customer service provides the workspace & countless capabilities for customer engagement
Nuance – The addition of Nuance provides advanced conversational AI, security, and automation to the platform.
Power Platform – Low-code development, analytics & automation platform
Teams – Communication platform that connects the organisation, agents, and customers
Azure – Market-leading cloud infrastructure service providing hosting for Microsoft solutions & services
Capabilities of the Digital Contact Centre Platform
Omnichannel engagement
Consumers are now using multiple channels to interact with brands, so the platform makes it easy for your customers to communicate with you how they want. Securely connect with customers through any channel, including email, virtual assistants, chatbots, text messages, and social platforms. With the platform, companies can:
Resolve customer needs quickly and easily with customer self-service and automation, enabling scale through automation of repeatable tasks as well as sophisticated transactions.
Intelligently connect customers to virtual and live agents with the best-suited skills, experience, capacity, and availability, and provide agents with AI-powered recommendations.
Deliver hyper-personalized omnichannel service across voice and digital engagement channels, including support for major social messaging platforms. Provide richer service engagement with Teams voice and video embedded within Dynamics 365 Customer Service.
Personalise and safeguard customer interactions
Delivering personalised experiences starts with using AI to identify and authenticate customers seamlessly and securely, and requires harnessing the power of data to understand, customise, and optimise customer journeys. The platform utilises AI and analytics to anticipate customer requests, predict intent, and provide rapid resolution, streamlining service and increasing satisfaction. Customers are protected with integrated biometric identification, authentication, and fraud prevention to build and maintain brand trust.
Use biometric authentication to authenticate customers in seconds
Secure every customer and employee interaction, while uncovering fraud patterns and attack vectors to prevent fraud
Provide detailed insights on how customers interact with the brand throughout their journey, with customer journey analytics
Understand why customers are calling and customise their experience to anticipate their needs with AI intent prediction
Increased agent productivity
The platform has been designed to empower agents to better serve customers by providing the right information, people, and insights directly into the flow of work with Context IQ. This provides intelligent next-best response recommendations and sentiment analysis to enable faster case resolution. The platform:
Provides agents with a 360-degree view of the customer and their journey. Agents can manage customer requests seamlessly from any channel, even while handling multiple sessions at the same time.
Empowers agents with personalised conversational intelligence, including sentiment analysis, to truly understand customer emotions and needs. Next-best response and offer recommendations help create valuable upsell and cross-sell opportunities.
Assists the agent in identifying the resolution with AI-recommended knowledge articles.
Automates how agents quickly and efficiently bring together experts to resolve an open case through intelligent case swarming. With a single click, agents can collaborate with experts matched based on skillset and expertise.
Increase acquisition and revenue
Real-time insights and analytics enable data-driven decisions to improve customer satisfaction, with conversational analytics providing instant visibility into trends across engagement channels. With the platform, you can:
Enable agents to increase conversions and upsell to customers through real-time offers.
Help customers find and select products through personalised offer recommendations.
Track user behaviour and data to quickly identify and offer optimal engagement opportunities through predictive targeting.
Pre-emptively notify customers of special promotions and updates, accelerating their purchase intent, and boosting revenue.
Simple, flexible, and innovative infrastructure
The platform simplifies implementation of contact centre infrastructure, removing the need for complex IT integrations while maintaining flexibility for customers and partners seeking a comprehensive solution.
Tasks and workflows of any complexity can be easily automated using no/low-code & pro-code experiences. Powerful virtual chatbots can be equipped with conversational AI to converse with customers efficiently across engagement channels. Self-service tools are also available so customers can solve issues themselves quickly.
Benefits of the Microsoft Digital Contact Centre Platform
Meet customers on their preferred channel, with tailored service options
Connect with customers to personalise and help secure interactions
Help service agents resolve issues faster and create new revenue opportunities
Work from a single platform that provides insights and adapts to future needs
How is the platform licensed?
As the platform is a combination of services, licensing differs between the products, meaning some are licensed per-user, and others by consumption. The platform can be utilised with any combination of the applications to build a system that works specifically for your requirements. Microsoft want customers to build on the existing systems they have in place, with 700+ data connectors available to integrate with other systems. If you're interested in utilising the platform within your business, we would recommend having a conversation with a Microsoft partner (like us at Mercurius IT!) to get an understanding of your situation and requirements. Please leave your details in the contact form below if you would like to book in a call.
Further information from Microsoft available here
Interested in learning more about the Digital Contact Centre Platform?
Leave your details in the contact form to get started.