In the ever-evolving world of Enterprise Resource Planning (ERP) solutions, Microsoft continues to raise the bar with Dynamics 365 Business Central.
Their commitment to constant innovation and user satisfaction is evident in their bi-annual Release Waves.
With the 2023 Release Wave 2, Microsoft brings forth a plethora of enhancements, including Generative AI through Microsoft Copilot, empowering users with enhanced Power Platform capabilities, and streamlining financial processes with a range of consolidation and intercompany features.
In this article, we'll delve into the financial improvements within Release Wave 2, showcasing how they make Business Central an indispensable tool for organisations navigating the complexities of financial management.
If you'd like to find out more information about 2023 Release Wave 2 for Business Central as a whole, please head to our blog post that covers all things to do with the update.
Financial Empowerment: A Glimpse into Release Wave 2
The 2023 Release Wave 2 for Dynamics 365 Business Central introduces a series of financial enhancements that significantly improve the user experience.
These enhancements pave the way for a smoother workflow, particularly when it comes to financial consolidation and intercompany processes.
Let's explore how these improvements can revolutionise the financial management landscape.
Dynamics 365 Release Wave 2 Overview
Release waves are part of Microsoft's commitment to updating Dynamics 365 and Power Platform users with new capabilities and features.
The 2023 Release Wave 2 is no exception, bringing many innovations to the table, focusing on improving user experience and empowering businesses to adapt to an ever-changing environment.
Here's a glimpse of some of the most exciting updates in Dynamics 365 and Power Platform's 2023 Release Wave 2:
Make an Informed Decision with a Indicative Proposal
Unlock the power of Dynamics 365; Simplify operations and Accelerate growth. Request a tailored quote for Microsoft Dynamics 365!
Financial Consolidation: Simplifying Complexity
Financial consolidation is a vital process primarily employed by larger organisations that operate with multiple business units, legal entities, or subsidiaries.
These diverse entities often operate within separate Business Central environments, making data disconnection a common issue.
The magic of financial consolidation lies in its ability to gather all the financial data from these separate business units, weaving them into a single, comprehensive set of financial statements for the entire organisation.
The benefits are profound. Not only does this approach streamline financial reporting across the organisation, but it also enhances transparency, ensures compliance with regulations, and enables more informed decision-making.
In essence, financial consolidation is the key to breaking down data barriers and unlocking the true potential of your organisation's financial data.
Intercompany Setups: Managing Transactions with Ease
Intercompany setups are used by organisations, particularly those with multiple subsidiaries or entities.
These setups are designed to manage and account for transactions that occur between different parts of the same company.
They are vital in ensuring that internal financial records remain accurate, eliminating the risks associated with double-counting revenues, expenses, and assets.
Bridging the Gap: Financial Consolidation vs. Intercompany Transactions
To avoid any confusion, it's essential to distinguish between intercompany transactions and financial consolidation.
Intercompany accounting primarily revolves around managing and reconciling financial transactions between different segments of the same organisation.
This prevents double-counting and guarantees precise internal financial records.
In contrast, financial consolidation pertains to the amalgamation of financial data from multiple subsidiaries or entities into a singular, comprehensive set of financial statements for the entire organisation.
Improvements made with 2023 Release Wave 2
While financial consolidation and intercompany accounting were available in previous versions of Business Central, they often required manual intervention and were cumbersome to accomplish.
With the 2023 Release Wave 2, Microsoft's commitment to user satisfaction is evident. They have simplified the process of linking business entities through APIs, effectively eliminating the need for manual file handling.
This not only streamlines operations but also enhances the accuracy and efficiency of financial processes.
The transformation in Release Wave 2 signifies a shift towards more automated, user-friendly financial management within Business Central.
Financial consolidations across environments in multicompany setups
2023 Release Wave 2 update is poised to transform financial consolidations, particularly for organisations with diverse business units operating in separate Business Central environments. This section of our blog post explores how this update simplifies the process.
The Challenge of Multicompany Financial Data Consolidation
Picture this scenario: a subsidiary company in a different country from the consolidated parent company.
In such multicompany setups, the complexity of consolidating financial data efficiently has always been a concern.
Previously, the process was possible by importing financial data from other companies within the same Business Central tenant or dealing with external files.
When a business unit's data resided in a separate database, an added layer of complexity involved exporting data to files, with each company requiring individual attention.
Release Wave 2 for Dynamics 365 Business Central empowers business units, entities, or subsidiaries operating in different Business Central environments to perform consolidation seamlessly.
So, how does it work?
Enabling the feature
To leverage this feature and simplify financial data consolidation without dealing with files, a straightforward solution has been introduced.
You can now add an API endpoint on the Business Unit Card to the environment that a business unit uses. This can be configured through the Consolidation Setup page.
Once your business units are logged into the system, they can harness the full suite of consolidation features, bridging the gap between different Business Central environments.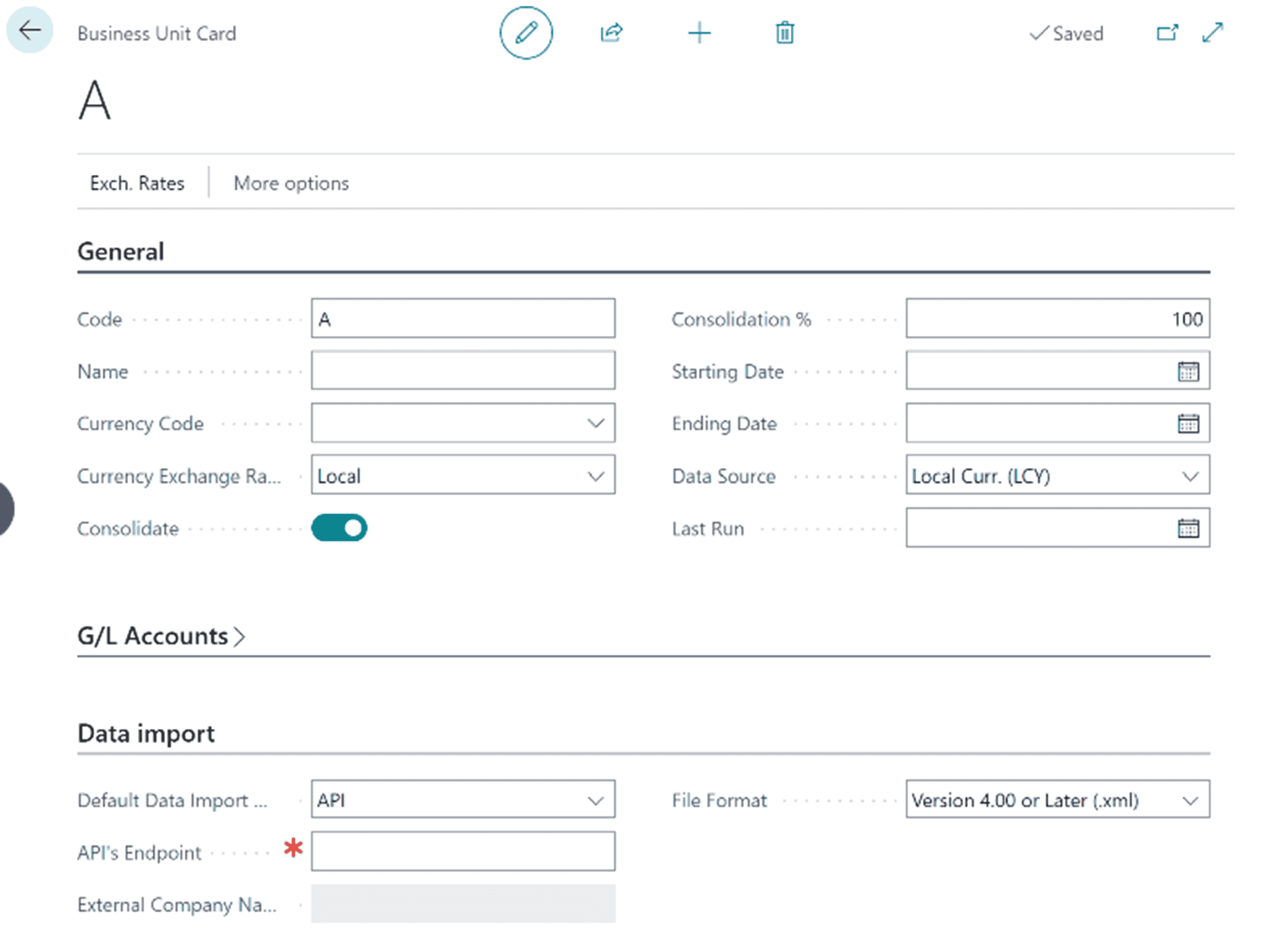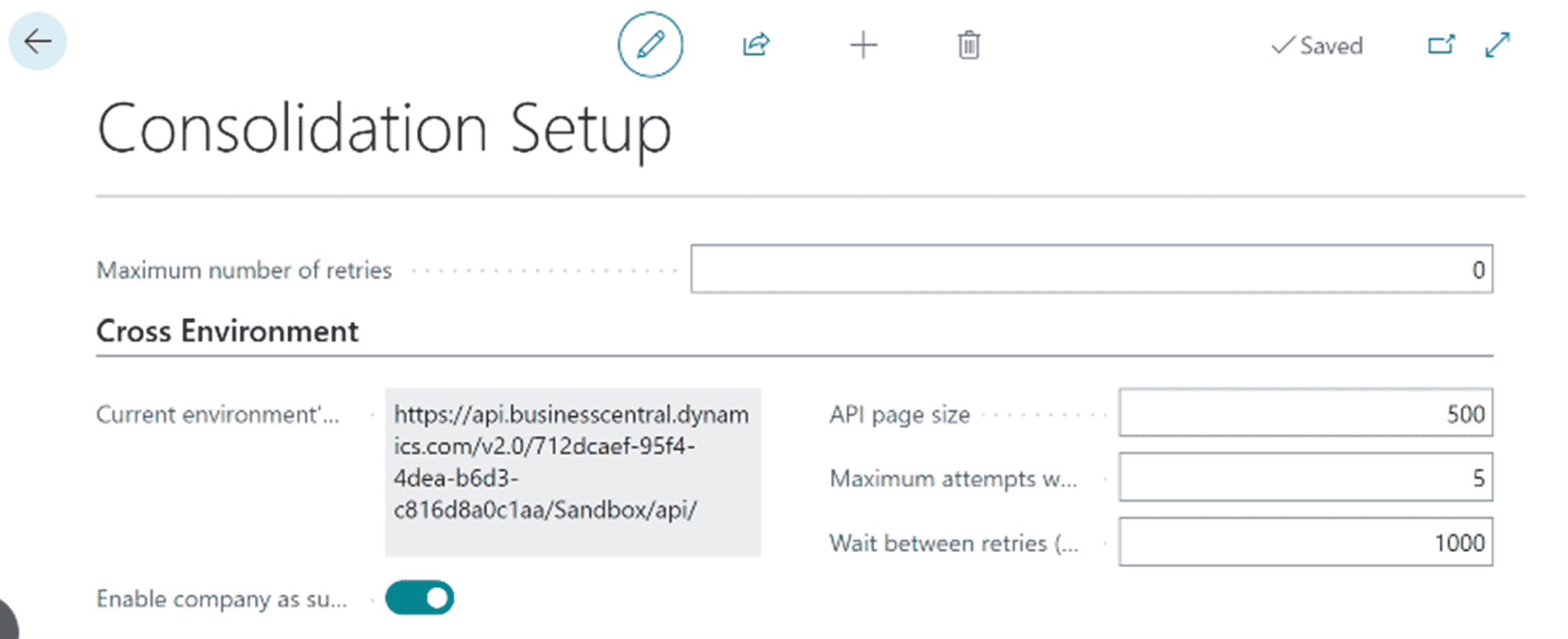 What you can consolidate:
Across companies that maintain different charts of accounts.
Across companies that operate with different fiscal years and currencies.
In full or by a specified percentage of a company's financial information.
Utilising different currency exchange rates for individual General Ledger (G/L) accounts.
As part of a recent webinar, we covered how to set up and utilise this feature. You can watch our Business Central expert explore the feature here:
Make Intercompany transactions across Business Central environments
This update streamlines the way businesses send and receive transactions while managing accounting across multiple operating companies.
Similarly to the previous feature, it eliminates the tedious task of handling files, ushering in a new era of efficiency.
The Power of Intercompany Transactions
For businesses operating across diverse entities with separate accounting functions, intercompany transactions are a game-changer.
This functionality proves invaluable, especially for businesses with subsidiaries spanning international markets or regions and those with multiple companies but limited accounting teams.
Intercompany transactions simplify and streamline business processes and transactions within this intricate web of entities.
Four Key Benefits
There are four main benefits to the intercompany functionality:
Increased Productivity: Intercompany transactions save time and simplify operations, boosting overall productivity.
Minimised Errors: With a single information entry and system-wide automated updates, errors are drastically reduced.
Complete Transparency: Full visibility into activities and transaction histories ensures complete accountability.
Efficiency and Cost-Effectiveness: Transactions with affiliate and subsidiary companies become highly efficient and cost-effective
Enabling Effortless Intercompany Partnerships
The latest feature makes setting up intercompany partnerships between companies in different Business Central environments a straightforward process:
Access the Intercompany Partner Setup: On the Intercompany Partner Setup page, select 'Connect Externally Setup'
Choose Your Partner: Designate a company as an intercompany partner in your chosen environment for effortless transaction access.
Automatic Transactions: Once set up, transactions flow seamlessly between companies, even if they operate in different Business Central environments.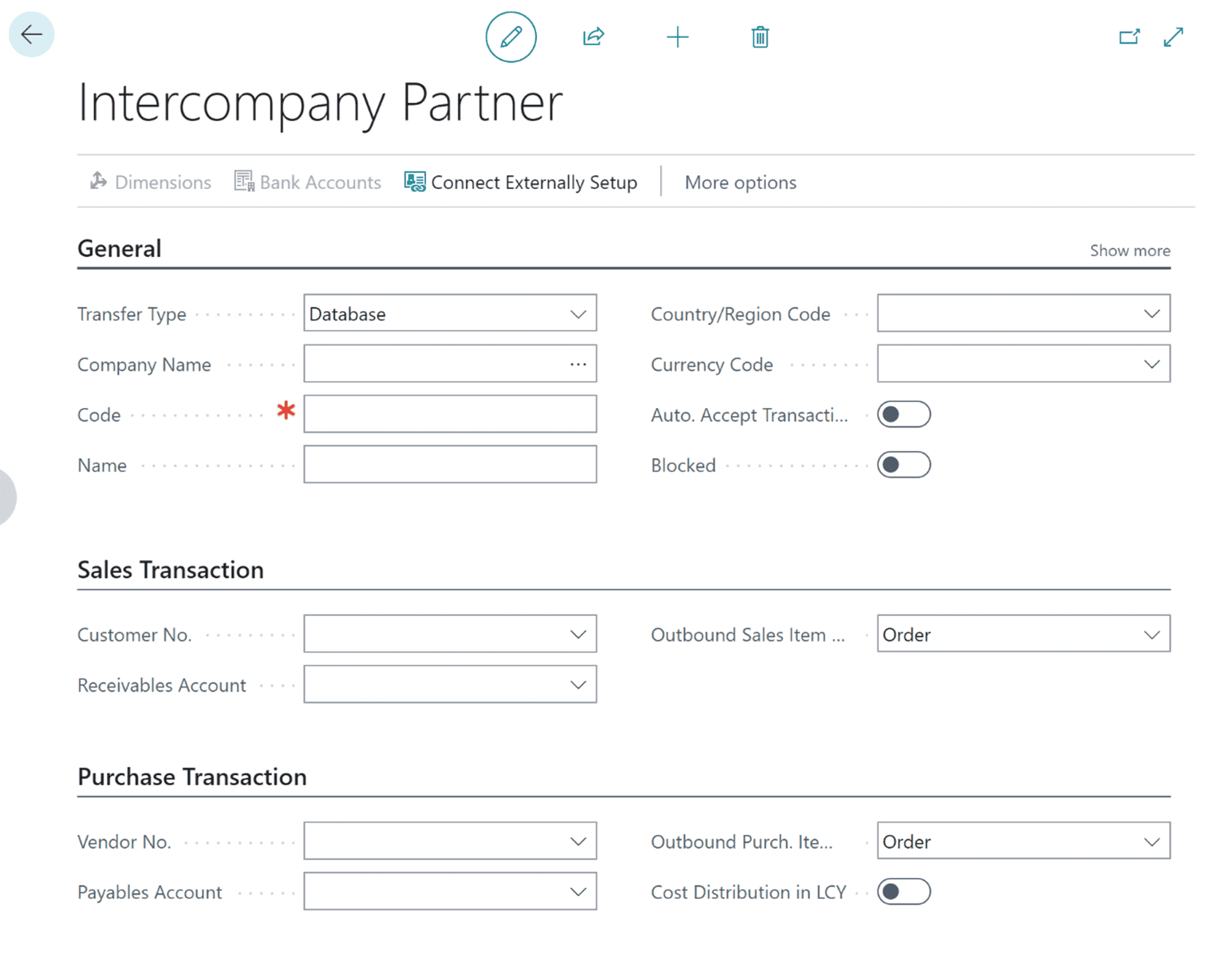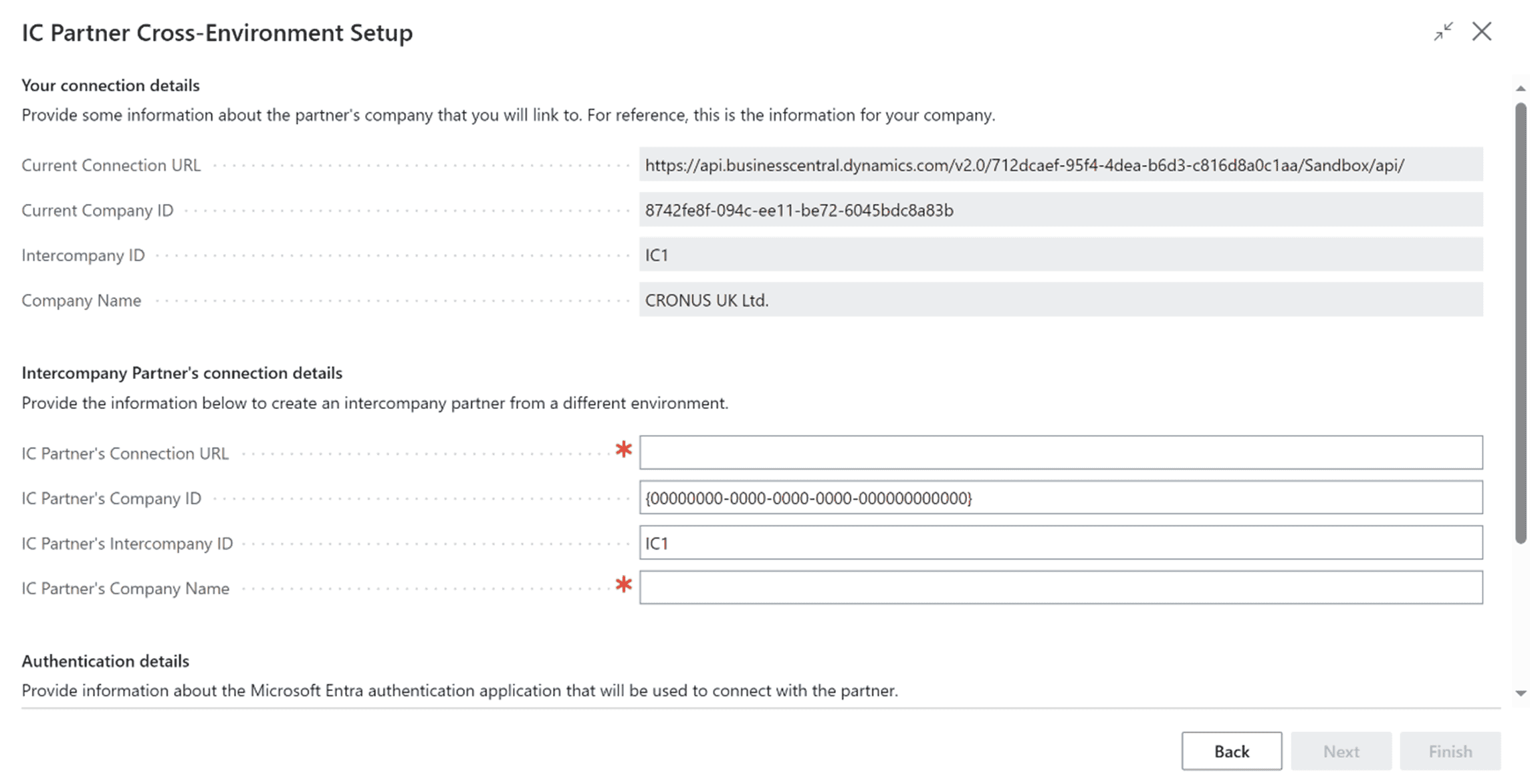 This update unleashes the full spectrum of intercompany features across various environments, offering capabilities such as streamlined sales and purchase document processing, intercompany journal entries, and purchase invoice cost distribution.
For example, if you've chosen to map accounts to an intercompany chart of accounts, or dimensions or items, transactions can flow even though the partners reside in different Business Central environments.
See from our expert how to set up the feature:
Your content goes here. Edit or remove this text inline or in the module Content settings. You can also style every aspect of this content in the module Design settings and even apply custom CSS to this text in the module Advanced settings.
We Will Help You Finally Decide To or Against Dynamics 365
Include approvals for intercompany general journals in your workflows
This update offers management users a chance to elevate control and precision by incorporating intercompany general journals into an approval workflow before they are posted.
This feature not only enhances the control over financial transactions but also significantly reduces the likelihood of errors in intercompany postings.
In earlier versions of Business Central, when an intercompany document or journal line was posted, a corresponding document or journal line was generated in the intercompany outbox.
Subsequently, these documents were transferred to the partner, allowing them to post the corresponding transactions in their respective companies without the need to re-enter the data.
For sales and purchase documents, the intercompany partner code attached to customers or vendors ensured that all orders and invoices related to transactions between partners produced corresponding documents in the partner companies.
This meticulous process guaranteed that the company accounts remained in perfect balance across all entities.
Intercompany general journal lines follow the same principle. With this update, there's no need to re-specify accounts. Instead, you simply choose the partner company, and corresponding intercompany general journal lines are automatically generated in the partner company.
With the new feature, an approval workflow is available for intercompany general journals.
Intercompany general journals are a variant of general journals, so when you set up the workflows for general journals they'll also work for intercompany.
To set up the feature
To set up this feature, you can initiate a new workflow with an assisted setup similar to user template workflows.
Discover this new workflow under 'Workflow Templates' with the name 'Intercompany General Journal Line Approval' For seamless utilisation, ensure that users are set up on the 'Approval User Setup' page.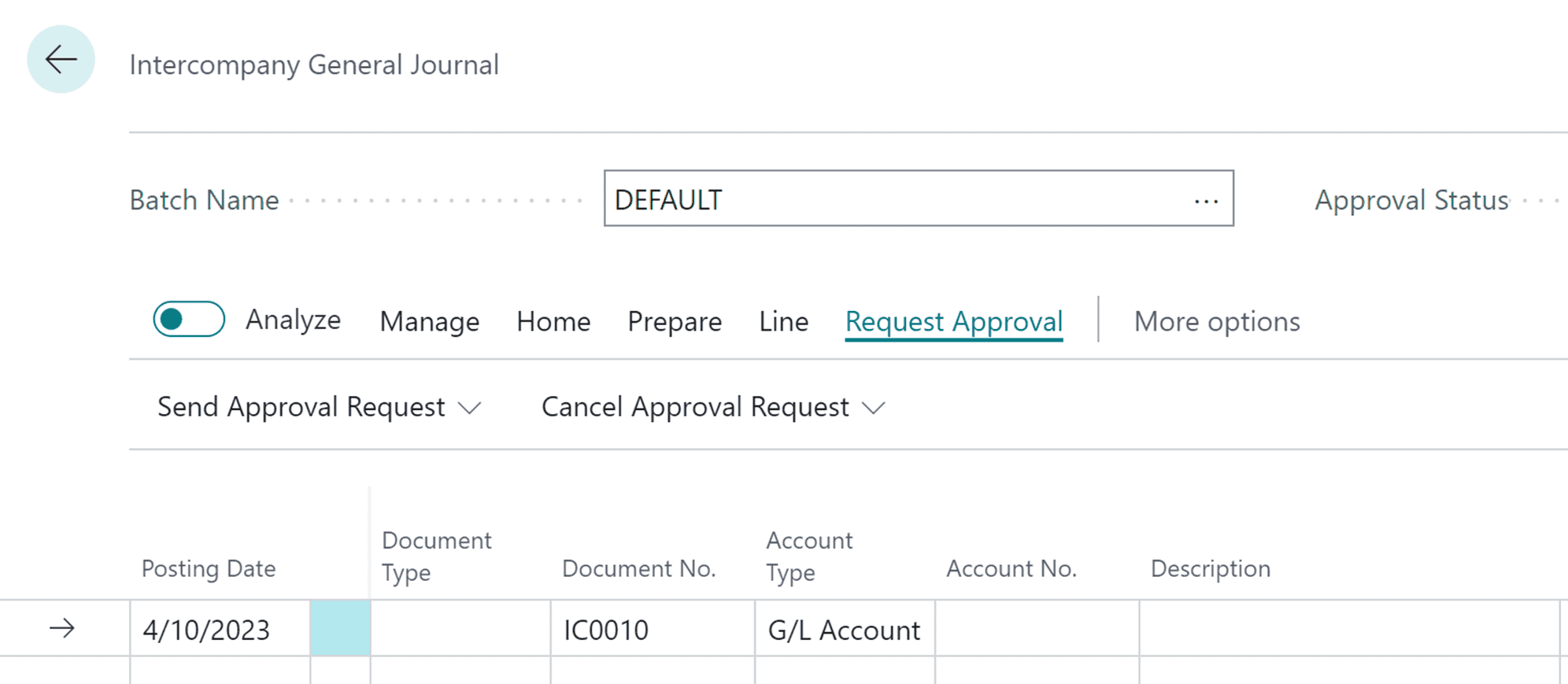 In the ever-evolving landscape of business management, 2023 Release Wave 2 has truly raised the bar for Business Central.
The financial enhancements it brings, from streamlined consolidation to efficient intercompany transactions, are game-changers for organisations of all sizes.
To fully grasp the potential of these enhancements and witness them in action, we invite you to take the next step.
Book a demo of the solution to see it in action, or delve deeper into the details by watching our informative webinar covering the Release Wave 2 updates.
Your financial management can be more efficient, automated, and transparent.
Don't miss this opportunity to transform your approach. Contact us using the form below and embark on your journey toward financial empowerment.
Do you have a question?
If you have a question about the content on this page, let me know. If I can clarify something or guide you in the right direction, I will be happy to help.