In today's business landscape, being able to make educated decisions quickly is key to success. Business Intelligence helps you do just that. Business Intelligence tools collect and analyse data from a huge variety of sources and then present that data as graphs and charts in real-time dashboards. There are a huge number of Business Intelligence software solutions on the market, each with varying capabilities, price points and deployment options. In this post, we will present 5 of the best Business Intelligence solutions available, to help you make the best investment for your business.
Google Analytics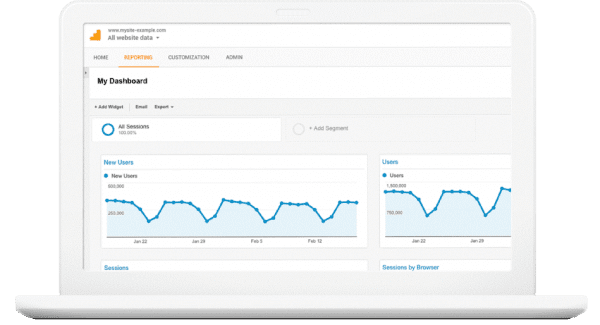 Google Analytics is a free web analytics platform from Google and is the starting point for most businesses. With a code snippet placed on your website, you can easily monitor how users are navigating around your website, which pages are performing best and where in the world your visitors are coming from. Though it is possible to integrate Google Analytics with other data sources, such as CRM and ERP systems, through the Google Analytics API, this does require some technical knowledge.
Google also offers the Google Analytics 360 Suite for medium and large enterprises. This solution lies right at the other end of the spectrum in terms of functionality and price, offering a complete bespoke analytics solution from $150,000 USD per year.
Key Benefits
Drawbacks
Integrations require some technical knowledge
Domo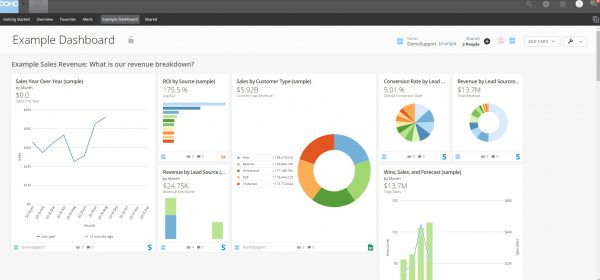 Domo is a business intelligence web service boasting connectors with more than 500 applications. Data can be cleansed and combined from multiple sources without the need for any coding, all while being updated in real time. Data analysis is easy, with users being able to filter data and overlay historical data for comparison. The tool also offers predictive analytics to forecast future trends.
Dashboards are easy to customise in Domo with a drag-and-drop interface and a great selection of visually-appealing graphics. The Domo AppStore offers hundreds of pre-built dashboards for specific roles and industries to help users get up and running straight away.
In-app and email notifications enable action to be taken quickly and can be set up to for any KPI, anomaly or update in the data, so you're always aware of what's happening in the business. Since Domo is focused on connectivity, functions for group sharing, commenting and live chat are built into the solution. Domo also has a mobile app to ensure you have access to your data on any device.
While businesses of any size can use Domo, those with more than 20 users will see the most benefit. The Standard plan ($83 USD per user/month) limits customers to 4 concurrent data connections and hourly data refreshes. Once you reach the Professional ($160 USD per user/month) and Enterprise ($190 USD per user/month), users and data connections become unlimited and data can be refreshed on demand. Despite the considerable price tag, Domo does offer a free 30-day trial for up to 5 users to try the solution before you invest.
Key Benefits
Easy set-up
A wide variety of integrations
Drawbacks
Restrictive pricing for businesses with 20 users or fewer
Looker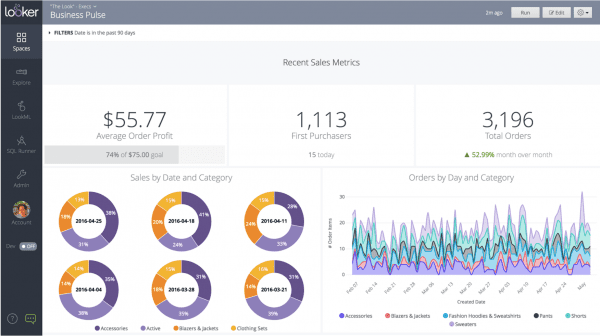 Looker is an on-premises or SaaS Business Intelligence solution, popular with the likes of HubSpot, Yahoo!, Buffer and Deliveroo.
Looker can store and process huge amounts of data at a fast pace and is able to connect to any SQL database or data warehouse, including Amazon Redshift, Microsoft Azure SQL and Google BigQuery. Integrations require minimal programming knowledge, with most processes needing a single line of code. Looker also comes with its own modelling language, "LookML", which can be used for more complex customisations. Though the learning curve may seem steep, Looker offers a knowledge base on their website complete with videos, articles and interactive resources to help customers learn about the product.
Data can be visualised through real-time drag-and-drop dashboards, accessible on any device, allowing for full functionality on the go. Looker also includes collaboration features, such as dashboard sharing and email reports. Like Domo, notifications can be triggered when KPIs are not met.
There is no tiered pricing, with just one standard edition, and pricing is calculated based on the number of users, database connections and deployment scale.
Key Benefits
Highly customisable solution
Drawbacks
Steep learning curve
Some coding knowledge required
Microsoft Power BI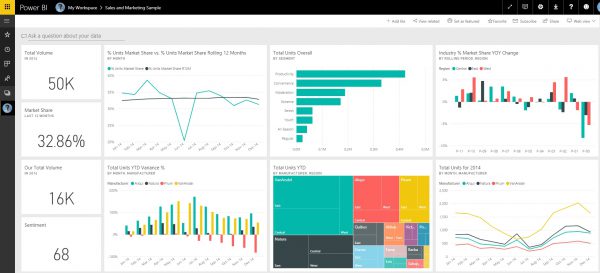 Microsoft's answer to Business Intelligence comes in the form of Power BI – a cloud-based, cost-effective solution for businesses of all sizes, from start-ups to big names like Adobe, Pepsi and Toshiba. Being part of the Microsoft suite, Power BI has the familiar ribbon layout many users are used too, meaning little-to-no training is required to create stunning interactive dashboards and reports. There is also a huge catalogue of learning resources on the Microsoft website to help educate users on how to maximize Power BI's potential.
Data from multiple different sources can be connected to Power BI, including any on-premise or cloud data in SQL databases and any of the hundreds of other data sources available. The list currently includes Google Analytics, MailChimp and Dynamics 365 and is always being updated to improve the reach and usage of Power BI.
A simple drag and drop UI is used to build interactive dashboards and reports filled with engaging visualisations that are updated in real time. Power BI comes with over 15 different visualisations to present your data, as well as an online library filled with additional options created by the community.
The Q&A function allows users to ask questions in natural language and Power BI finds the answers, so your people can make informed decisions, faster.
PowerBI can also be accessed through a mobile app so your data is never left behind. Set up mobile alerts for important KPIs and effortlessly annotate and share your interactive dashboards through text, email or the app itself. Power BI encourages collaboration, with the ability to edit, interact and analyse dashboards together. In parallel, there are multiple security features and permissions ensure no data falls into the wrong hands.
For all the features and capabilities possible in Power BI, it is one of the most affordable Business Intelligence solutions on the market, coming in three versions, Desktop (free for up to 1GB of storage) Pro (£7.50 per user/month) and Premium (for large-scale deployments, from £3,766.60 per month, priced according to your needs).
Key Benefits
Highly customisable solution
Free for up to 1GB of storage
Familiar Microsoft user interface
Drawbacks
Some technical knowledge required for set-up
Sisense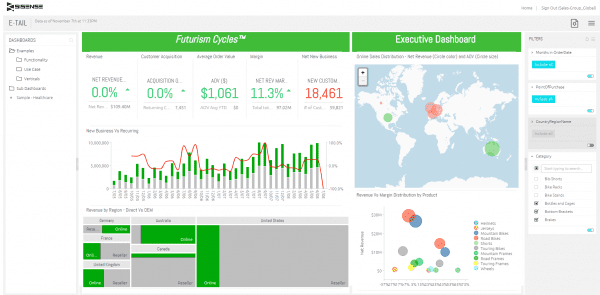 Sisense is an end-to-end Business Intelligence solution that is often regarded as one of the best solutions on the market. It is easily scalable and is used by many large organisations like eBay, Samsung, Sony and NASA. Available both on-premises and as a cloud SaaS solution, it is designed as a simple and flexible solution that can be easily used by non-technical users, allowing anyone to read, interpret and gain insight from their data. Sisense also has an open API framework for more sophisticated customisation needs and a selection of third-party plugins that can easily be implemented to enhance the solution.
Sisense uses an intuitive UI with an interactive drag-and-drop dashboard that can hold as many visualisations as needed. The interactive dashboards mean you don't have to be a data analyst to get answers to your questions – by clicking on any element, users can drill down into the data to gain immediate insight.
Data in Sisense can easily be shared through email, PDF, Excel and HTML. Alternatively, you can schedule notifications to be sent when KPIs are met or missed. Sisense is also available through the browser on mobile devices, giving full functionality on the go.
Pricing is bespoke and is dependent on the number of users, data volume and project timeline required.
Key Benefits
Highly customisable solution
Drawbacks
Technical knowledge required for set-up
Pricing is geared towards large enterprises