2023 Release Wave 1 marks the first set of Microsoft's bi-annual updates to their business application platform. The updates and enhancements bring new features, capabilities, and improvements that businesses can leverage to streamline their operations and enhance customer experience.  
This blog post will be focusing on the upcoming changes to the Microsoft Power Platform, which includes Power BI, Power Apps, Power Pages, Power Automate and Power Virtual Agents. Click the links to read our previous blog posts, covering the upcoming changes to Dynamics 365 Business Central and Dynamics 365 CRM in this release wave. 
Power BI
Microsoft continue to drive a data culture, making it a standard part of every team's decision-making process through business intelligence. 
Premium
Power BI Premium users can expect new features that help accelerate the delivery of insights at scale, with enhancements to embedded analytics, automated migration from Azure Analysis Services, unique paginated report emails, and data protection support. 
Pro
Power BI Pro is receiving multiple enhancements to empower teams to collaborate with ease and discover more from their data. Changes include seamless integration between Power BI and Teams, a dedicated exploration mode for data, advanced security improvements, and flexible licensing & pricing models.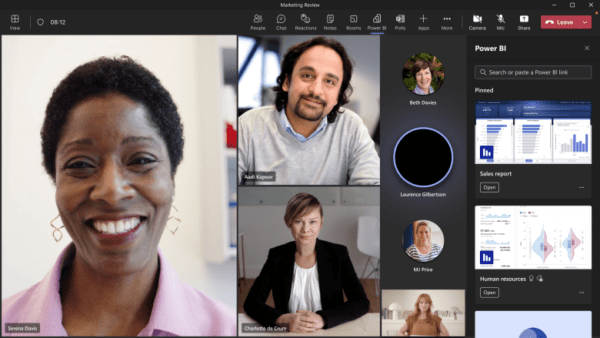 (Teams integration) 
See the full list of changes for Power BI here 
Power Apps
Power Apps is focusing on reducing risk for organisations, ensuring easy onboarding, and leveraging low code capabilities in a manageable way. 
Efficient maker experiences
With release wave 1, users benefit from a new Power Apps homepage, improved working with data from multiple sources, express design in Figma, and a simplified experience for building apps, improving collaboration and productivity.  
Modern user experiences
Continued development is being made to modernise the user experience and promote maximum productivity. Changes include improvements to advanced search, Power BI quick reports, UX and collaboration enhancements, and data analyser and chatbot controls embedded in Power Apps.  
See the full list of changes for Power Apps here 
Power Pages
With this release, Power Pages is bringing more out-of-the-box capabilities to enable users to create, host, and administer modern external-facing business website in a low-code environment. 
Administration and governance
Updates include disabled anonymous access to Power Pages, and website inventory data for tenants and environments. Helping administrators efficiently manage, configure, and maintain websites. 
Core platform
Users can use cloud flows with Power Pages sites and use Bootstrap version 5 in Power Pages. 
Professional developer experiences
Developers can now edit webpages with new features in Visual Studio Code for web, have command line support to perform website actions, and manage Power Pages ALM using solutions. 
Template hub and prebuilt templates
A new FAQ template provides a prebuilt FAQ website template, featuring both admin and customer experience. 
See the full list of changes for Power Pages here 
Power Automate
Microsoft Power Automate provides the tools that you can use to improve productivity in your organisation by automating repetitive, time-consuming tasks. Updates to Power Automate in release wave 1 are focusing on cloud and desktop flows: 
Cloud flows
Cloud flows feature enables users to automate tasks across hundreds of connectors, including integration with the entire Microsoft ecosystem (Dynamics 365, Power Platform, O365, Teams & more). Other updates include improvements to the Power Automate mobile app and using natural language to create flows. 
Desktop flows
Desktop flows help automate tasks on your PC. New features in release wave 1 enable organisations to deploy their automations at scale, provide developers with easy-to-use tools to build and run automations, and enable ISV integrations to build solutions with partners. 
See the full list of changes for Power Automate here 
Power Virtual Agents
Power Virtual Agents enable your organisation to provide excellent, real-time customer service through AI-powered chat bots, that can be created in an easy, code-free environment. The 2023 release wave 1 brings improvements to the authoring experience. This includes topic overlap detection in all Power Virtual Agents languages, adaptive card authoring, multi-modal response authoring, and more. 
Bot configuration
Users can benefit from advanced customisation to bots, using Chat GPT to boost conversations with AI, creating and editing with Copilot, and using Power FX expressions in authoring canvas. 
Core authoring
Create bots with Power Virtual Agents using the no-code canvas to manage topics, design conversation flow, and customise the look and feel. Then test changes to your bot without having to fully deploy it. Users can enhance this further by enriching conversations with adaptive cards, multi-modal response authoring, and adding chatbots from Dynamics 365 Customer Service admin centre with one click.  
Enhanced natural language capabilities 
You can now deploy multilingual-capable bots, enabling you to resolve issues for customers regardless of language. 
See the full list of changes for Power Automate here 
We hope this blog post has been useful as an overview of all the exciting changes that are coming to the Microsoft Power Platform over the coming months. For full details about each feature, please use the links provided, or for the full Microsoft release plan, click here. We also have previously written about the upcoming changes for Business Central and CRM. 
If you would like to talk about any of these changes in further detail or are thinking about implementing any Power Platform applications to your organisation, please leave your details in the contact form below!