Time is money, and in the fast-paced world of sales, your teams need to be spending their time building relationships and making sales, not completing rigorous admin tasks. Whilst Customer Relationship Management (CRM) systems, such as Microsoft Dynamics 365, are extremely useful and contain essential functionality to help manage, maintain and analyse customer data & interactions from a singular location; there are often time-consuming manual processes that have to be completed by salespeople to enable them to function properly. A majority of salespeople are using a variety of productivity tools in their day-to-day role to build relationships and advance sales, and the data from this has to be replicated into the CRM. In a lot of cases the tools and solutions being used don't natively connect and integrate with each other, requiring salespeople to manually enter the data, risking errors and taking precious time.
Microsoft's new offering, Viva Sales, eliminates the need for sales teams to manually enter data, allowing them to focus on selling.
What is Microsoft Viva Sales?
Microsoft Viva Sales is an add-on 'seller experience' application that uses Microsoft 365 applications such as Teams and Outlook to capture, access and register data into your CRM system. It has been developed to address the common issues faced by salespeople, making it easier to work productively and streamline processes with an AI-powered selling experience.
Let's say you have all your customer information and deal insights in Outlook and Teams chats. You need to capture everything manually in your CRM system—not an easy task. In the past, you had to rely on your memory, your email history, and your CRM to get context and keep deals moving forward.
Now with Viva Sales, externals contacts are connected to CRM contacts automatically. Data from your CRM populates in Viva Sales, placing customer information at your fingertips. When you meet with customers in a Teams call, you can record and transcribe the meeting to get a rich summary using conversation intelligence. The meeting summary helps you understand the overall sentiment of the call and track helpful conversation KPIs, such as your talk-to-listen ratio, to become an even better seller.
Key features of Viva Sales
Create new contacts in CRM system – Contact information is prefilled by using an email signature if it's present
View account and opportunity information within Outlook
Save emails to the CRM from Outlook
Copy contact, account, and opportunity information from Outlook and share in Teams
Share CRM information in Teams chats
Update CRM record information from Teams chat
Access CRM information when scheduling meeting from Outlook
Save meeting details to CRM from Outlook
Meeting insights – executive summary, sentiment analysis, action items to follow up
Who can use Viva Sales?
Viva Sales is currently available for the following CRM systems:
Microsoft Dynamics 365 Sales
Salesforce CRM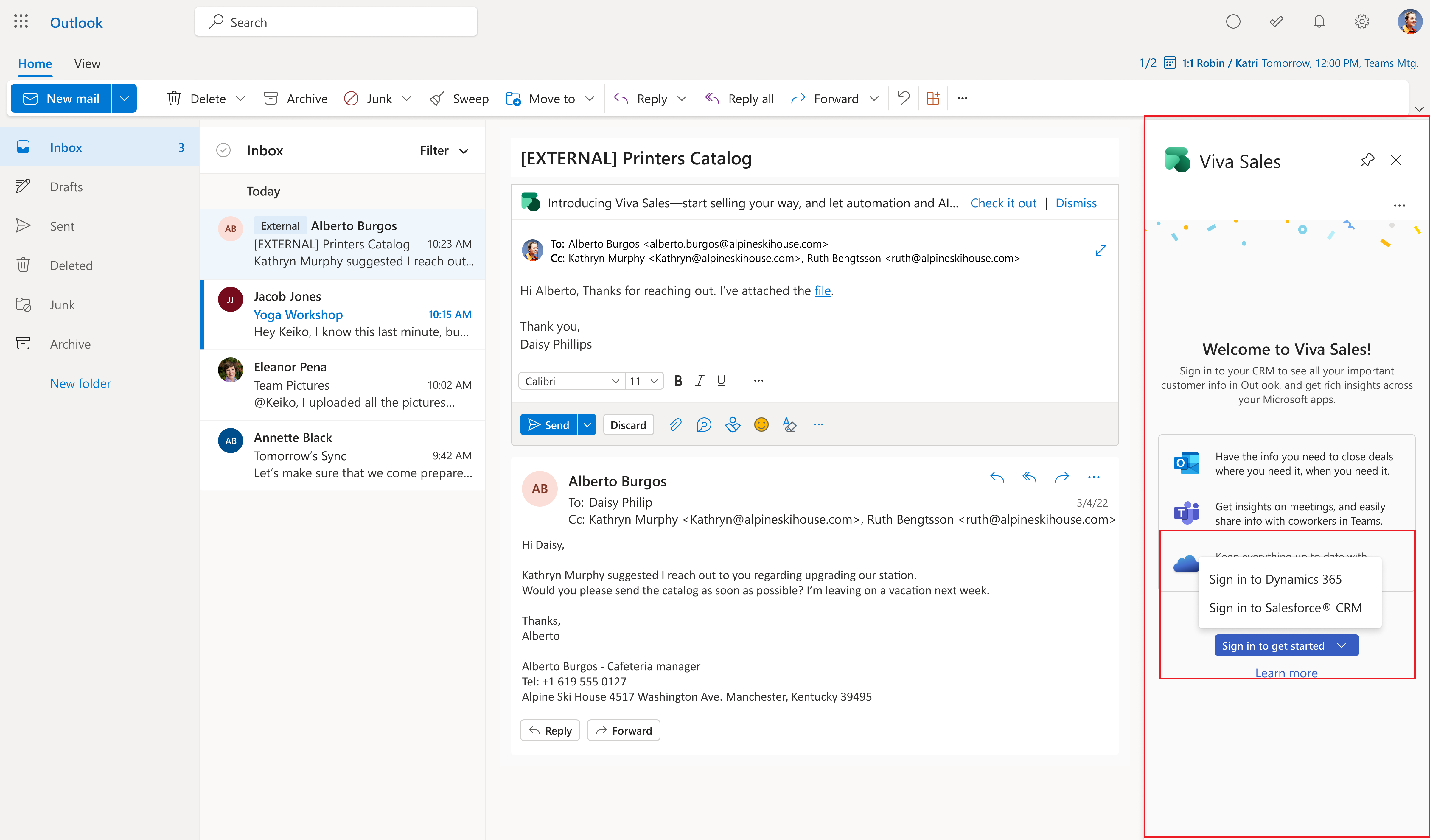 How is Viva Sales licensed?
Viva Sales can be installed as an integrated app on multiple platforms or as an individual add-in on a single platform.
Microsoft Viva Sales licenses are currently available for £30.20 per user/month
Microsoft Dynamics 365 Sales Enterprise & Premium licenses also come with Viva Sales included.
A separate Salesforce CRM license will be required along with Viva Sales.
FAQs about Microsoft Viva Sales
What is included in Viva Sales?
Viva Sales will offer read-write capabilities back to your CRM tool (Dynamics 365 Sales or Salesforce CRM) within the Microsoft 365 and Teams applications you already use. Viva Sales also offers unlimited conversational intelligence capabilities, eliminating the need for note taking in meetings and providing you sentiment analysis and next-best actions. Viva Sales connects your CRM customer list automatically into your Office applications—reducing the need to add customers already in your CRM tool. Viva Sales also helps you collaborate more efficiently within Teams by sharing contact cards and identifying coworkers that have had meaningful interactions with your customers. This allows you to connect and gain insights from your colleagues.
What are the prerequisites for purchasing Viva Sales?
A Microsoft 365 for enterprise or Office 365 for enterprise product license is required to use the Viva Sales app in Outlook and Microsoft Teams.
How is Viva Sales different from Dynamics 365 Sales?
Viva Sales is a CRM companion application, meaning it works with Dynamics and Salesforce CRM solutions to intelligently automate customer updates, share AI-based recommendations and insights, and allow collaboration and productivity in tools sellers already use in Microsoft 365.
Want to know more about Viva Sales and Dynamics 365 CRM?
Leave your details in the contact form to get started.