What is a WMS?
A Warehouse Management System (WMS) is a solution that is designed to support and control the processes within your warehouse, including: receive, put away, pick, count, move, adjust quantity, etc. WMS solutions enable businesses to move goods and materials through their warehouses efficiently, whilst providing visibility into inventory. In most cases, a WMS is integrated with an Enterprise Resource Planning (ERP) system which handles financials, manufacturing, inventory and more. Mobile WMS brings this functionality to a handheld barcode-scanning device that employees can use in their day-to-day operations.
Which Mobile WMS should I choose?
There are many mobile WMS solutions available on the market to provide inventory management capabilities, but we recommend using
Tasklet Factory mobile WMS
for your business. Tasklet's solution is being used by over 1000 customers in 36 countries, across industries including manufacturing, wholesale, retail, food service, healthcare, and distribution. You can find more information about choosing the right warehouse management system
here
.
What are the benefits of Tasklet Factory mobile WMS?
Improved Accuracy
With a mobile WMS solution, you benefit from increased accuracy and reduced errors. Barcode scanning functionality ensures you are sending and receiving the correct goods, even when you're not online. As warehouses don't always have WI-FI stable coverage, Tasklet's WMS can run 100% offline with your processes unaffected and no data lost.
Worker Productivity
When developing the solution, Tasklet Factory have focused on the end-user to ensure the user interface helps staff work more efficiently. The easy-to-learn UI on the handheld devices resembles a smartphone, using icons to represent each process with guided steps to take you through it. Screens can be customised to only display the processes and information that is required for certain staff members, helping them use the device with minimal training and reducing the chances that anything can go wrong.
Paperless Warehouse
Implementing a WMS solution for the first time can mean you're moving from paper-based processes in your warehouse to digital. Moving from paper-based processes not only takes an expense out of your budget, but it helps your operation be more sustainable and environmentally conscious. On top of that, digitising your processes to a handheld device saves precious time for workers with no need to manually write notations then rekey in the data, which can lead to errors.
Reduced Costs
Naturally, after implementing a mobile WMS solution you're expecting a positive Return on Investment (ROI). In most cases, companies that don't have a WMS solution in place today will likely see an ROI within six to twelve months. After implementing your mobile WMS you can expect reduced costs through smoother workflows and processes, in combination with improved data quality to bring positive results in a visible way.
Integration & Customisation
Tasklet's mobile WMS integrates directly with Microsoft Dynamics Business Central & NAV, providing a seamless connection for data to transfer between them. The standard functionality of Dynamics ERP provides capabilities for financials, manufacturing, operations, inventory, customer service and more. Whilst standard functionality often covers the needs of most companies, customisation is occasionally needed to fit a business's unique requirements. Luckily, Tasklet has been designed so it can be easily extended with custom functionality such as voice-picking or external screens.
Want to see the solution in action? Join us at our upcoming webinar!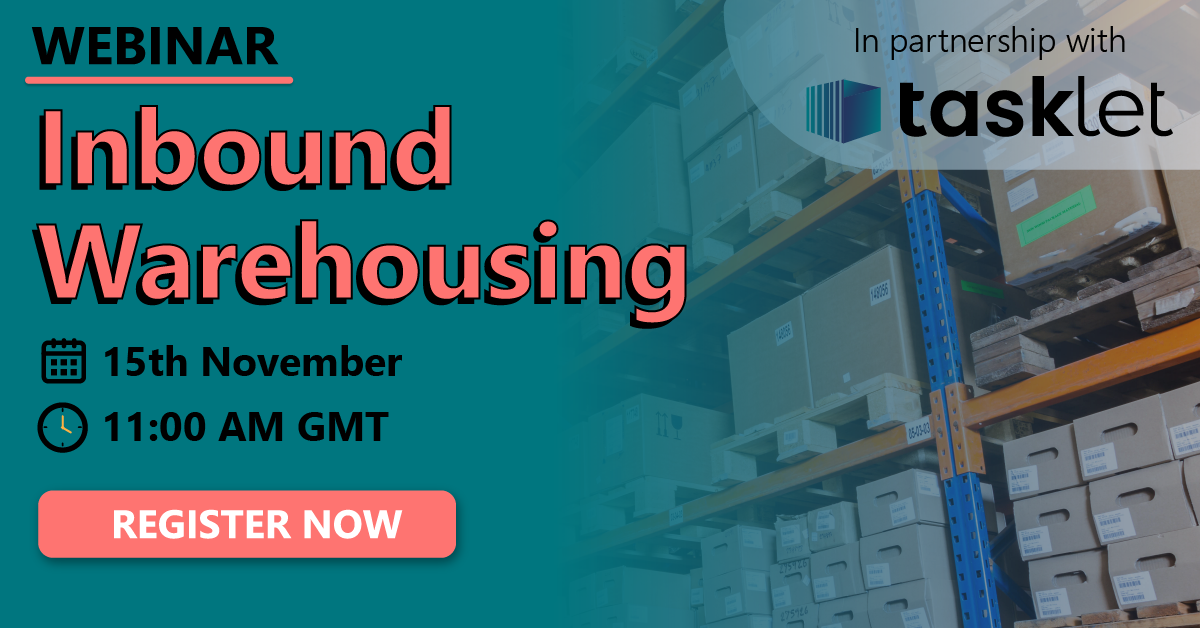 Tuesday, 15th November
11:00 AM GMT
This webinar covers the following topics:
The pain points related to receiving/goods-in and put away
How to ease the pain points using Tasklet WMS