This is a guest blog from our partner NETRONIC, written by Lawin Ileto
Microsoft Dynamics 365 Business Central Premium provides comprehensive manufacturing functionality out-of-the-box. You can:
Create Bill of Materials (BOMs) – even multi-level BOMs with variants
Define items with a variety of replenishment functions
Create routings, as well as work and machine centres
Production orders can post consumption and output
Powerful Materials Requirement Planning (MRP) engine brings all of this together with your demand forecast and sales order
In that way, a lot of Business Central's manufacturing capabilities are designed to help you manage item supply and demand from a mid-term perspective. Hence, it gives you a proper time schedule.
However, Business Central lacks the functionality to visualise your production scheduling or support you with shorter-term (finite) capacity scheduling – which is where NETRONIC steps in.
Visual scheduling builds on this fundament
Given the complexities of running any manufacturing operation and working with ERP systems, companies such as NETRONIC have had the opportunity to fill a void in the industry when it comes to visualisation. With more than 40 years of experience in visual scheduling technology, NETRONIC's solution is best encapsulated in various forms of an interactive Gantt chart. Gantt charts provide the following benefits:
Comprehensive overview of time-related and resource-oriented schedule with dependencies and constraints
Highlight conflicts and enable corrective actions to make the necessary adjustments to the schedule
This visualisation gives you a better idea of what is going to happen. It has a clear structure that makes it even easier to manage unexpected incidents, allowing you to make better decisions. Thus exists the saying "a picture is worth a thousand words".
Here are the functionalities that NETRONIC's fully integrated visual scheduling solutions bring to Business Central:
Fully integrated into Business Central and accepting Business Central as the "single point of the truth"
Combine relevant data from various Business Central tables into a visual interface
Understand the bigger picture by seeing your orders and any respective resources assigned to them
Interact with the Business Central data that is visualised on the Gantt Chart on the fly
Understand your data faster through intuitive visualisations, helping you make informed decisions, detect bottlenecks, and improve the utilisation of resources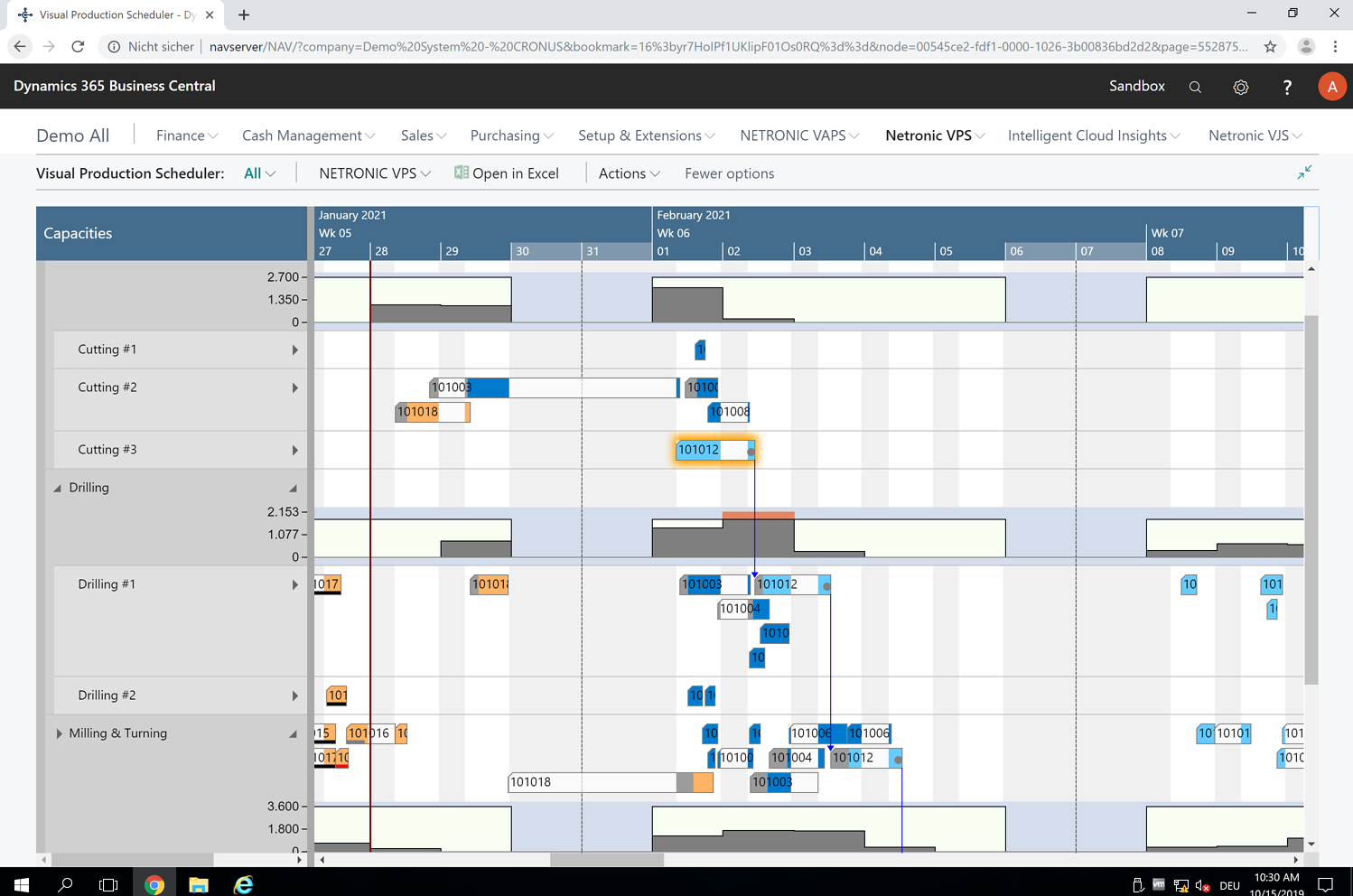 If you're interested in adding a visual component to Business Central click here to find out more. NETRONIC are serving 300+ clients worldwide and enabling them to gain operational agility with the Visual Production Scheduler.
Thursday 16th september | 11:30am
Join us at 11.30am (UK time) on the 16th of September to discover how Dynamics 365 Business Central can help streamline supply chain related problems for manufacturing companies.
Our expert will show the rich features of the Manufacturing module and explain how these features are useful for mapping complex business scenarios within manufacturing operations.
In this webinar, we will demonstrate the topics below:
• Manufacturing capacity planning
• Product Management
• Manufacturing planning and production
• Subcontracting
Afterwards, there will also be a question-and-answer session to cover more information.