In digital transformation, Microsoft Dynamics 365 for Sales empowers businesses to transform their sales process into an efficient, productive powerhouse.  
Understanding the best practices to implement Dynamics 365 Sales can lead to greater customer engagement, improved sales performance, and increased profitability. Here we break down the key steps and considerations for an effective implementation. 
Take your business process to the next level – partner with the team at Mercurius to implement Microsoft Dynamics for Sales. Find out more here.  
Free Trial
See how Microsoft Dynamics 365 Sales can help you transform your business.
Understanding Dynamics 365 Sales
Dynamics 365 Sales is a cutting-edge customer relationship management (CRM) tool that harnesses the power of artificial intelligence (AI) to boost sales productivity.  
From tracking leads and managing customer interactions to generating data-driven insights, Dynamics 365 Sales transforms the most complex sales data into a navigable roadmap for sales success. 
Why Choose Microsoft Dynamics 365 for Sales?
Enhanced customer insights allow for personalised sales experiences that can increase conversion rates.

 

Routine tasks can be automated, allowing sales representatives time to focus on relationship building.

 

Real-time analytics and AI-powered insights support informed, strategic decision-making.

 

Dynamics 365 for Sales integrates effortlessly with other Microsoft products, promoting streamlined operations.
Pre-Implementation Considerations
Before your D365 Sales license acquisition and implementation, a strategic plan must be in place to ensure a smooth transition. Key factors to consider include: 
Business Requirements

: Identify your business goals and how Dynamics 365 Sales can aid in achieving them.

 

Resource Allocation

: Plan your human, financial, and technical resources needed for the implementation.

 

Data Migration

: Establish a detailed plan for transferring data from your existing system to Dynamics 365 Sales.

 
Dynamics 365 for Sales Implementation Steps
Step 1: System Setup and Customisation
The first step is setting up and customising your system to operate seamlessly across your business. Dynamics 365 Sales can be tailored to align with various business processes, fields, and entities. This ensures that the system will complement your unique sales strategies. 
Step 2: Data Migration
Your previous system's data must be accurately and securely transferred to the new system. This process should be carried out systematically and carefully to avoid data loss or corruption. 
Step 3: User Training
For Dynamics 365 for Sales to be effective, user training is essential. Training ensures your team understands how to utilise the system's features to improve sales processes and make data-driven decisions. Ideally, this should be formalised and can be a mixture of online and face-to-face training to ensure that all your staff who need to use the system are up to speed.  
Step 4: Testing and Debugging
Not everything goes smoothly at the flick of a switch, and it's crucial to test the system to ensure it covers everything you need. This process involves identifying and rectifying any system errors or functionality issues. There are always a few; the quicker they are identified and solved, the better.  
Step 5: Go Live
Once testing is complete, you can officially "Go Live". It's advisable to have a contingency plan to tackle any unforeseen challenges that might arise after going live. That's why working with a team like Mercurius can be so invaluable.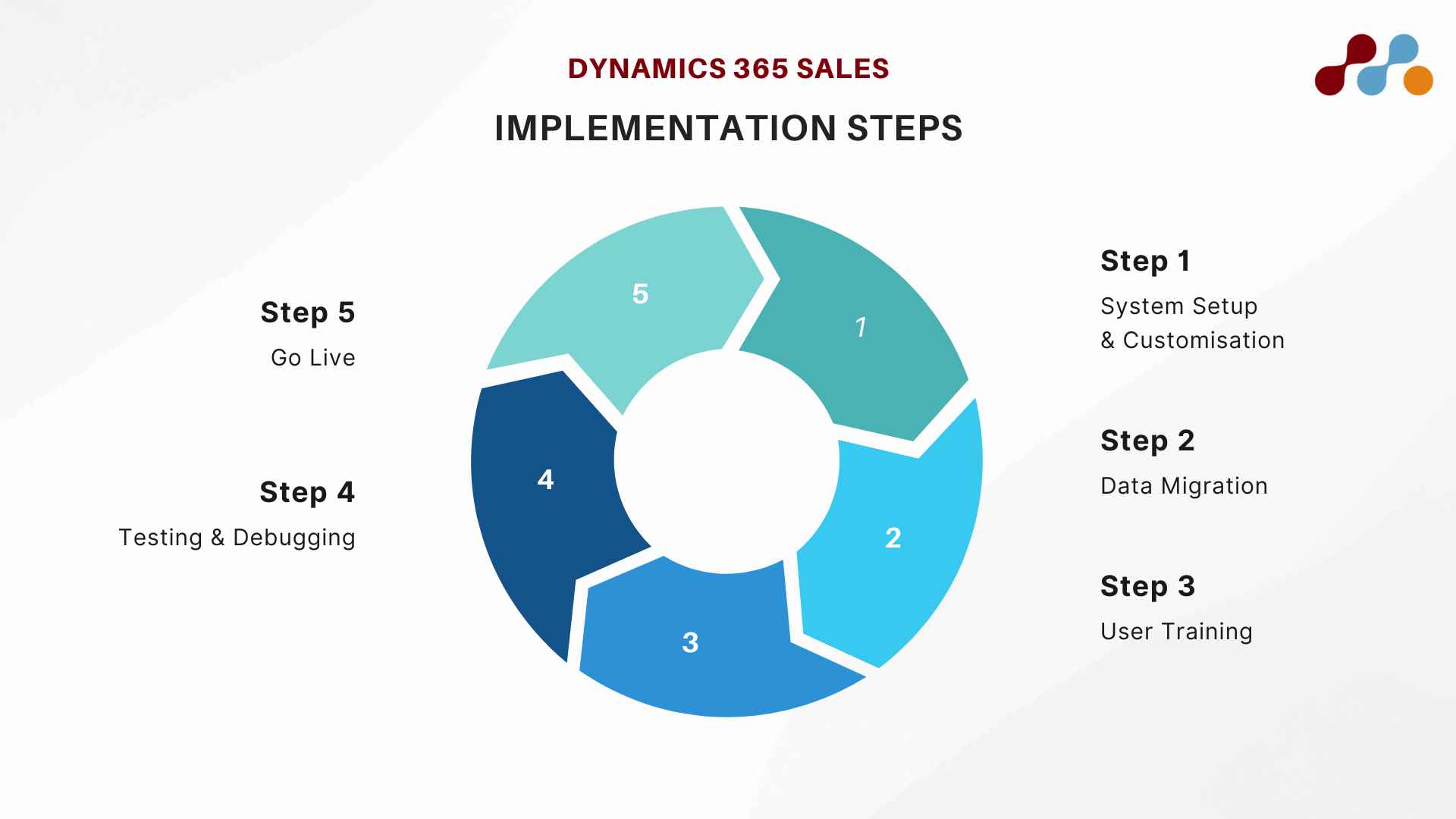 Maximising the Value of Dynamics 365 for Sales
Merely implementing Dynamics 365 Sales isn't enough. Continuous monitoring, feedback, and system optimisation are necessary to realise its potential. It's about making data-driven improvements and leveraging AI-driven insights to stay ahead of the curve. 
Implementing Dynamics 365 for Sales is not merely about software integration but strategically transforming your sales operations. By carefully following the steps above, you can ensure that your sales team is well-equipped to adapt to a rapidly changing sales landscape while maximising profitability.  
How Mercurius Can Help Implement Microsoft Dynamics 365 Sales
Mercurius has been helping businesses across all sectors realise the potential of the Microsoft Dynamics platform. Don't just take our word for it – we've got plenty of testimonials from satisfied customers. Tom Skalycz, Enterprise architect at PeoplePlus says of us: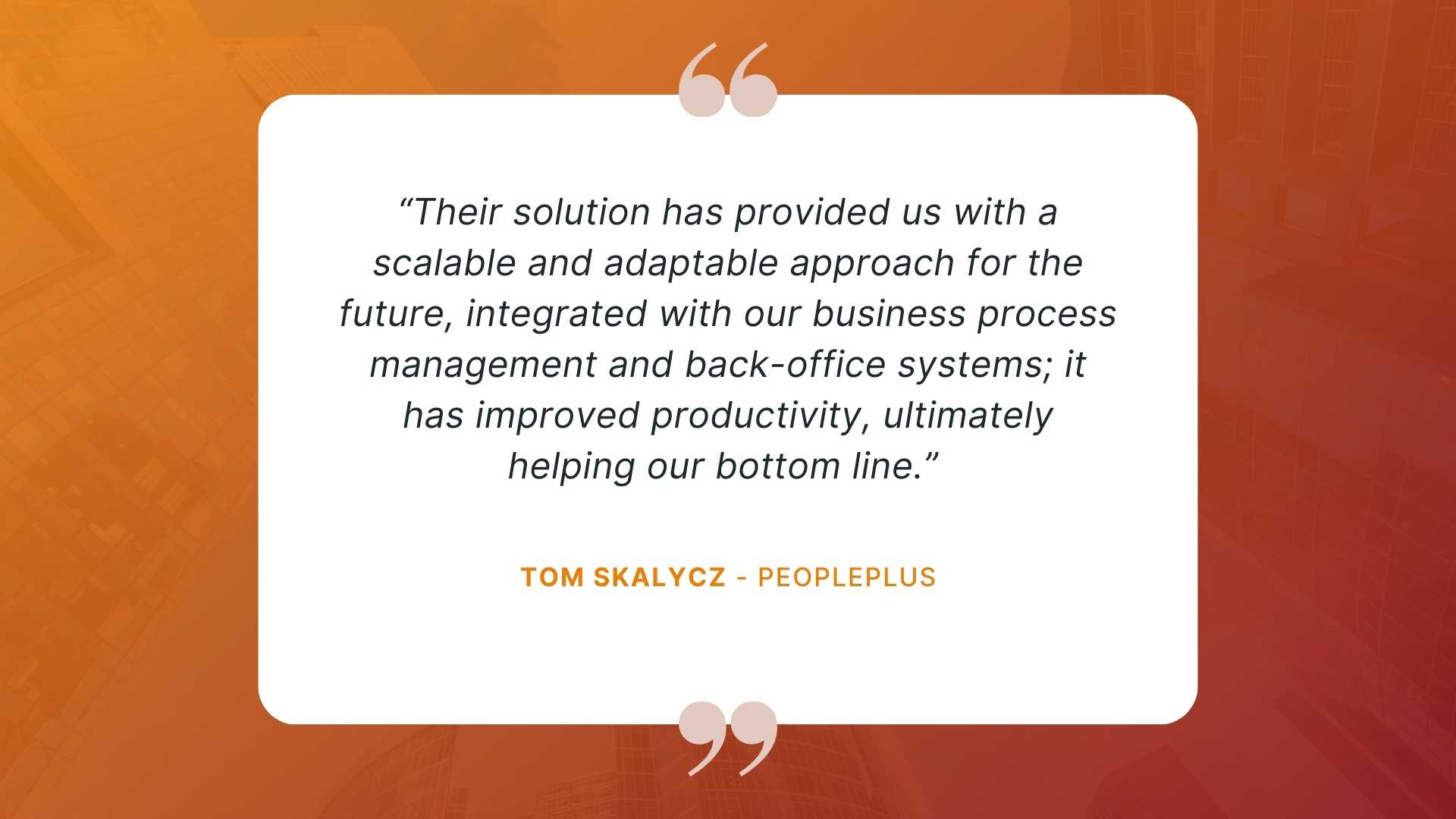 Here are some of the ways Mercurius can help implement Microsoft Dynamics 365 Sales: 
Assess your needs: The team at Mercurius will first assess your sales process and needs to determine the best way to implement Microsoft Dynamics 365 Sales. If you have one, we will look at your current system and identify gaps or areas where Microsoft Dynamics 365 Sales can help improve your sales process.

 

Design a solution: Once we understand your needs, we will design a solution that meets your requirements. This may involve customising Microsoft Dynamics 365 Sales to fit your specific processes or integrating it with other systems you use.

 

Implement the solution: Mercurius will then implement it and train your team to use it. We will also provide ongoing support to help you get the most out of Microsoft Dynamics 365 Sales.

 
Here are some of the specific services that Mercurius brings to the table for implementing Microsoft Dynamics 365 Sales: 
We will analyse your business needs and processes to determine how to implement Microsoft Dynamics 365 Sales best.

 

We will design a solution that meets your requirements and integrates with your existing systems.

 

Mercurius will implement the solution and train your team to use it.

 

Mercurius will provide ongoing support to help you get the most out of Microsoft Dynamics 365 Sales.

 
Mercurius is a great option if you're looking for a partner to help you implement Microsoft Dynamics 365 Sales. We have a team of highly experienced consultants who can help you assess your needs, design a solution, and implement it successfully. 
Want to find out more? Contact the team at Mercurius today.  
Want to see a demo of the solution in action?
Leave your details in the contact form to get started.