Excellent customer service is the big differentiator for most brands nowadays. Poor service can easily cost revenue because of negative feedback and the damage this does to a company's reputation.
That's one reason brands are increasingly turning to advanced tools like Microsoft's Dynamics 365 Customer Service to ensure they have all the bases covered.  
But what is it? And why is it becoming such a popular choice?  
Here we closely examine the CRM capabilities of Dynamic 365 and what it delivers for businesses of all sizes.  
Dynamics 365 Customer Service
The CRM platform is vital to Microsoft's broader Dynamics 365 suite. It's a customer relationship management solution designed to streamline service operations, unify customer experiences, and increase satisfaction.  
It works intuitively and can be tailored to the specific needs of your business. One of the key factors is that it allows you to automate many common processes, releasing valuable time for your staff and lowering overall costs while boosting customer satisfaction.  
Want to learn how Microsoft Dynamics CRM customer service products can take you to the next level? Visit Mercurius today.  
Make an Informed Decision with a Indicative Proposal
Unlock the power of Dynamics CRM; Simplify operations and Accelerate growth. Request a tailored quote for Microsoft Dynamics 365 CRM now!
Benefits of Microsoft Dynamics 365 for Customer Service
The key to good customer service is providing a unified, high-quality customer experience, whether B2B or B2C. Several elements need to come together coherently. That's where Dynamics 365 delivers.  
One of the key strengths of Dynamics 365 Customer Service is its ability to provide a unified customer service experience. It gathers customer data from various touchpoints and channels, creating a single view of each customer's journey.
This uniquely helps customer service representatives provide more personalised and informed service. 
1. AI-Powered Insights
AI is beginning to have a profound impact on the way that businesses operate on digital platforms. By leveraging AI technologies, Microsoft Dynamics 365 for customer service delivers powerful insights that can drive better decision-making based on facts rather than feelings.  
It can identify trends, highlight potential issues, and even suggest solutions, leading to improved customer service.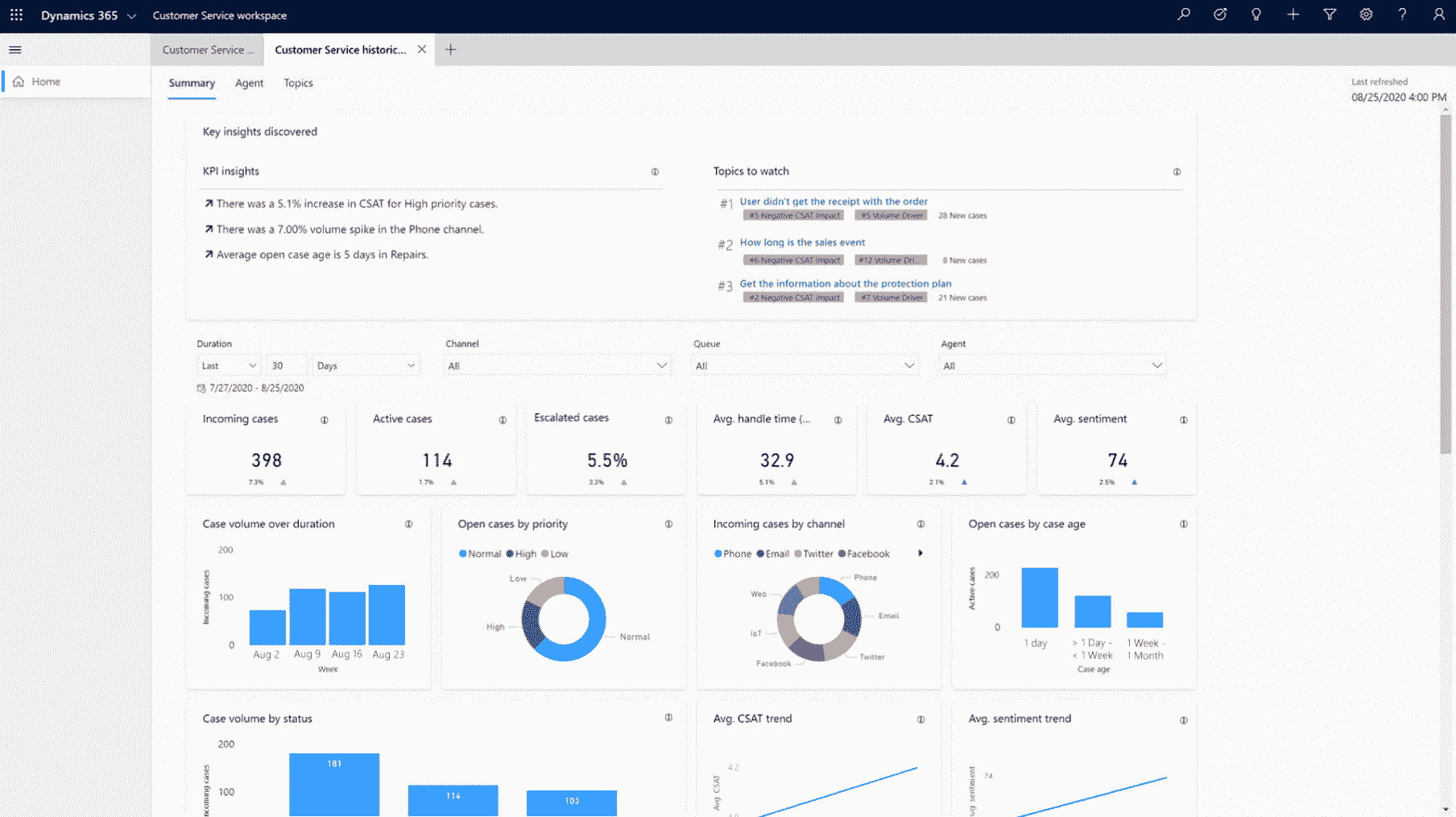 2. Omnichannel Coverage
In an era of multichannel communications, Dynamics 365 Customer Service excel with its omnichannel capabilities. That means you can easily and seamlessly integrate various channels – email, chat, social media, and phone – providing consistent and efficient service regardless of the customer's chosen communication method.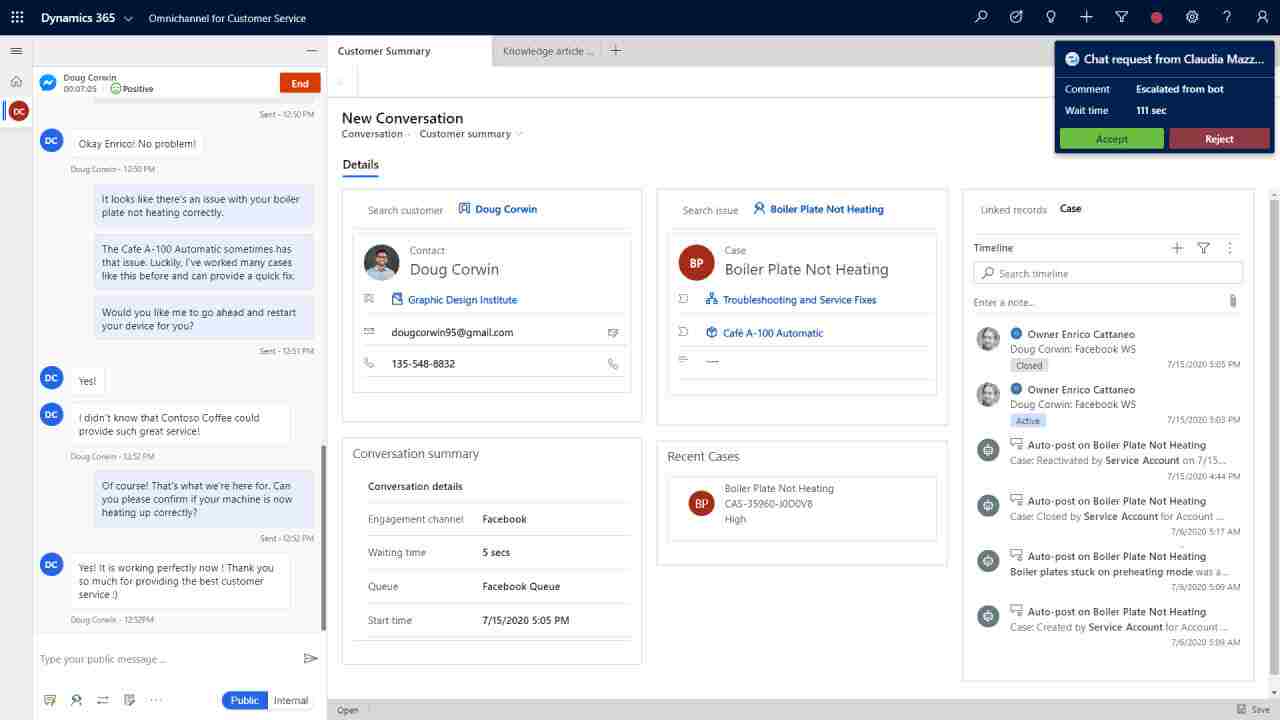 3. Predictive Customer Service
Utilising machine learning, Dynamics 365, Customer Service can anticipate customer needs and issues, enabling proactive solutions. This predictive service enhances customer satisfaction and helps businesses identify and address issues before they escalate.
It gives you the forward look you need to succeed in a competitive environment.  
4. SLA Management
Customer service level agreement management is much easier with Dynamics 365 Customer Service. It offers automated tracking and escalation procedures, ensuring compliance and keeping customers informed about the progress of their requests.  
When customers are kept in the loop and understand what is happening, they are less likely to think negatively about your business, even if unforeseen delays occur.  
5. Increased Productivity
Automation of repetitive tasks and seamless integration with other Microsoft products, like Business Central, means Dynamics 365 Customer Service helps improve productivity in all aspects of your operation.  
Customer service staff can focus on more critical, high-value tasks, which leads to increased efficiency and cost savings. Common questions are answered, and upselling is made infinitely quicker than manually.  
6. Customer Service Hub
This is designed to help customer service staff to manage their daily tasks more effectively. It provides a holistic view of all customer interactions, equipping staff with all the tools they need to handle customer queries more efficiently and effectively.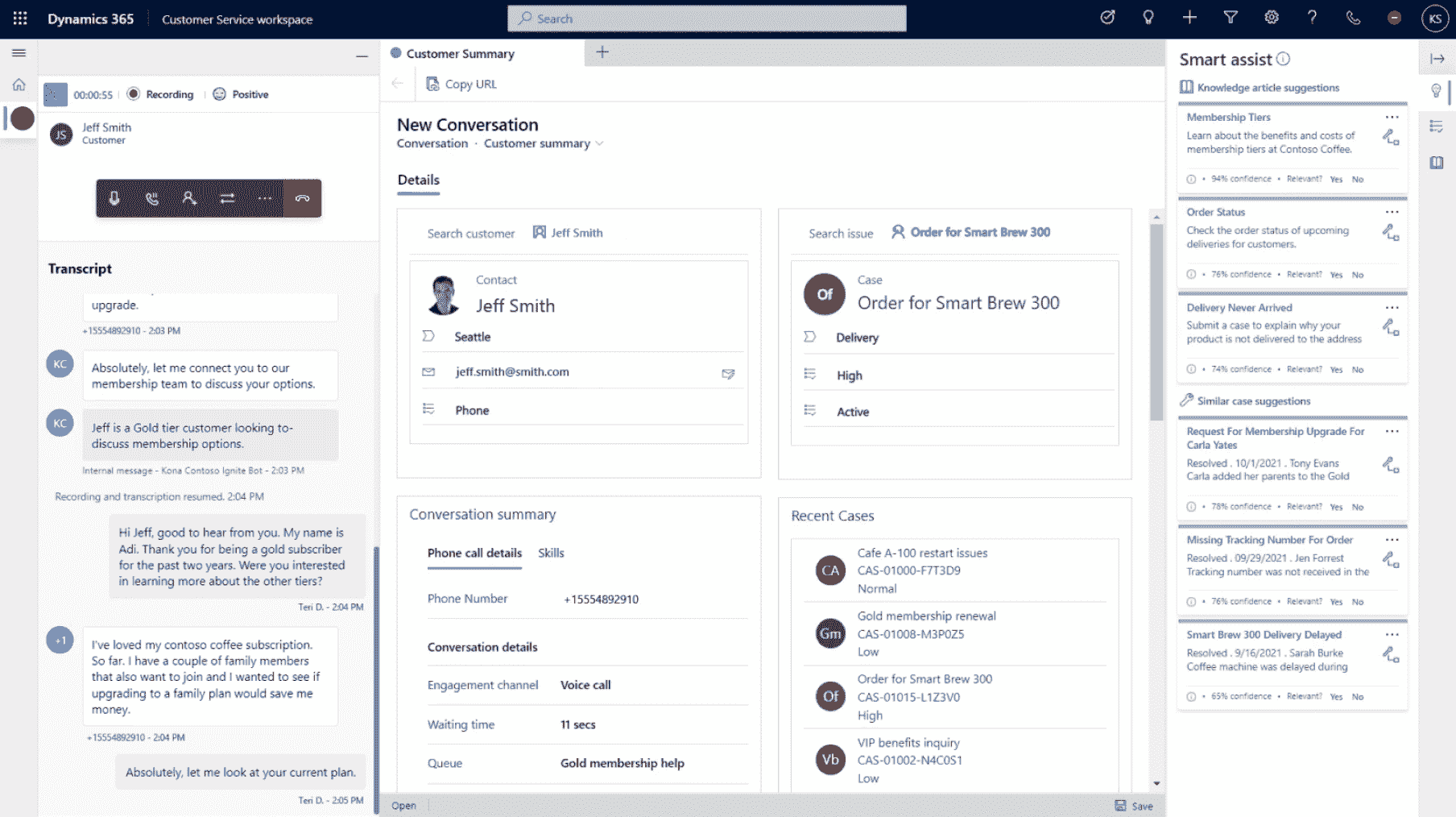 DEMO
For a demo about what Dynamics 365 could do for you, please do not hesitate to book a demo with one of our expert.
CONTACT US
For any further enquiries or quotes, please do not hesitate to contact us by clicking the link below:
7. Data Security and Compliance
Security and compliance are crucial when handling sensitive customer data, even more so nowadays in our digitally enhanced world. Dynamics 365 Customer Service ensures top-notch data security standards and helps businesses comply with data protection regulations wherever they are based. 
8. Case Management
Dynamics 365 Customer Service offers robust case management capabilities, enabling businesses to effectively deal with and track customer issues. This means a more responsive and efficient customer service operation that does what it says on the tin.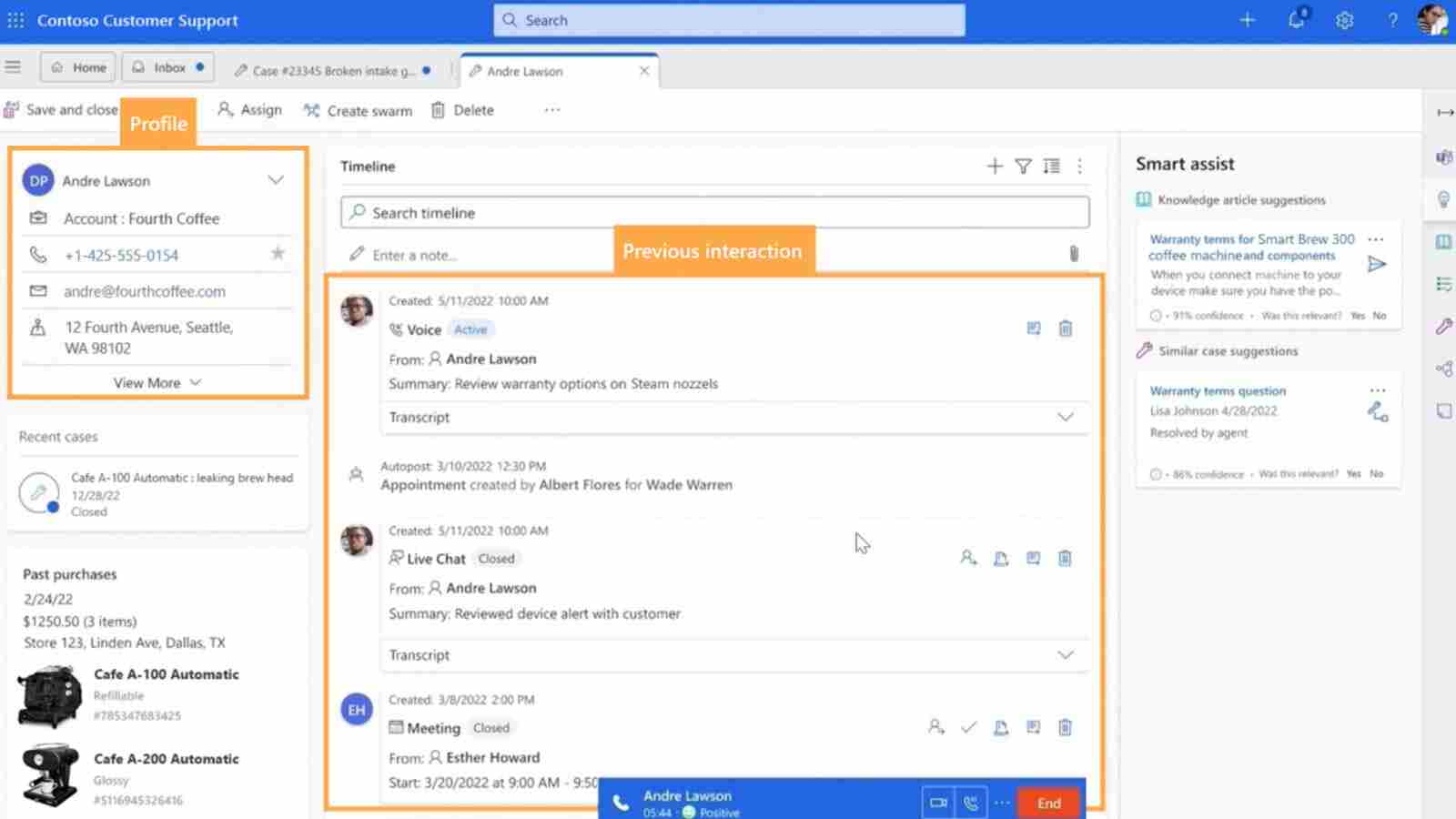 9. Knowledge Management
Dynamics 365 Customer Service includes a comprehensive knowledge management system that helps service staff quickly find solutions and share knowledge. It encourages faster resolution times and promotes continuous learning among team members.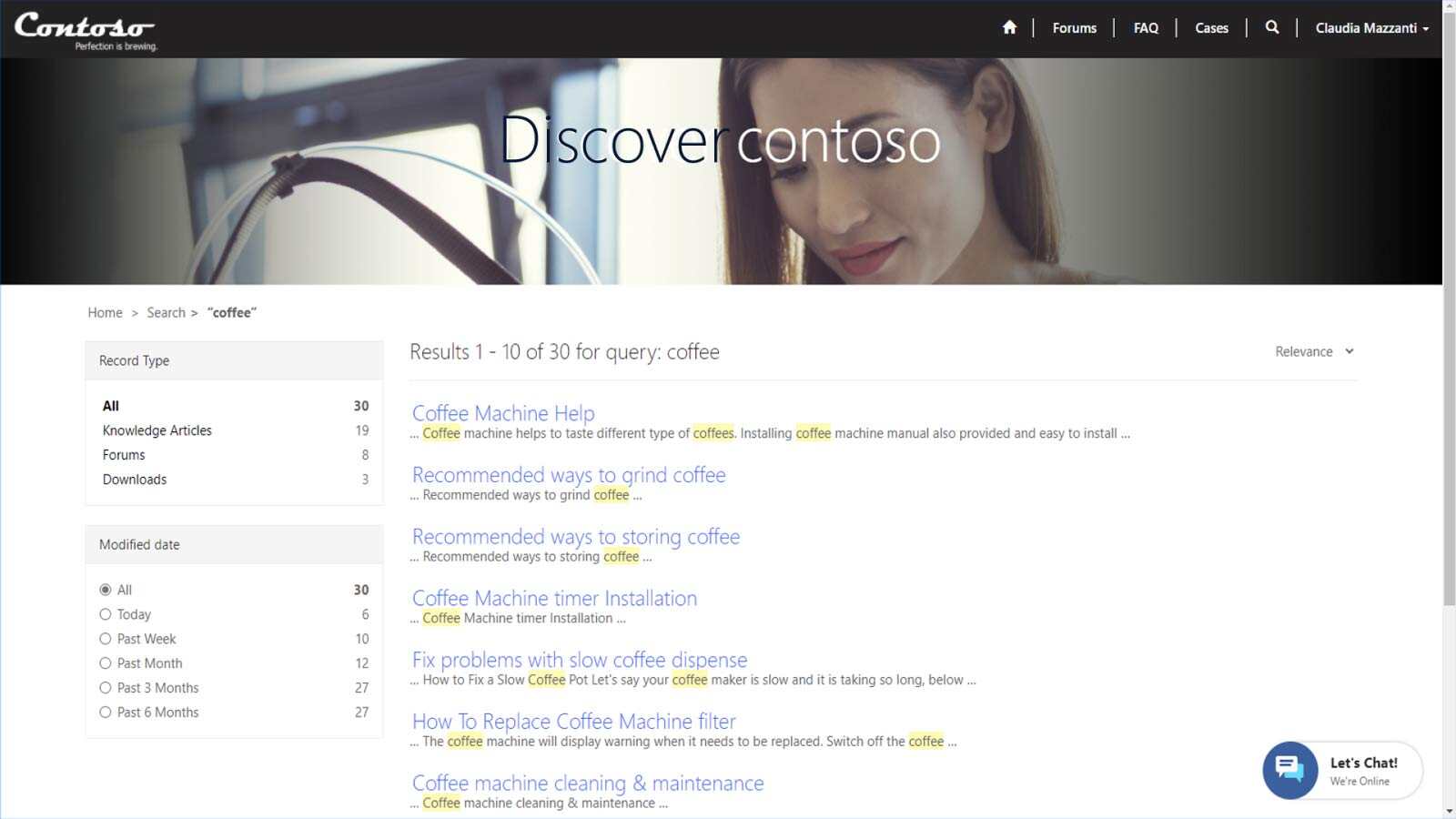 10. Customisability
Dynamics 365 Customer Service is highly customisable. It can adapt to specific business requirements, offering flexibility and scalability as the business grows and changes. 
Why Choose Mercurius?
Mercurius is a trusted partner for Microsoft Dynamics 365, and we offer a wide range of services and expertise to help you maximise your investment. Check out our testimonials today to find out who we've been helping.  
Here are some additional benefits of partnering with us: 
Mercurius is always up-to-date with the latest Microsoft Dynamics 365 features and updates. This means that you'll be using the most current version of the software, which can help you improve your business processes and efficiency.

 

Mercurius will assign a dedicated team of experts to your project. This team works closely with you to understand your business needs and develop a solution meeting your requirements.

 

Mercurius offers 24/7 support, so you can be confident that your solution will be up and running when you need it. If there are problems, we're here to get you back on track. 

 
Mercurius is a great option if you're looking for a trusted partner to help you implement Microsoft Dynamics 365. They offer a wide range of services and expertise to help you maximise your investment.  
"Mercurius has always been very responsive to our needs and continue offering great pro-active advice and guidance on improving our business with NAV using existing and new features." Andrew Reavy, Operations Director, Survitec Group 
Microsoft Dynamics 365 for customer service is an advanced and versatile tool that offers a range of benefits for businesses looking to elevate their customer service game. It's an investment that can improve customer satisfaction, streamlined operations, and a healthier bottom line. 
Want to find out more about Microsoft Dynamics 365 for CRM? Contact the team at Mercurius today.  
Want to see a demo of the solution in action?
Leave your details in the contact form to get started.