After purchasing LinkedIn in 2016, Microsoft has been continually working to enable Dynamics 365 users to leverage the power of LinkedIn. As social selling becomes more and more prominent, the integration with LinkedIn helps your sales team by providing them with the necessary data to find the right connections and build better relationships.
LinkedIn is the largest business-oriented social network, with over 700 million members worldwide using the platform to connect with other professionals and companies—so having this data accessible directly in your CRM can only be beneficial.
What can you do with the LinkedIn integration?
Find the right connection with key decision-makers
Seamlessly & automatically sync data across systems
Send messages directly from Dynamics 365
Get detailed insights with dashboards & reports with Power BI
The LinkedIn integration to Dynamics 365 enables your sales teams to work more productively, find the connections they need & build better relationships.
Companies that use relationship selling consistently experience  – Nucleus Research, Microsoft Lays Out LinkedIn CRM Strategy

Find Connections: Dynamics 365 can utilise the accurate data from LinkedIn profiles to connect you with key people & decision-makers. View personal data such as profile pictures & information, connections, posts, activities—as well as company-wide information including the industry, size & recent news.
In sync systems: Ensure you're using up-to-date, accurate data by synchronising data directly from LinkedIn to Dynamics 365, eliminating the need to copy any information between the systems, which can lead to errors, inaccuracies and double-entry—on top of wasting time that could be used to sell!
Work as one solution: View all key information & send InMails communications directly from your CRM – helping streamline your sales process.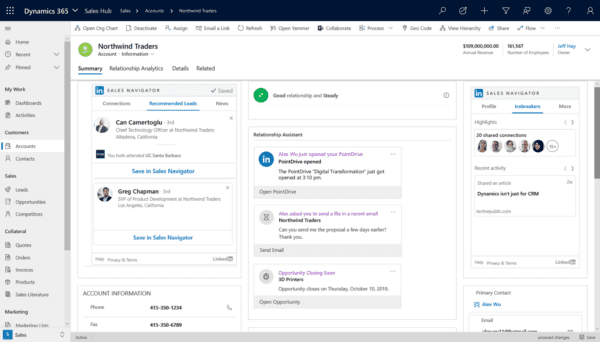 Reporting: Utilise Power BI dashboards & reports to visualise your data, helping you gain detailed insights and make data-backed decisions going forward.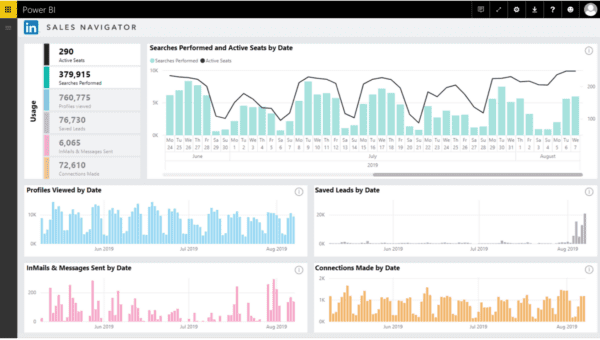 How to get started with the CRM – LinkedIn Integration
In order to get started with the Dynamics 365 & LinkedIn integration, two prerequisites are required:
If your business already has these licenses, then an admin can simply go into the settings and enable the integration. See here for details
However, the recommended procedure for getting set up is to purchase licenses for Microsoft Relationship Sales. These licenses, available at £108 per user/month, combine Dynamics 365 Sales Enterprise & LinkedIn Sales Navigator at a singular, discounted price.
Other Dynamics 365 & LinkedIn Integrations
On top of being a platform to promote your business & build professional relationships, LinkedIn is also very employment-oriented and has great capabilities for posting job listings and finding the right candidate.
After Microsoft retired the Dynamics 365 for Talent: Attract application and rebranded to Dynamics 365 Human Resources, there was a gap in the recruitment functionality of the system. Microsoft then integrated D365 HR with LinkedIn's Applicant Tracking System (ATS), LinkedIn Talent Hub.
This allows your business to post jobs and find candidates, and once they've accepted an offer all their data is automatically synced with your HR system, eliminating the need to manually enter any new records for the employee.
If you would like to learn more about Dynamics 365 or would like some help on how to complete the integration – please simply leave your contact details in the box below and we will get back to you ASAP.