The Microsoft Supply Chain Platform: An open, collaborative and composable foundation for data and supply chain orchestration
Reliability across the supply chain is an essential to stay competitive and keep up with customer expectations. But how are you supposed to do that when the systems running your supply chain cannot communicate?
Recent research from Harvard Business Review Analytic Services commissioned by Microsoft shows that 65% of executives cite a lack of access to real-time supply chain data as a technological obstacle to their supply chain operations, and only 11% have a modern, integrated digital solution for their supply chain.
Microsoft's new Supply Chain Platform is designed to address this challenge and synchronise data across existing ERP and supply chain systems.
What is the Supply Chain platform?
The Microsoft Supply Chain Platform has been developed to provide the necessary building blocks across Dynamics 365, Teams, and Microsoft Power Platform for you to adopt capabilities for your specific supply chain needs.
At the core of the Supply Chain Platform is the Microsoft Supply Chain Centre. The Supply Chain Centre acts as a 'command centre' for practitioners to harmonise data from existing supply chain systems including Dynamics 365 and other ERP provides, as well as stand-alone supply chain systems.
This will help companies more easily adopt new supply chain solutions, allowing them to digitally transform different functional areas of their supply chain, whilst ensuring that the new solutions are interoperable with their existing landscape.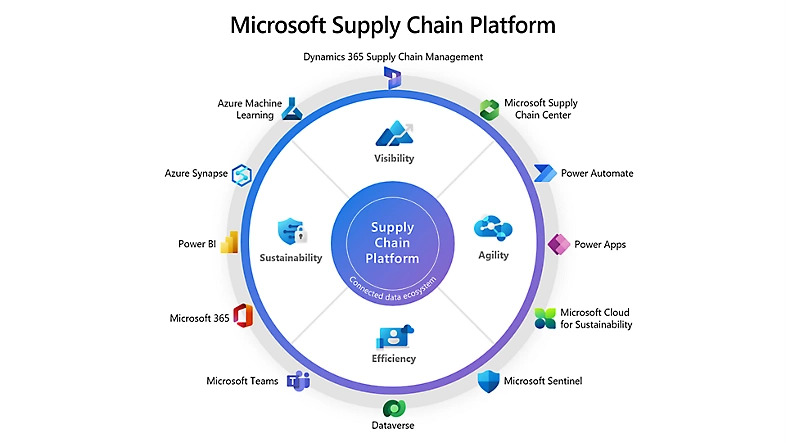 Beenefits of Microsoft Supply Chain platform
Connected ecosystem
The supply chain platform helps mitigate the problem of using multiple disparate systems, bridging the gap between existing systems used by your organisation. The open and flexible platform allows you to connect to all data sources, helping maximise your existing investments in technology without needing to replace it.
Supply Chain Visibility
Once companies overcome the challenge of data visibility, the Supply Chain Platform enables them to generate actionable insights from this unified data to predict stockouts or shipment delays and prevent overstocking. Companies can track orders all the way until they reach their end consumer and proactively mitigate any constraints along the way to meet customer commitments. This type of end-to-end visibility is only possible with a unified platform approach.
Productivity improvements
With the Supply Chain Platform, companies can take advantage of intelligent automation to reduce costs, maximize operating margins, and improve employee experiences. With Dynamics 365, companies can build connected and intelligent manufacturing processes with an intuitive, touch-friendly production floor execution interface.
Security
The Microsoft Supply Chain Platform helps organizations create a secure supply chain by detecting and preventing any cyber threat by improving cyber security, physical management, and endpoint security across their entire supply chain network with multiple levels of security and continuous updates and patches.
Sustainability
The Supply Chain Platform also helps accelerate sustainability initiatives all the way from sustainable design, to sourcing, to manufacturing, and fulfilment. With Supply Chain Centre order management capabilities, retailers can streamline returns sustainably with out-of-the-box connectors to FedEx. They can implement boxless returns with supporting carriers for less packaging waste and fewer consolidated trips instead of individual customer returns.
Companies can establish ethical and sustainable sourcing practices with Dynamics 365. Sustainability scoreboards help them make data-driven decisions about supply chain changes to improve their metrics and further their sustainability goals.
Available modules:
Supply and demand insights
The module shows the health of the supply chain through an analytics dashboard that is generated from internal and external data that has been ingested to Microsoft Supply Chain Centre.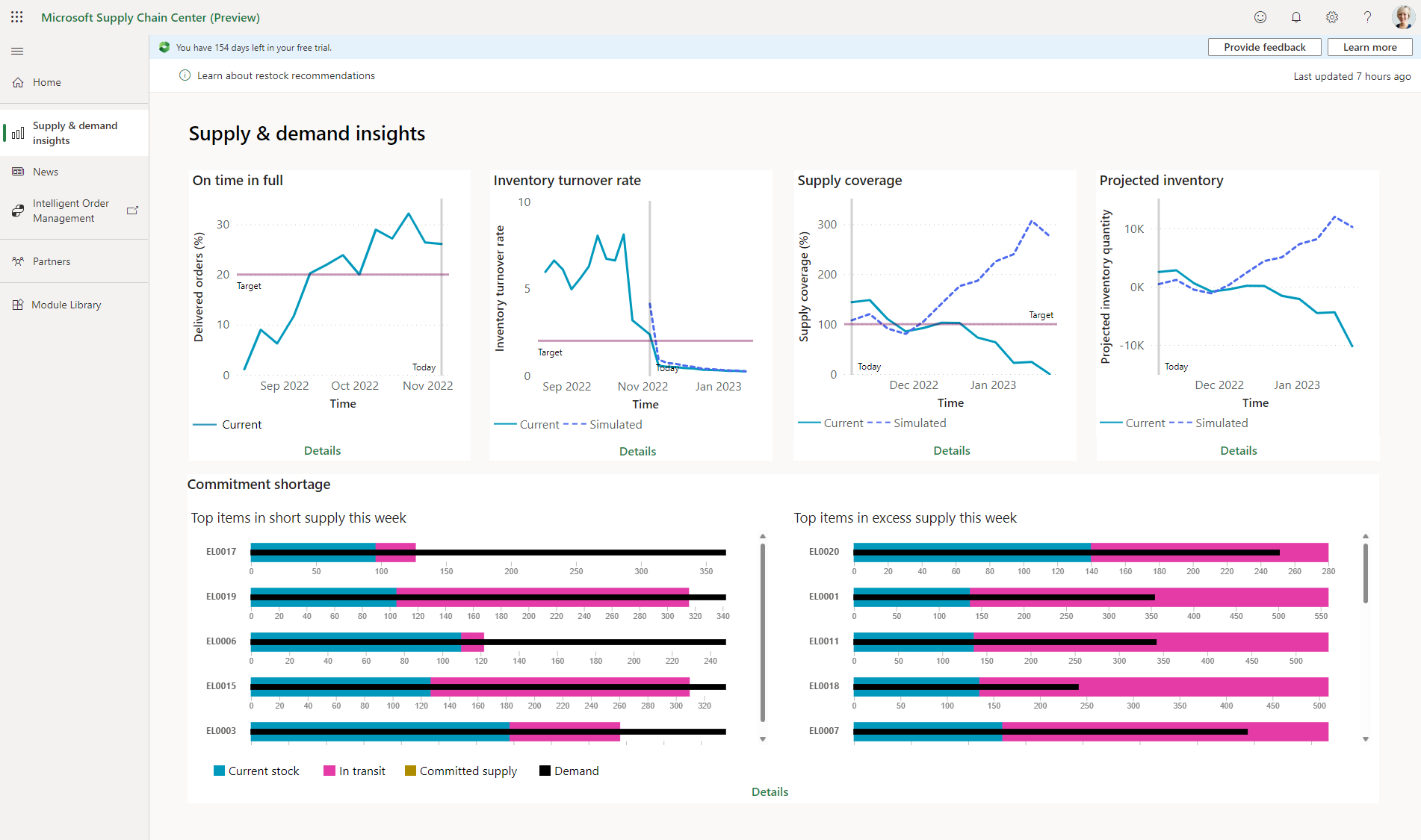 Smart news
News module provides news that may have an impact on your supply chain. The news articles can be filtered according to different categories and will show you the potential impact they may have in your supply chain.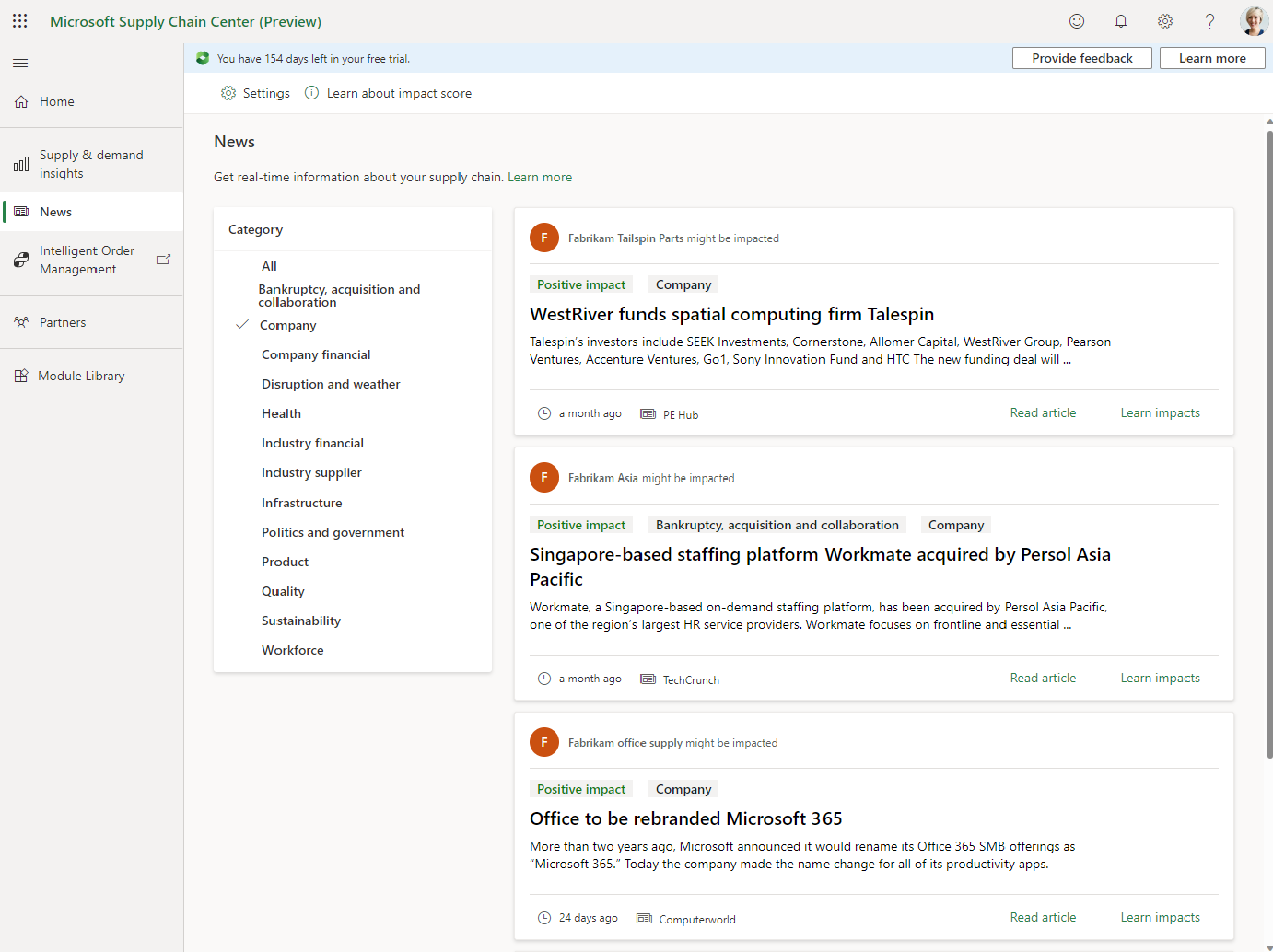 Partners
This section allows you to import the list of partners or create the partners that are part of your supply chain.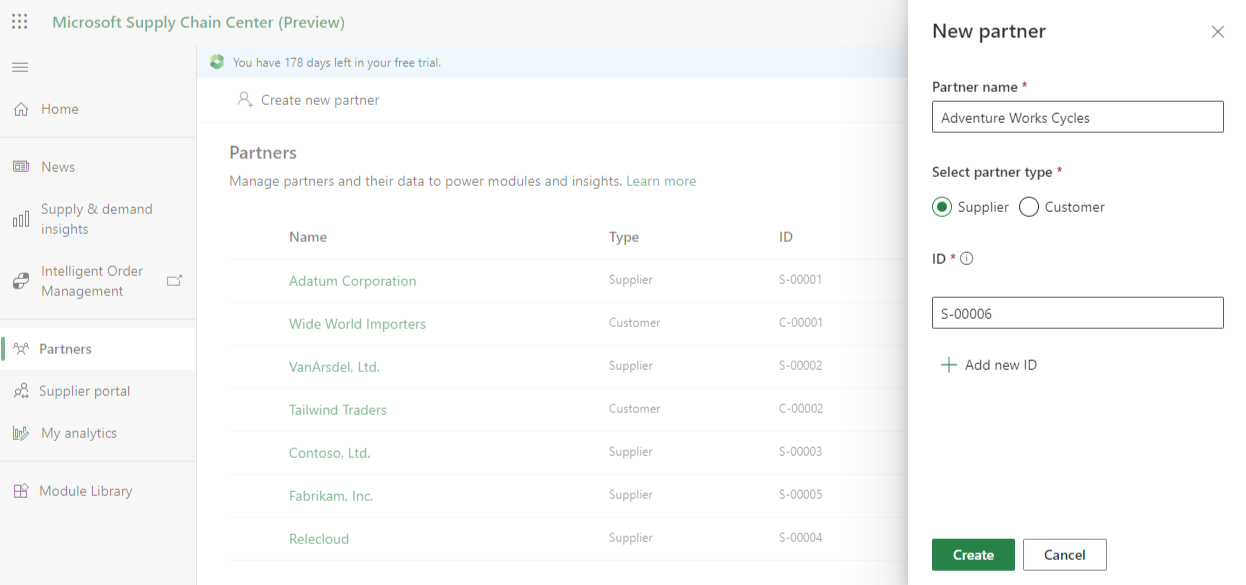 Supplier portal
Using the Supplier portal capabilities, you can request data from your supply chain partners to gain end to end visibility of the health of your supply chain.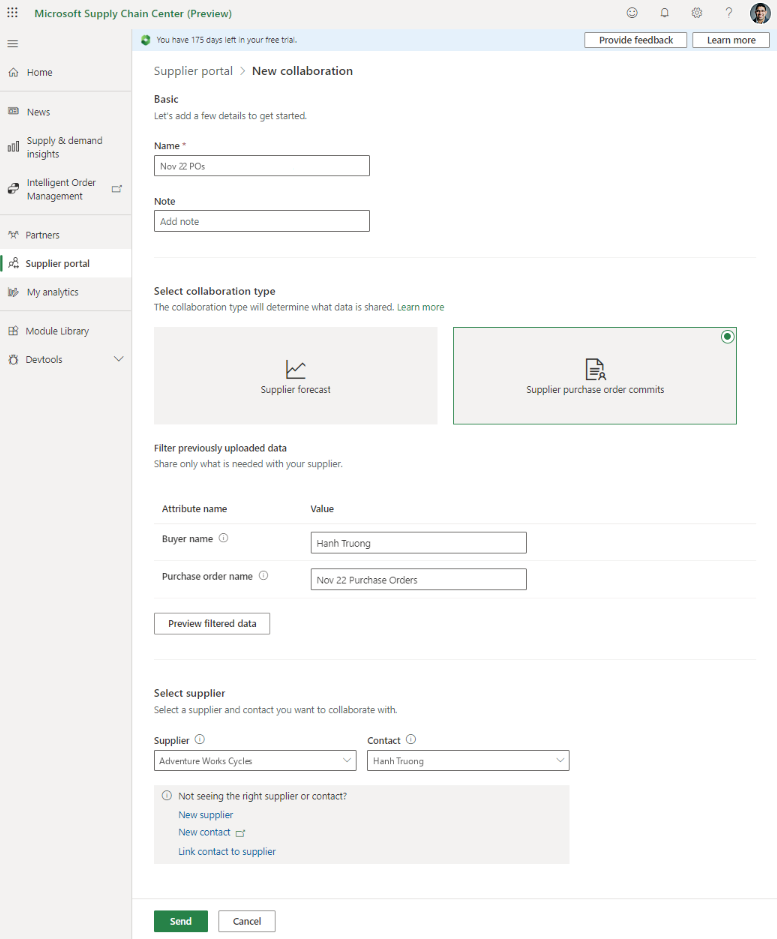 Module library
Using the Module Library , you can explore and activate the modules that are available in the Microsoft Supply Chain Centre. Modules focus on specific areas in the supply chain lifecycle. You have the flexibility to choose as many modules as you require to meet your business needs. Modules are provided by Microsoft and other third parties and will grow in number over time.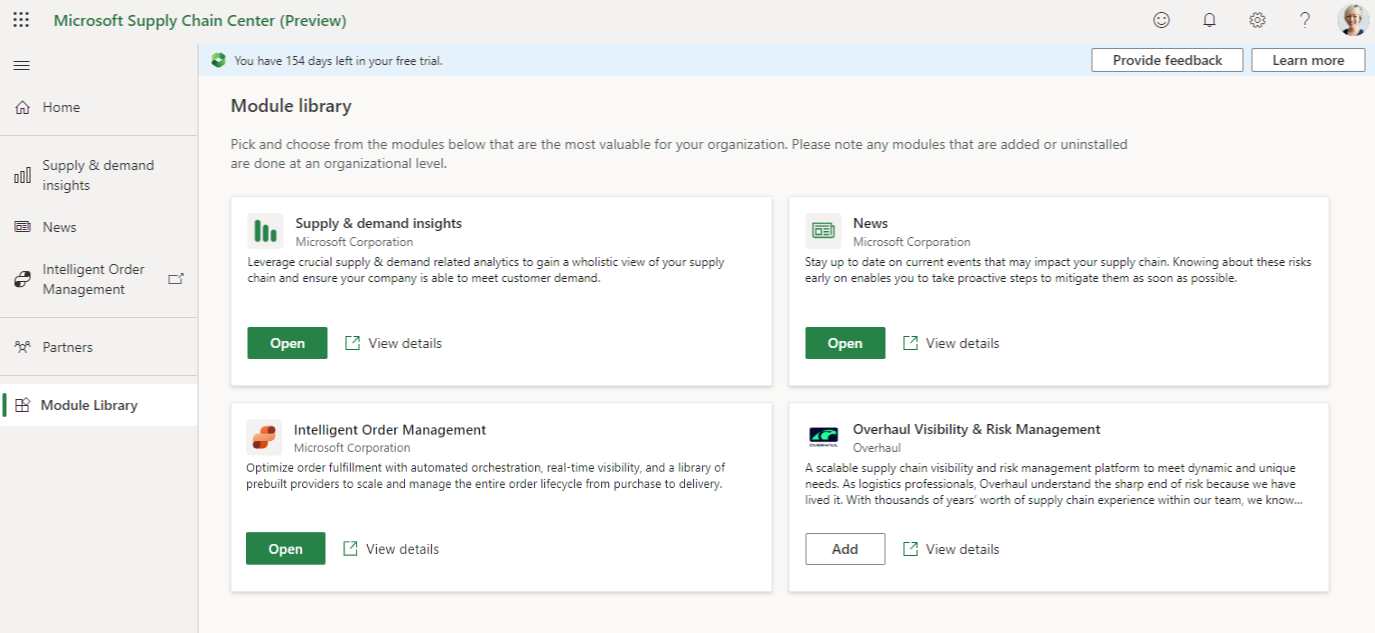 Free trial
The Microsoft Supply Chain Center is now available in preview, and you are able to sign up for a free, 180-day trial to explore the solution for yourself before purchasing. In the trial you can:
Predict and mitigate risks by automatically tracking world events that may impact your supply chain
Orchestrate actions across your entire supply chain with end-to-end visibility, optimising the value of your data
Reduce supply and demand mismatches by running simulations using AI and real-time, advanced analytics.
Get started with the trial.
Interested to know more about Microsoft Dynamics 365 Supply Chain Solutions?
Leave your details in the contact form to get started.