Microsoft are continually working to make Dynamics 365 Business Central a top Enterprise Resource Planning (ERP) system on the market, with innovative new features & capabilities being introduced to enable efficient business management. As part of the 2023 Release Wave 1 update, one piece of new functionality was added that allows users to set up and synchronise master data across companies. This feature makes it easy to move one companies' setup to another company in the same environment and synchronise master data between the companies.
What is master data?
Master data plays a crucial role in the effective functioning of ERP systems. It refers to the core data elements that are shared and used across the various modules and functional areas of an organisation within the ERP system. Master data represents the key entities and information that are critical for business operations, processes, and decision-making.
In an ERP system, master data serves as a foundation for transactions, analytics, and reporting. It provides a single, consistent source of truth for essential information that is shared and utilised across different modules. Here are some common types of master data in ERP systems:
Chart of Accounts: The chart of accounts is a key component of financial master data. It defines the structure and classification of financial accounts used for recording transactions and generating financial statements. The chart of accounts provides a standardised framework for financial reporting, analysis, and budgeting.
Customers: Customer master data includes information about the organisation's customers, such as names, addresses, contact details, credit limits, payment terms, and transaction history. It allows businesses to manage customer relationships, track sales activities, and provide efficient customer service.
Vendors: Vendor master data contains details about the suppliers or vendors that an organization engages with. It includes vendor names, addresses, contact information, payment terms, and purchase history. Managing vendor master data facilitates procurement processes, supplier management, and purchase order processing.
Products/Items: Item master data refers to the products, goods, or services that an organization buys, sells, or uses in its operations. It includes information like item codes, descriptions, unit of measure, pricing, stock levels, and replenishment details. Accurate item master data enables efficient inventory management, sales order processing, and production planning.
Employees: Employee master data encompasses details about the organisation's workforce, including employee names, addresses, contact information, positions, departments, and payroll information. It supports HR functions, payroll processing, time tracking, and resource allocation within the ERP system.
Financial Dimensions: Financial dimensions are additional attributes or categorisations applied to transactions within the ERP system. They can include elements such as cost centers, departments, projects, or any other custom-defined categories that provide further insights into the financial data. Managing financial dimensions allows for better financial analysis, cost allocation, and budget tracking.
The importance of master data in ERP systems lies in its ability to ensure data consistency, accuracy, and reliability across the organisation. With well-managed master data, organisations can achieve streamlined business processes, accurate reporting, and informed decision-making. It serves as the foundation for efficient operations, data-driven insights, and compliance with regulatory requirements.
However, it is essential to maintain master data quality by regularly updating, validating, and managing the data. Data governance policies, data quality management processes, and security measures should be implemented to ensure the integrity and security of master data. By effectively managing master data, organisations can leverage the full potential of their ERP system and drive operational excellence.
Make an Informed Decision with a Indicative Proposal
Unlock the power of Dynamics CRM; Simplify operations and Accelerate growth. Request a tailored quote for Microsoft Dynamics 365 CRM now!
Feature details of Business Central
The Master data management feature is intended for scenarios when a company setup is required to be moved to another company in the same Business Central environment. The feature is also built as a data synchronisation engine, allowing you to keep data that is shared across companies in sync after the initial move.
The following capabilities are also available to manage master data efficiently:
Moving master data works when a company subscribes to data from another company.
Define the tables and fields to synchronise. For more control over synchronisation, you can filter on table records.
Changes in the main company are immediately pulled to the receiving companies by the job queue.
Users in the receiving company can view synchronisation logs.
This new feature makes it easier for organisations to transfer a companies' setup to another one within the same environment, along with the option to select which tables and fields of data to be shared and synchronised across companies.
How to set up and sync master data across companies in Business Central
We will now take you through the process of how to set up and synchronise master data across companies in Business Central.
Open your Business Central instance in the company that you want to synchronise with the master company.
Search and select 'Master Data Management Setup' in Business Central.

On the Master Data Management Setup page, select the Source Company for Master Data that will be synchronised and set the Enable Data Synchronisation value.

Once enabled, a message will display explaining the further steps to finish the setup.
Select the Synchronisation Tables Action from the Action bar, then select which tables and filters from the master records you would like to synchronise from the source company.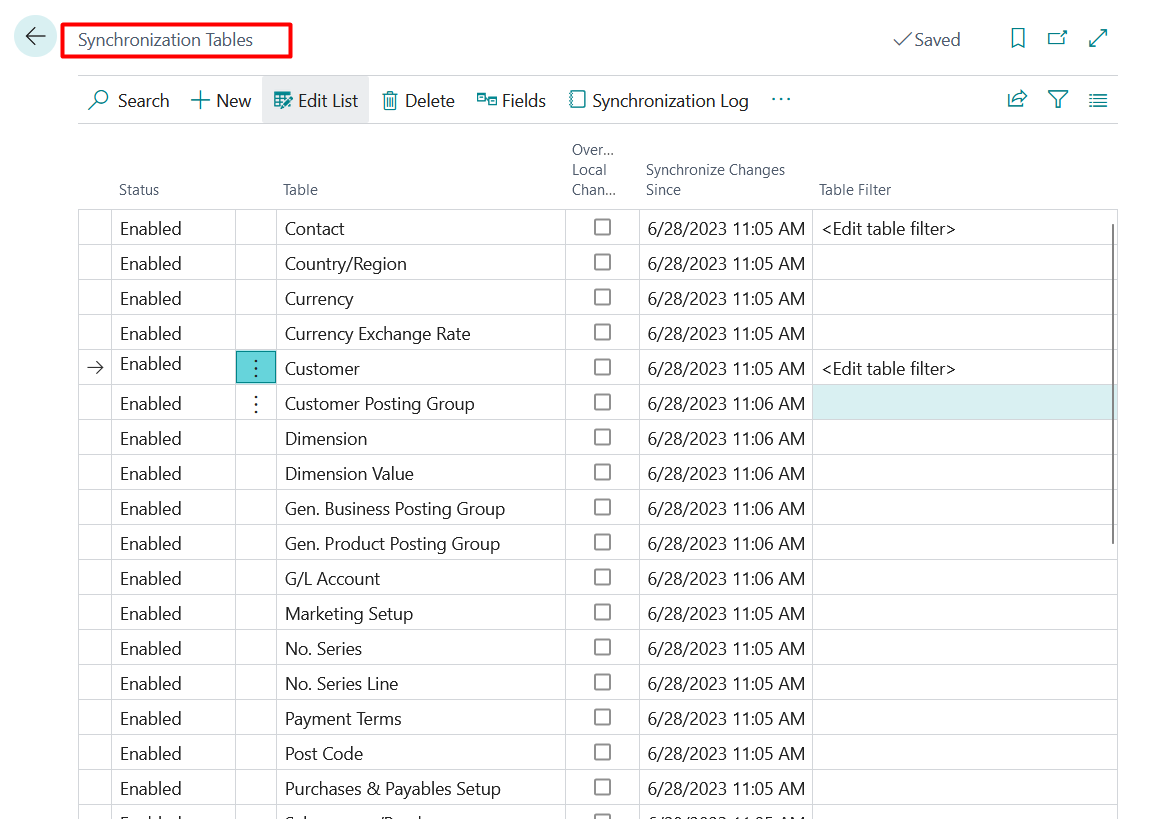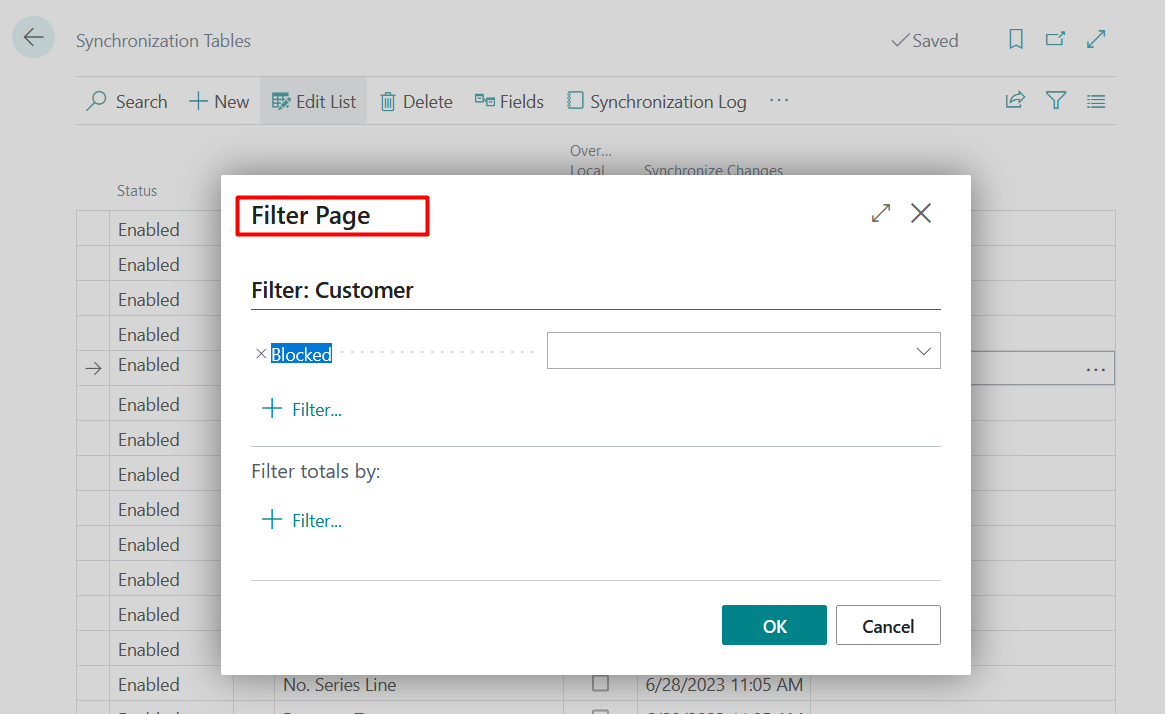 When selecting Synchronisation Fields, you can choose to validate and/or overwrite local changes that are made.
Once all tables and filters are defined, select the action to open the Master Data Initial Synchronisation page and click 'Start All'.


And that is how you set up and synchronise data between companies in Business Central!
After the initial data synchronisation, master data is synchronised using Job Queues.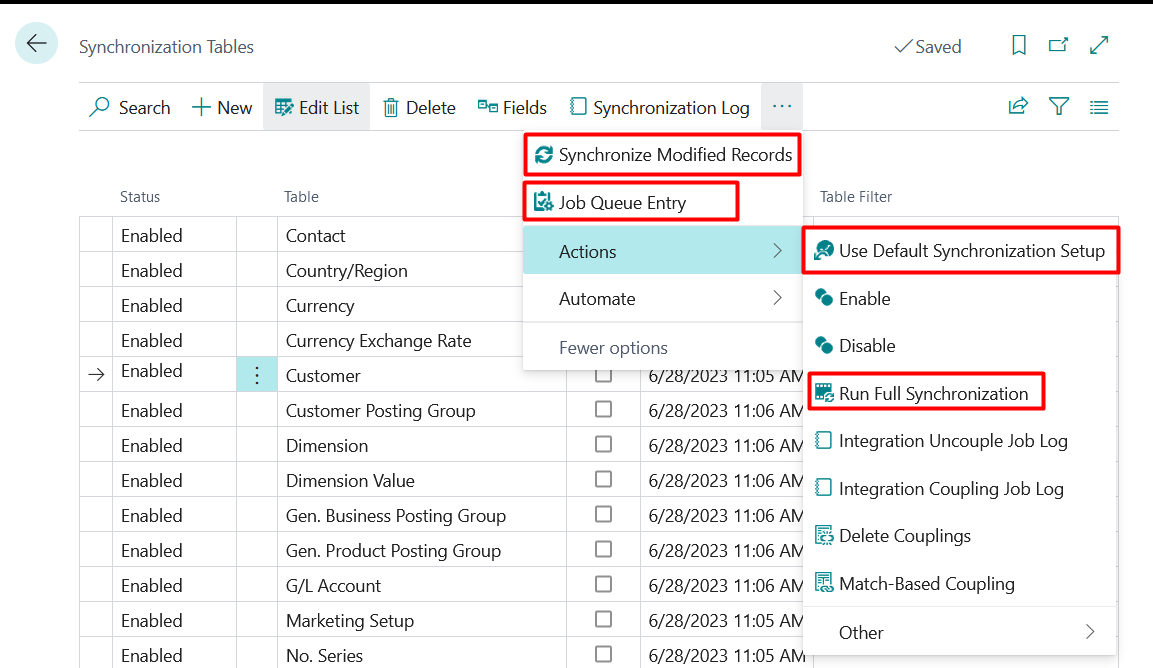 Master data is a critical asset for businesses, and ensuring its security, accuracy, and optimisation is essential for success. In the context of Microsoft Dynamics 365 Business Central, setting up a synchronisation feature between companies offers seamless data sharing and improved collaboration. If you're ready to harness the power of synchronised master data, contact us through the form below or explore our website for more valuable content on data management and ERP systems. Don't miss out on the opportunity to streamline your operations and drive growth with synchronised master data. Contact us today!
Interested in implementing Dynamics 365 Business Central to your business?
Leave your details in the contact form to get started.