Microsoft Dynamics NAV is a powerful, market-leading ERP system, bringing together data and documents from across multiple departments. Although Microsoft Dynamics NAV itself holds so much functionality, there are many ways to extend the solution, including through integration with other Microsoft applications. In this blog post, we will take a look at Microsoft Office, Microsoft Power BI, Microsoft PowerApps, Microsoft Flow and Microsoft SharePoint and how they can be used to extend the standard functionality of Dynamics NAV.
Dynamics NAV & Office
Microsoft has provided integration between Dynamics NAV and Office since NAV 2013, but with each release the integration has become deeper and more powerful. In Dynamics NAV 2018, NAV and Office can be directly integrated using a selection of add-ins, with emails, calendars and files being seamlessly shared between applications. This helps improve efficiency and productivity, freeing up more time for employees to spend on important tasks.
Microsoft Outlook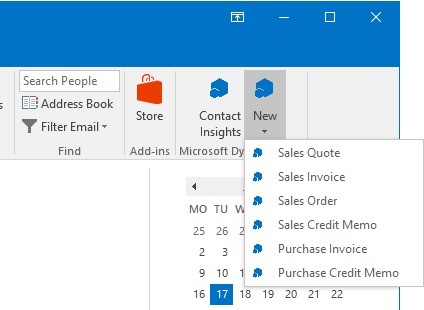 Microsoft Dynamics NAV's built-in integration with Outlook makes it possible to handle business tasks alongside your emails, eliminating the need to switch between two applications. Users can create, send and view NAV documents such as Quotations, Invoices, Sales Orders (SO) and Purchase Orders (PO) from directly within Outlook. The Contact Insights tab also provides full Customer and Vendor information from inside emails and calendar appointments, using data from Dynamics NAV. If documents have been sent through Outlook, they can be opened and viewed in full in Dynamics NAV. Data is synchronised across both applications so, if a sender is not an existing contact, a record can be created in Outlook and the data automatically sent to NAV.
Microsoft Excel
Through Microsoft Dynamics NAV's integration with Microsoft Excel, users can work on NAV journal pages from the comfort of the Excel user interface (UI) they are used to. Data that has been edited in Excel can then be seamlessly sent back to NAV at the click of a button. On top of this, when editing in Excel, users can hit refresh to load the latest data from NAV. Popular reports are preconfigured to save time and eliminate the need for manual data extraction, including Balance Sheet, Income Statement, Cash Flow Statement, Retained Earnings, Accounts Payable and Accounts Receivable.
Dynamics NAV & Power BI
Power BI is a Business Intelligence application from Microsoft that can be used in conjunction with Microsoft Dynamics NAV. Any of the wide selection of Power BI visualisations can be embedded directly into Dynamics NAV dashboards to give detailed insights into your data and help you make more informed decisions. BI visualisations are placed throughout NAV where they matter most, across Sales Orders, Purchase Invoices, Items, Customers and Vendors and are dynamically refreshed and updated as you slice, filter and drill down into them. Microsoft Power BI also comes as a standalone application where you can customise dashboards and reports to give a full end-to-end view of your business from one application. Additionally, Power BI's Natural Language (NL) Q&A function allows users to search for answers about their data in the same way that they would ask an internet search engine – Power BI will return the visualisations updated accordingly to answer their question. This helps non-technical users access complex intelligence, allowing them to get answers to their most pressing questions and improve their operations. The great thing about Power BI is it starts off free, with the paid versions offering more extensive functionality.
Dynamics NAV & PowerApps
Microsoft PowerApps allows users to easily build and deploy apps with minimal coding knowledge. PowerApps seamlessly integrates with NAV using the OData feed URL, username, password and company name. By connecting data from multiple sources and synchronising it across web and mobile, PowerApps gives more power to employees that frequently work away from the traditional desk environment, allowing them to view, create and amend records on the go from an intuitive custom interface. PowerApps is compatible with any mobile or tablet device and automatically synchronises data with NAV. PowerApps starts off free when you buy an Office 365 subscription, but there are also paid tiers with extended functionality.
Dynamics NAV & Flow
Microsoft Flow can be used to extend the standard workflow functionality available in Microsoft Dynamics NAV. Flow is connected to NAV in the same way as PowerApps and can also integrate with data objects outside of NAV, including through a huge number of built-in connectors. Flow works by selecting a trigger, for example if an item is created or modified in NAV, and then an action that should occur as a result, such as sending an email. Flow also includes a library of pre-built templates to help get automated processes up and running quickly, but you can easily create your own for any business-specific process. A free version of Flow comes with Office 365, but there are also paid plans which extend the number of runs you can do, allow you to use premium connectors and let you synchronise your data more frequently.
Microsoft SharePoint
Microsoft SharePoint is a collaboration platform which can be used to significantly improve business efficiency. The application can act as a front-end web portal for NAV, allowing users to easily share and manage content, knowledge and data. Once a SharePoint site is set up, you can add Dynamics NAV as an app, so NAV data can be accessed, edited and updated in real-time from within SharePoint. A big benefit of SharePoint that it is included in your Office 365 subscription, although it can also be licensed separately where required. Moreover. you don't need to purchase additional NAV licenses for your SharePoint users as they work with native SharePoint lists as a data cache. Ultimately, SharePoint a truly versatile solution – we have completed SharePoint projects for businesses across a number of industries and the use of the technology has varied in each case, but each client has seen significant benefits.
We hope this post has given you an insight into just some of the applications that can be integrated with Microsoft Dynamics NAV to extend its functionality and enable greater business performance. With more than 13 years of experience working with business solutions like Microsoft Dynamics NAV, we are well positioned to help you overcome your business challenges efficiently and cost-effectively. Feel free to contact us today for any further information or guidance.