If you are a user of Microsoft Dynamics NAV 2017 or an earlier version, this blog is for you!
It is often said that ERP systems have a lifespan of around five to ten years, at which point it is recommended that you upgrade your system.
This doesn't mean that the ERP won't still run and provide benefit to your business, it just means that you may miss out on any new functionality and receive fewer security updates.
Dynamics NAV 2017 is reaching this point, adding another reason to upgrade to Dynamics 365 Business Central.
Upgrading to D365 Business Central before support ends for NAV
With Dynamics NAV 2017 having moved from mainstream support to extended support, our recorded webinar covers what this means. We also explain why now is a great time to upgrade your ERP solution.
For each version of Dynamics NAV, Microsoft's lifecycle policy is to support the solution for 10 years after its release. The first 5 years are mainstream support and the final 5 years extended support.
Mainstream – Product receives new features, security updates and non-security updates
Extended – Only receives security updates
Beyond End of Support – No updates whatsoever
On January 11th, 2022, Microsoft Dynamics NAV 2017 will be the latest version to go out of mainstream support and into extended support.
As shown in the table below, all versions prior to NAV 2017 are also out of mainstream support. Next year, NAV 2018 will be out of mainstream support and NAV 2013/2013 R2 will be beyond end of support.

What happens when using a NAV version that is out of mainstream support?
If you are using NAV 2017 or earlier, you will only be receiving security updates at no additional cost.
However, you will no longer receive new features or design changes, and you will have to pay for any additional support that is required. Paid support is typically provided by Microsoft partners, (like us at Mercurius IT) and rates can vary.
If you continue to use a version of NAV that is in extended support, you may run into issues if/when you try to integrate the solution with other modern tools & technology, such as Power Platform, or third-party solutions.
You also won't be able to update your NAV instance with any required statutory changes or localisations, which can potentially put you at risk.
Why upgrade to Business Central as your next ERP?
If your organisation is using a legacy version of Microsoft Dynamics NAV, it is almost inevitable that a move to Business Central is the way to go.
With technology developing at such a fast rate, old systems can't be relied on for years to come for continued efficiency and success.
Business Central is the latest ERP from Microsoft and benefits from a refreshed UI, new functionality and greater integration that sets it apart from older versions of NAV.
At Mercurius IT, we have a Fixed Price Upgrade offer to those wanting to move from NAV to Business Central.
Further reading:
We cover the benefits of upgrading your ERP to Business Central in our
blog post here.
We hope this blog post clears up the different support lifecycles for Microsoft Dynamics and gives you some insight into why an upgrade to Business Central is your best bet.
Request a free ERP system demo!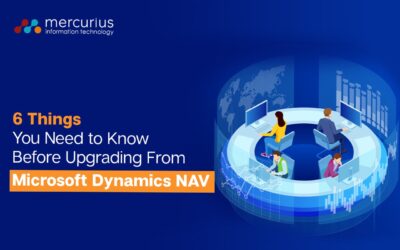 We often find businesses using Microsoft Dynamics NAV but they're delaying an upgrade due to unanswered questions. To shed more light on upgrading to Business Central, let's go through some common misconceptions.I will not benefit from upgradingBusiness Central is the...
read more