Dynamics 365 Sales Insights and its Capabilities for Integrated Data
THURSDAY 22ND JULY — 11:00 AM BST
Click the button to register now to save your spot

(First posted: 04/09/19)
(Updated: 04/11/19)
AI is becoming increasingly utilised in our work and lives to help enhance the way we go about things – making them easier to do and also give us a perspective that we as humans may not have seen. This is what Microsoft Dynamics 365 AI was designed for.
Microsoft has developed AI add-ons for the Dynamics 365 suite that turn your data into insights and actions, helping give you a unified view of your customers, products & people to uncover new opportunities and take your business that next step into the future.
There are currently three AI insights apps that Microsoft have released for Dynamics 365: Sales Insights, Customer Insights and Customer Service Insights. In this blog post, we will explore some of the functionality of each of these apps so you can see how they can improve the way you work.
What is Dynamics 365 Sales Insights?
Dynamics 365 Sales Insights has been developed to enable sales teams to build better relationships, minimise tedious tasks and improve the way they work with in-built coaching tools and AI Insights.
The Sales Insights add-on perfectly compliments Dynamics 365 for Sales and the Dynamics 365 Customer Engagement plan to improve your productivity with key functionalities including:
Understand & analyse conversations to see what methods are most successful with specific customers – allowing you to replicate and refine strategies across entire teams.
Stay ahead of the market with competitor insights
Use Machine Learning to prioritise leads that are more likely to convert and flag at-risk deals
Utilise AI-guided next best steps and talking points
Get contextual, real-time prompts as you're entering notes
Monitor and nurture customer relationships with a relationship health score based on unified data from Dynamics 365, Office 365 and LinkedIn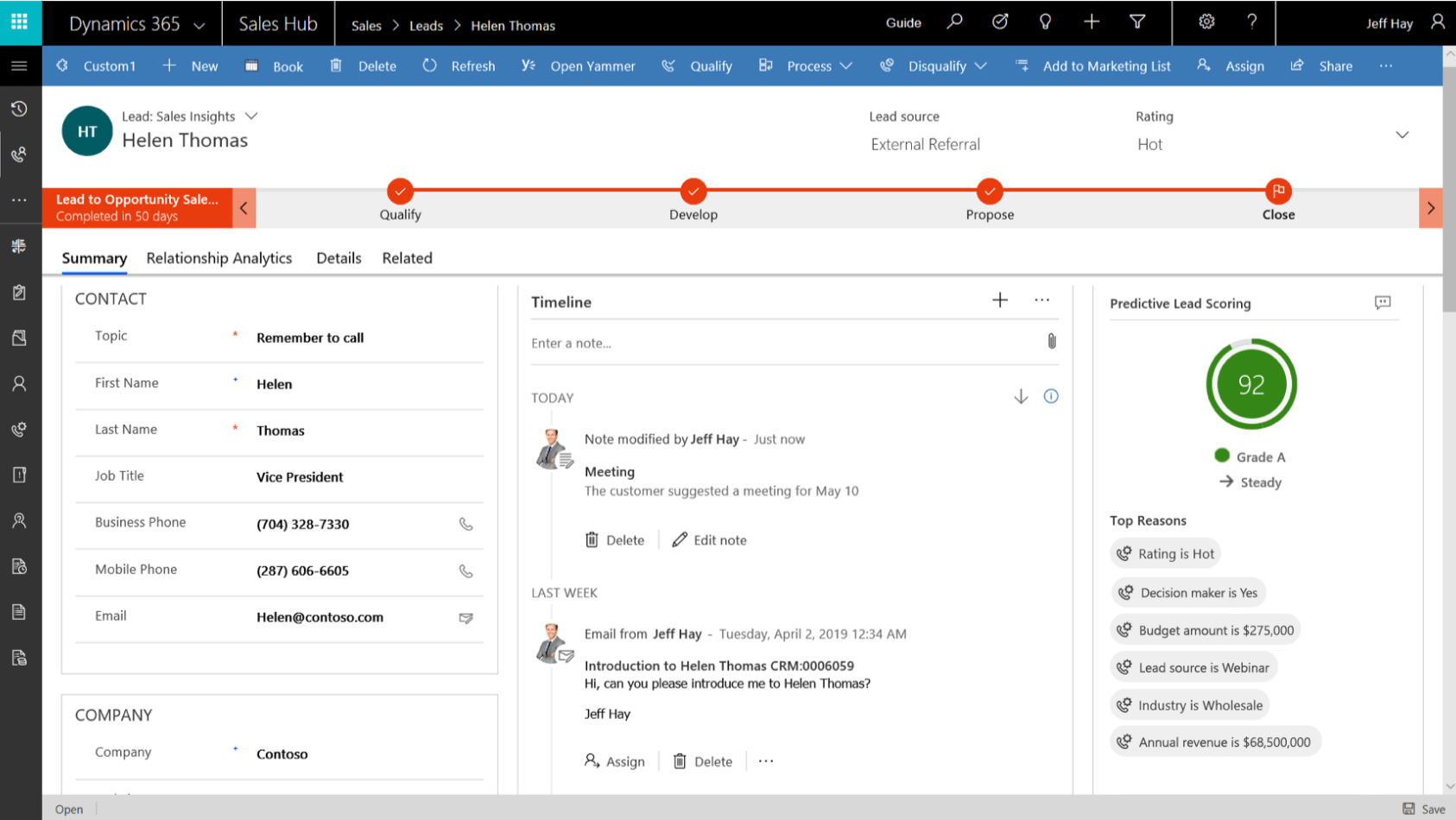 What is Dynamics 365 Customer Service Insights?
Dynamics 365 Customer Service Insights allows you to take the way you serve customers to the next level. As the service you provide is so important and customer expectations are always rising, giving your business an advantage by using AI to influence the way you work is important to staying ahead. Customer Service Insights uses AI and Machine Learning to ensure you get a comprehensive view of your customers and performance, as well as understanding the best approach to resolving issues. Key features of the add-on include:
Get a full understanding of customer satisfaction score (CSAT) drivers
Automated grouping of related support cases into 'topics' – with dashboards allowing you to identify problem areas, improve resolution rates and adapt to trends.
Highlight areas of improvement that can have the greatest impacts, allowing you to quickly evaluate and respond to KPIs and customer satisfaction levels.
View and analyse various dashboards for KPIs, new cases, resolutions, customer satisfaction and topic details.
Visualise customer engagement patterns, agent performance and customer service operations using dashboards with built-in AI, Business Intelligence and Machine Learning capabilities.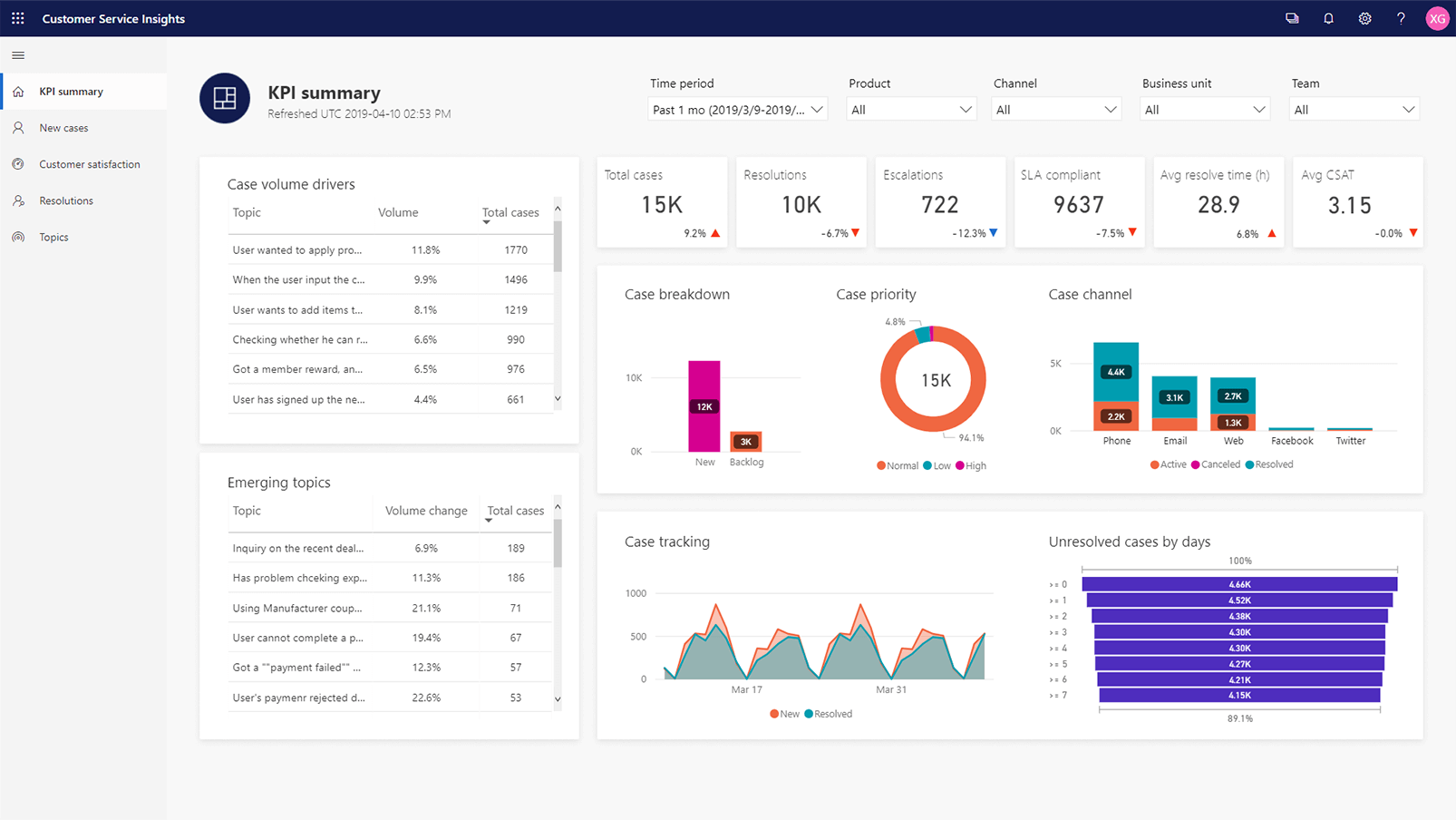 What is Dynamics 365 Customer Insights?
Dynamics 365 Customer Insights is an end-to-end customer data platform (CDP) that has been developed to let you understand your customers in more depth – helping your marketing, sales and service professionals deliver personalised experiences at every interaction. As your customer data is generally scattered across a variety of sources, Customer Insights easily amalgamates this data and utilise AI and Machine Learning to get a '360-degree' view of your customers as well as detailed insights and recommendations to help you provide the highest level of service. Other features of the add-on include:
Ensure your data is secure with corporation-ready security, built-in governance tools and full GDPR compliance.
Extend the application with tools such as PowerApps, Flow, Azure services and Power BI to create detailed dashboards and reports of your data.
Drive operational excellence and instantly respond to customer actions and signals with workflows
Discover and create new audience segments and empower teams with directly embedded profiles and insights.
Use quick-start machine learning templates to predict churn and next best actions.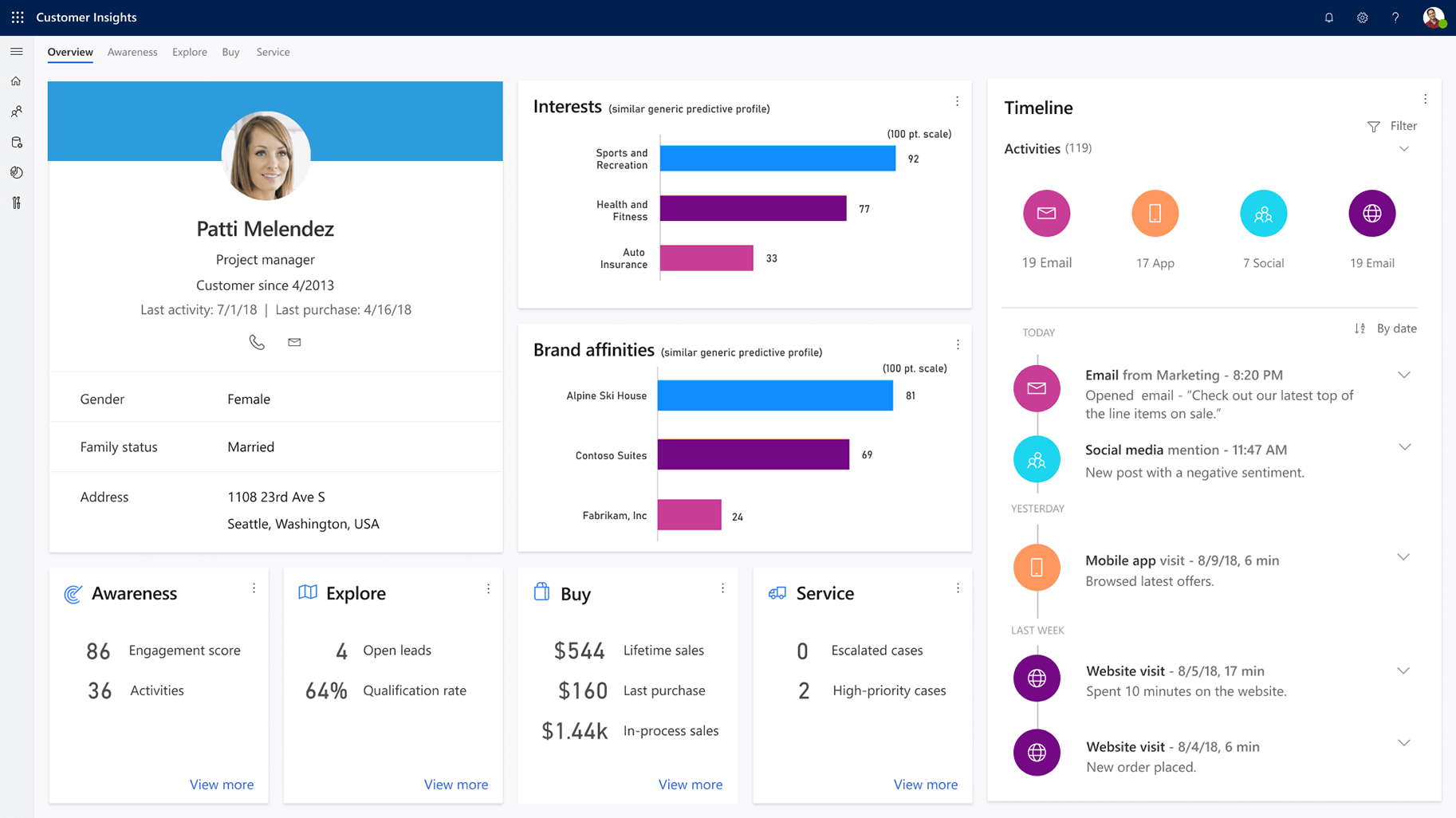 Dynamics 365 fraud protection
Dynamics 365 Fraud Protection focuses on payment and account creation fraud protection and related scenarios in e-commerce, with an adaptive AI that continuously learns and adapts from patterns and trends in data. The solution works alongside Dynamics 365 Commerce to help you drive down fraud loss and increase bank acceptance rates whilst helping drive higher revenue and improve the shopping experience for your customers.
Microsoft has developed a sophisticated technology stack that uses a connected Fraud Protection Network across multiple lines of business and applies cutting-edge AI to help provide more accurate decisions in real-time. This helps enterprises fight fraud while they keep their doors open for genuine customers and partners.
Fraud Protection protects your business through several innovative and advanced capabilities. These capabilities inside the application are grouped into three user experiences that help accelerate your journey towards a more comprehensive fraud protection environment:
Diagnose – Gain insights into fraud issues in your environment.
Evaluate – Assess and evaluate the effectiveness of Dynamics 365 Fraud Protection relative to your current fraud protection solution.
Protect – Use this experience to customize business rules to obtain recommendations for your e-commerce transaction decisions.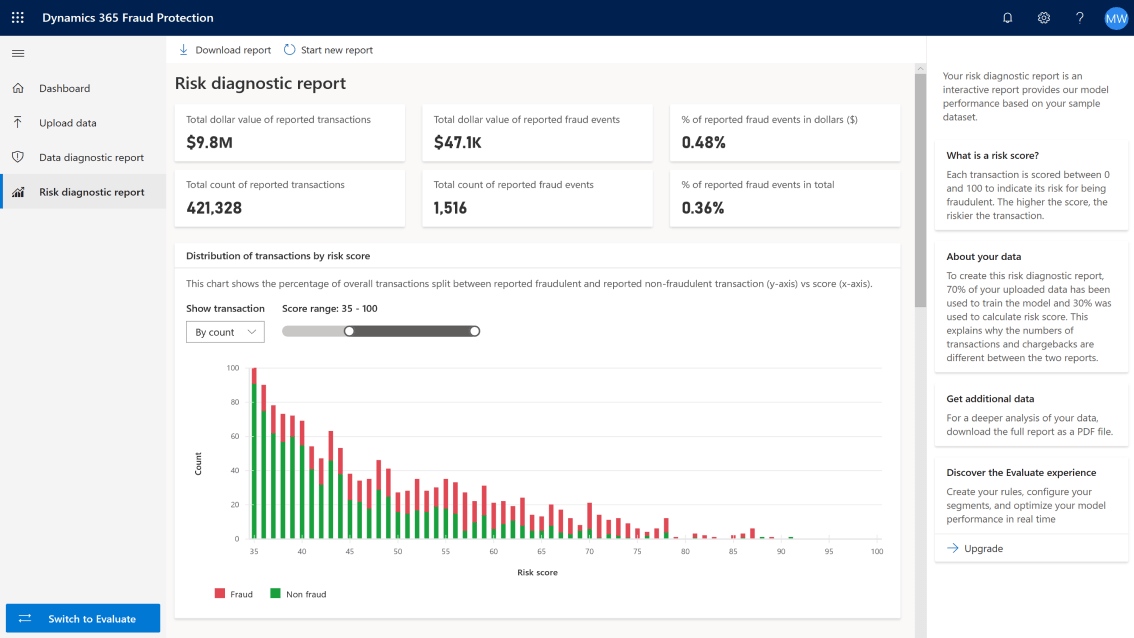 connected store (Preview)
Dynamics 365 Connected Store has been developed to empower retailers with actionable insights to make the day-to-day running of brick-and-mortar stores more efficient. Connected Store maximises the usage of observational data points across stores through the use of cameras and IoT sensors. These data points are then analysed to provide employees with real-time insights about what's happening in the store and can provide trigger based, actionable alerts to help combat problems – such as long queues at the checkout line, or a fridge door being left open and the temperature dropping. These instant alerts help you be more proactive & efficient in your day-to-day jobs, as well as reducing the risk of spoiled goods and also increasing your customers' satisfaction.
Product insights (Preview) 
Dynamics 365 Product Insights works seamlessly alongside customer insights and the rest of the Dynamics 365 suite to give you detailed, actionable insights into your customers, products, service, sales and marketing. Product Insights enable business users to collect signals from their products and services to analyse their customers' usage and experiences – allowing you to learn from it and develop and improve all aspects of your business from it.
Product Insights can be used in certain scenarios for:
Proactive Repair – Rapidly identify problems in products/services and prioritise repairs or design fixes using telemetry to diagnose issues in the field, verify repairs and drive proactive maintenance.
Continuous improvement – measure quality and customer experience, identify improvements, gauge the customers who would benefit and prioritise improvements accordingly.
Product planning – inform the planning of new releases and new products/services using data to identify needs, analyse ROI, and engage with prospects to gain ideas and feedback.
Usage growth – discover what parts of your products/services create excitement and drive retention, as well as what may be hindering your customers.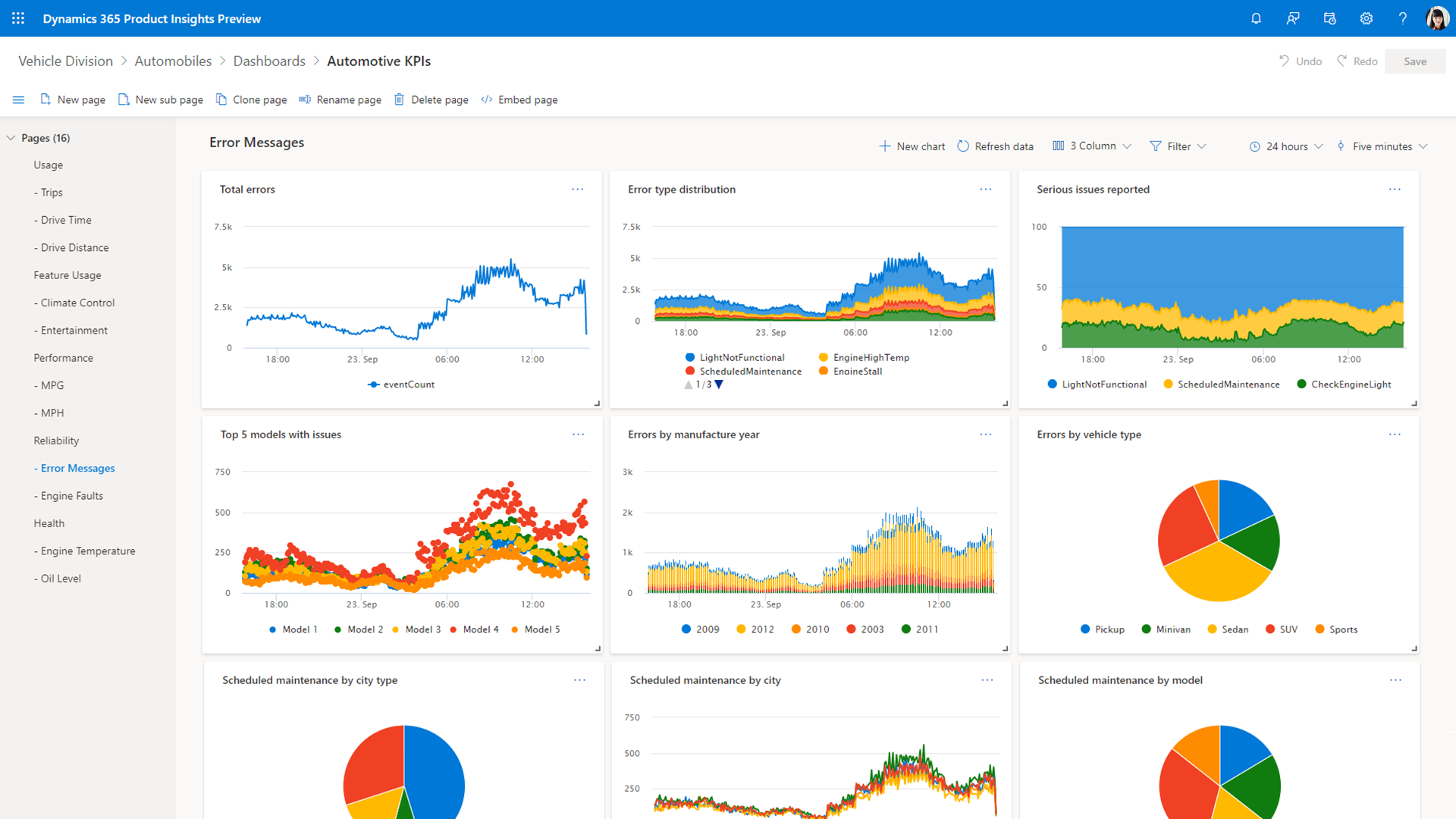 market insights (preview)
Dynamics 365 Market Insights is currently in preview and not generally available. However, it has been designed and developed to help professionals in Sales, Marketing, Customer Service and Finance departments stay ahead of the game with topics related to their work in a quick and easy way.
Key features of Market Insights include:
Find out what customers are saying, seeking and feeling about your brand, product and company.
Learn in-depth about what your competitors are doing, learn about new product launches, pricing changes and other updates.
Track what's going on within your industry, learn about new trends, entrants into the market or rumours of mergers & acquisitions.
Keep an eye on major events that are important for your business such as conferences, trade shows or specific product launches,
What data does market insights use?
Search data – Data points are taken from billions of searches completed by web users that have opted-in on Edge & IE browsers. Each data point is aggregated, anonymised, normalised and converted into signals and insights to ensure the privacy of users who have opted to share data.
News data – Market Insights uses a variety of international news sites to gather data. These sites are analysed for incoming and outgoing traffic to ensure they're ones that are visited frequently.
Web Data – Data is also taken from public websites such as forums, blogs and review pages.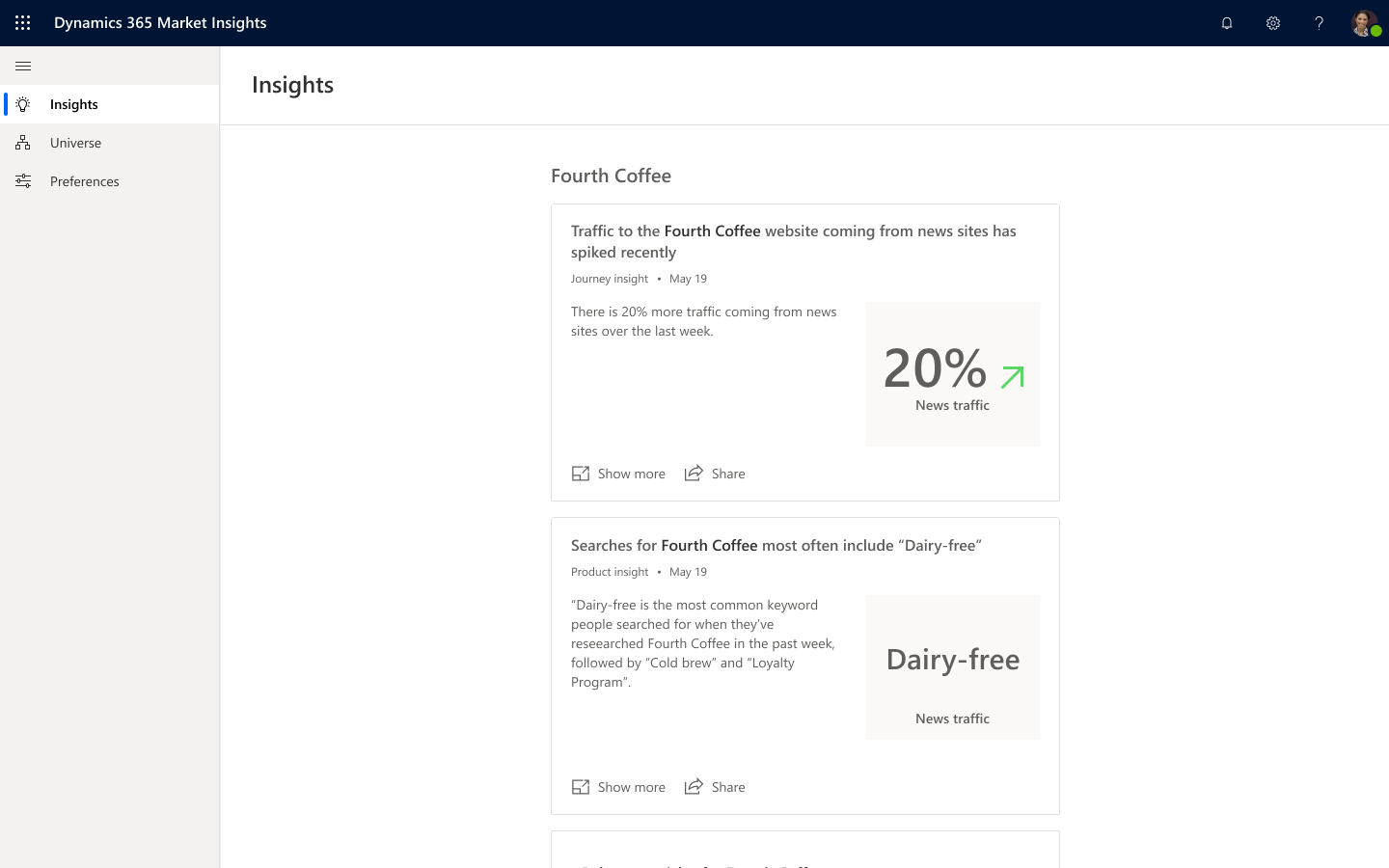 virtual agent for customer service
Virtual Agent for Customer Service is a SaaS add-on for Dynamics 365 Customer Service that allows you to easily create powerful bots through a no-code editor to help solve customer enquiries. The SaaS solution can be seamlessly embedded onto websites and have personalised, multi-turn conversations with your customers and actually act on and resolve any issues thanks to workflows to integrate with services and back end systems – as well as through custom connectors via Microsoft Flow. Virtual Agent can be set-up, used and optimised by customer service teams without the need for developers thanks to no-code editors and performance dashboards that can be used to view performance and continually adjust the bots so they're working at their best.
Virtual Agent for Customer Service helps you:
Empower customer service teams – Easily build bots without needing intermediaries or coding and AI expertise.
Reduce costs – automate common support enquires, helping free time to deal with more complex issues.
Improve customer satisfaction – Provide customers with self-service help to resolve issues quicker and at all hours with intelligent, personalised bot conversations.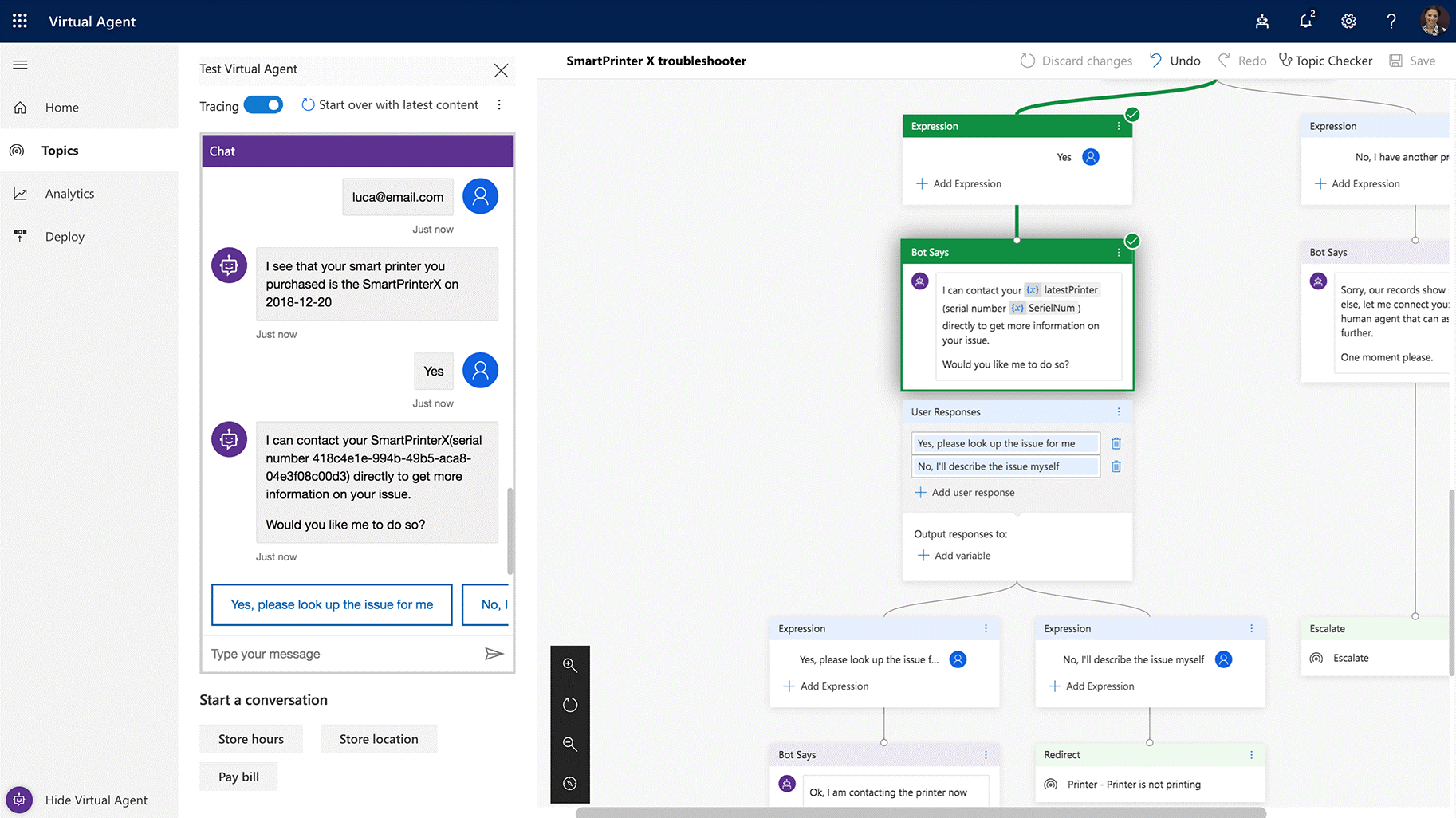 How much does Dynamics 365 AI insights cost?
Following the normal licensing methodology of Microsoft's Dynamics 365 product suite, a subscription license is the only way to purchase any of the three D365 AI Apps.
Sales Insights – from £37.70 per user/month (includes 3 hours/users/month of conversation intelligence)
Customer Service Insights – £56.60 per user/month (Up to 100,000 cases per license)
Customer Insights – from £1,131.10 per tenant/month (Includes 100,000 profiles)
Fraud Protection  –  £7,541 per tenant/month
(Other applications mentioned are still in preview & no pricing has been released. This blog post will be updated once they are available)
We hope this has shed some light on what the Dynamics 365 AI add-ons are designed for and who they can help. If you are a Dynamics user who is interested in taking your business into the future with one of these solutions, please do not hesitate to give us a call, drop an email or simply leave us a comment below.
EMAIL – [email protected]
PHONE – 01908508080