Microsoft are at the forefront of digital transformation, aiming to help businesses 'reimagine how you bring together people, data and processes to create value for your customers and maintain a competitive advantage in a digital-first world.'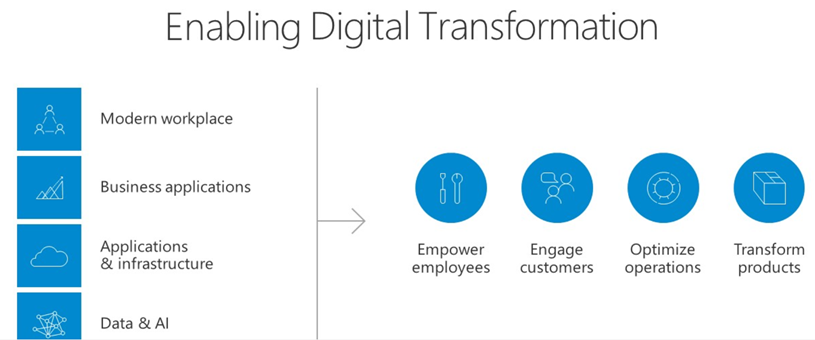 With such a wide range of applications available, Microsoft are a market leader in terms of enterprise tools and applications. These applications range from standard Office 365 productivity tools, businesses back-end systems in Dynamics 365 or utilizing the hundreds of cloud services available on Azure – just to name a few.
However in this blog post, we are exploring a different suite of tools available than those named above. These applications provide extra functionality and improve the way you work with your business data, whether this is through mobile applications, data insights or workflows. This set of applications is the Microsoft Power Platform.
The Power Platform consists of three applications:
Power BI – Displaying your business data in interactive, real-time dashboards and reports to provide detailed insights.
PowerApps – Create custom, no-code desktop & mobile applications running off your data.
Flow – Multi-stage automated workflows that connect to hundreds of apps and services.
These applications handle your data through the use of Microsoft's Common Data Service (CDS). The Common Data Service is a cloud-based tool hosted on Azure which allows you to securely store and manage your business data. Data within the CDS is stored within a set of entities, a standard set of entities are included, however custom entities can be created for specific requirements.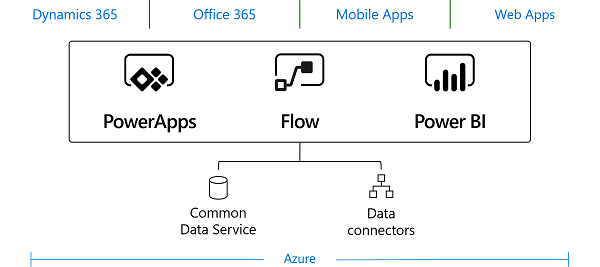 Power BI
Microsoft Power BI is a business intelligence and analytics tool which provides you with real-time insights by presenting your data in a variety of interactive visualisations that are placed within dashboards and reports. You can connect Power BI to the data that is stored within the CDS, or a large number of other data sources, such as Excel or SQL databases or third-party sources such as MailChimp or Google Analytics. You can create custom dashboards and reports to display data from many different areas of your business such as sales, marketing, customer service or any other business functions. Power BI allows you to get deep insights from your data as you can slice, filter and drill-down into it. Natural language (NL) querying is also available within the application, allowing you to ask questions about their data in the same way you'd ask a search engine – dashboards and visualisations are automatically updated to provide you with the answers you need. If you're already a user of Dynamics 365 Business Central, you will see Power BI reports embedded directly into pages within the application to give even quicker insights about your business. You are also able to share and collaborate your dashboards and reports to your team or embed them on websites, in SharePoint, apps and more.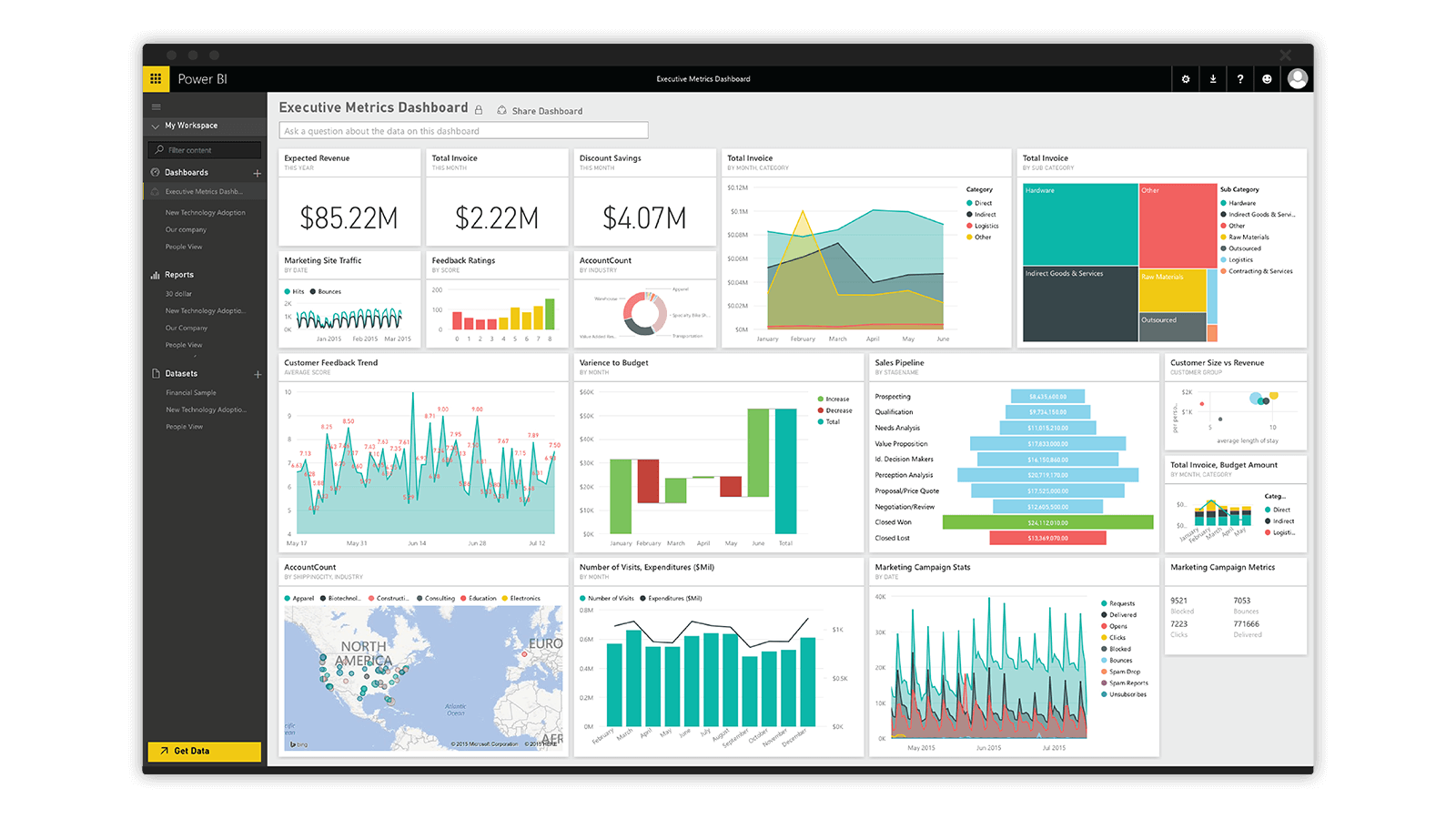 PowerApps
Microsoft PowerApps is a platform that allows users to create and deploy tailored applications that can be used on desktop and mobile devices (iOS, Android, Windows). Both developers and non-developers can create apps within PowerApps as it works in a no-code environment. However, more technical users are able to extend capabilities by using Azure functions or creating custom connectors and integrated solutions. The applications created within PowerApps can be used for a whole variety of functions to help you streamline your business processes and allow users who are away from a desk environment to work on the go from a completely customised user interface. You can create apps for any purpose, such as a simple contact list, a mobile surveying app or an expense processing app – there so much possibility for what can be created. Data from the CDS can be seamlessly connected, as well as data from the 200+ different additional connectors that are available, ensuring your applications display the data you need.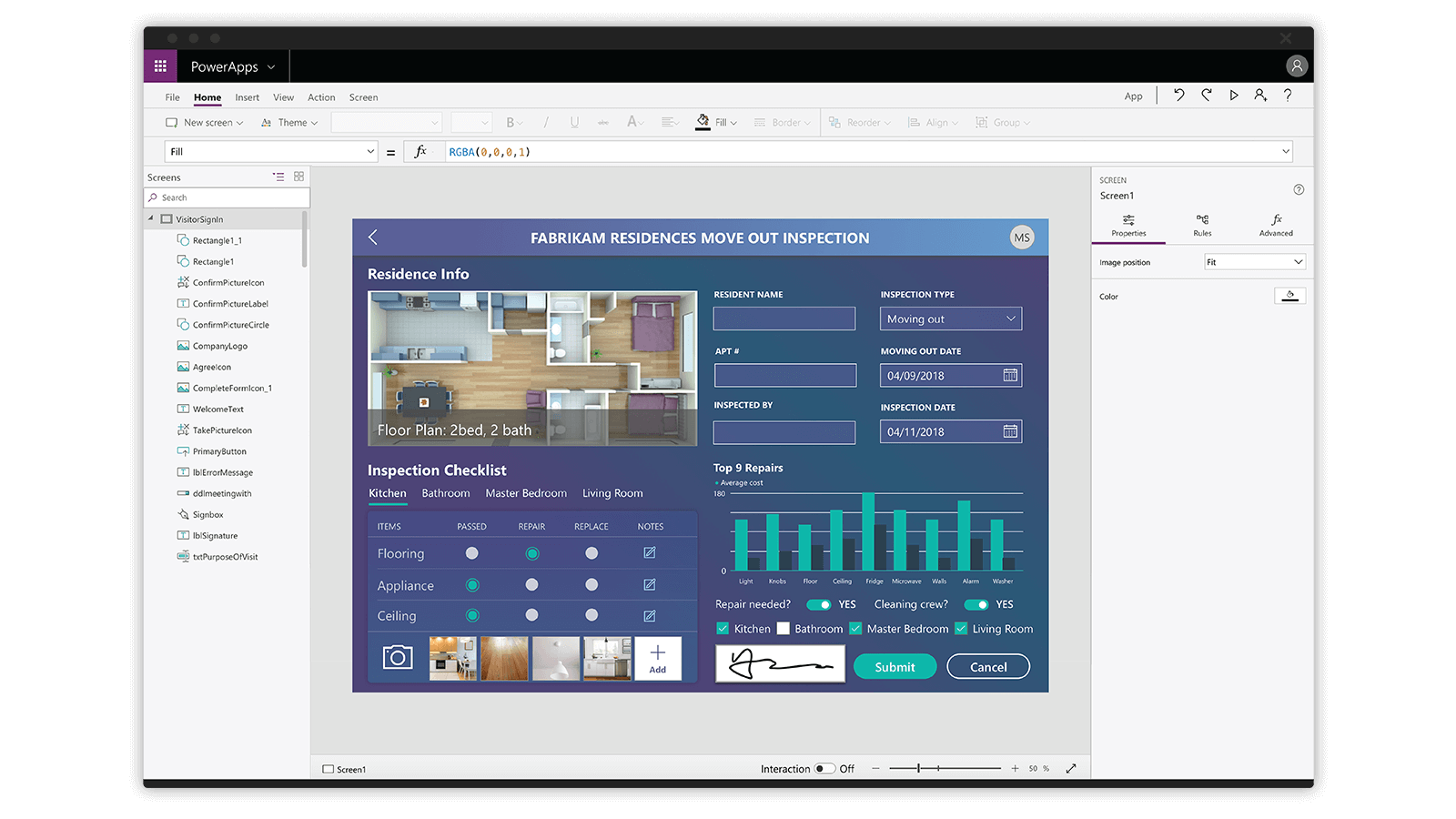 Flow
Microsoft Flow allows you to easily create automated, multi-stage workflows across a whole variety of applications and services. Workflows can be used to improve efficiency and productivity for a whole variety of business functions, helping you automate repetitive processes and keeping you informed when you need to be. Flow works by selecting a trigger and the subsequent actions to follow, it communicates with the chosen connectors in the workflow, automatically completing the actions as a result of the initial trigger. There are so many different uses for Flow that can help you work better, for example, creating a workflow that automatically sends an email notification for approval/review once something has been created in Dynamics 365, or saving an Outlook email attachment to a SharePoint document library. Users are able to create custom workflows for any specific processes, but there is already an exhaustive list of templates available to get going even quicker.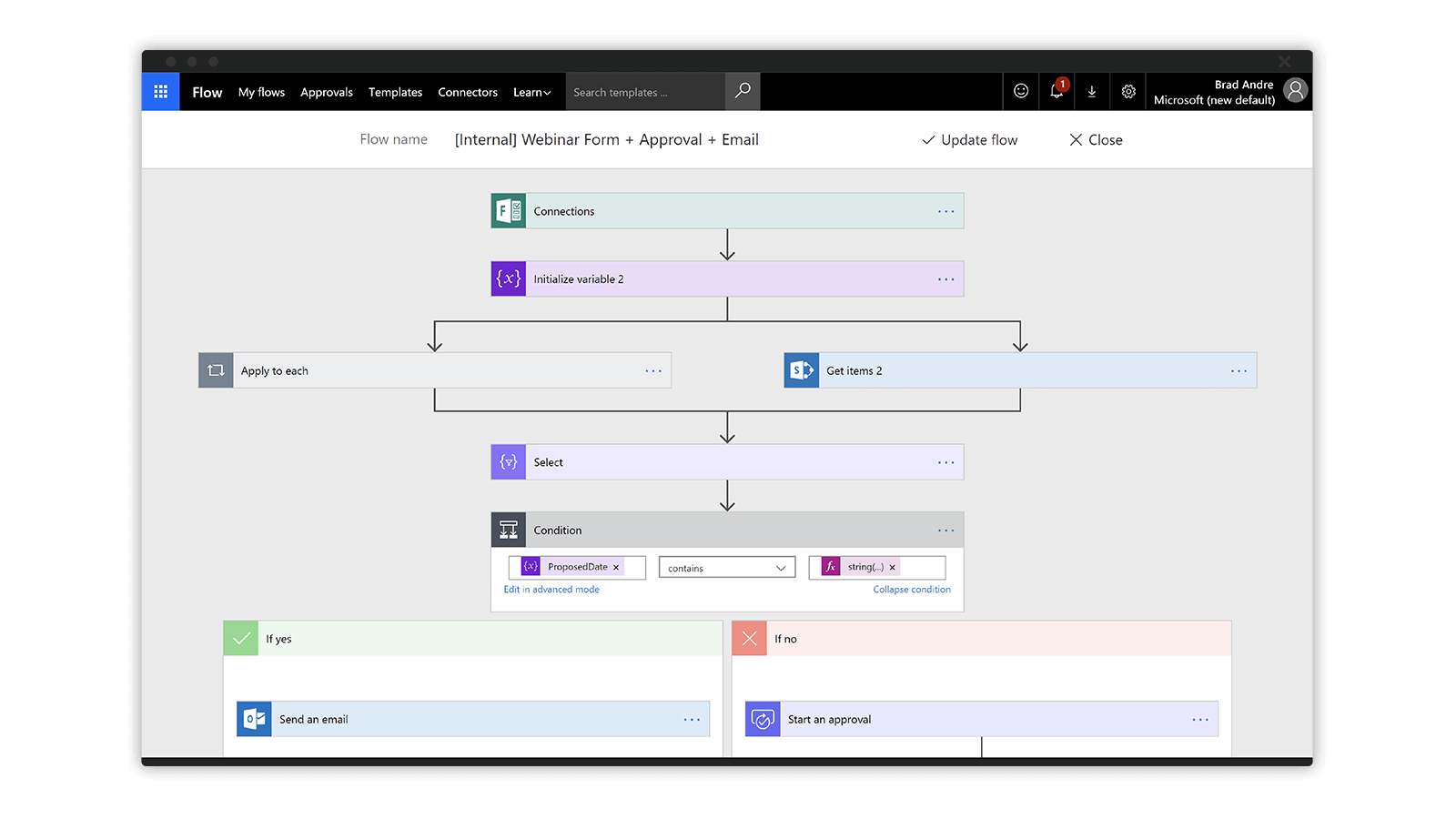 How the can Power Platform work together
All three of these applications have different functionality but can work together to significantly improve your operations. To get a better understanding, here is a scenario in which all three applications in the Power Platform can work together.
An app has been created on PowerApps which allows salespeople to create sales orders on the go, meaning they don't have to wait until they're back in the office to fill out the sales order. The salesperson goes to a client site, finds out what they need to order and fills out the required information on the app, storing the data in the CDS. A Flow workflow has been set up to send an automatic email notification to a manager to approve the sales order as soon as it has been filled out. A Power BI dashboard has been created to display sales data, tracking various metrics relating to item sales, sale locations, number of sales for each salesperson, etc.
Licensing the Power Platform
Currently, there is no licensing bundle for the power platform which contains all three applications under one pricing. However, there are many different plans and ways that these applications can be licensed. This includes separate licensing, or the applications being included within one of Microsoft's plans. PowerApps and Flow are included with a range of Office 365 plans and also Dynamics 365 Plans. For detailed information about which plans include the applications, visit these links:
You are also able to separately license the applications, PowerApps has two plans available, one at £5.30 per user/month and another at £30.20 per user/month. Flow has a few plans available, including a free plan with some slight limitations, but there are also a £4.00 per user/month option and a £10.00 per user/month option available.
Power BI is licensed with three options available. Power BI desktop is the free version, Power BI Pro is £7.50 per user/month and Premium, which is based on POA.
We hope this blog post has given you some insight into the Microsoft Power Platform and how it can be utilised within your business to improve your operations. If you would like any further information please feel free to leave us a comment below, give us a call at 01908508080 or email us at [email protected].