Locate items in your warehouse with the locate item feature in Mobile WMS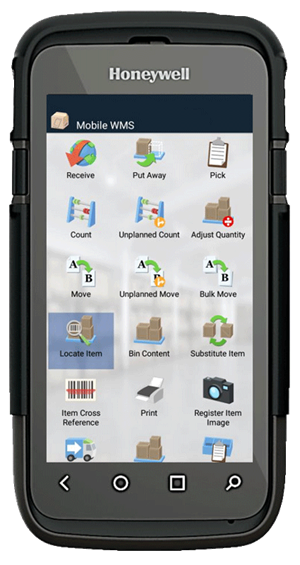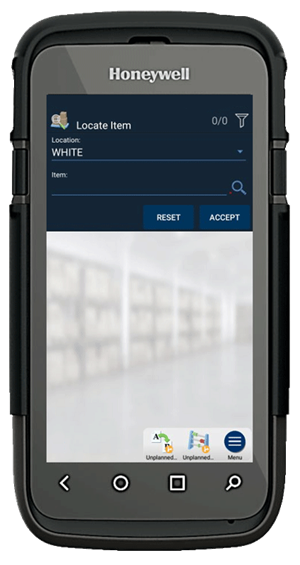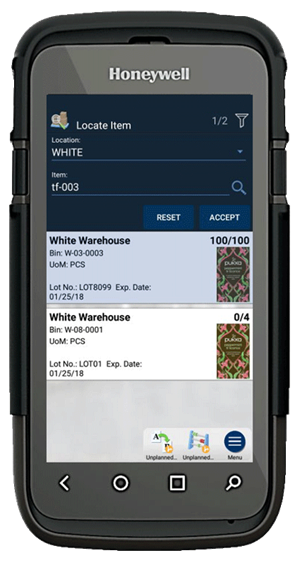 Locate Item
With Mobile WMS it is easy to locate items in your warehouse. With a simple scan of an item barcode, you will be informed of where the specific item is located. You can choose to search for internal- as well as external locations. This built-in flexibility provides a complete overview of your inventory, regardless of which location you find yourself in.
Locate item in Mobile WMS supports:
Searching for the placement of an item in both internal- and external locations
Overview of where your items are in your warehouse
Access to information about the quantity of an item, lot numbers, serial numbers, expiration dates, etc
Visually showing the item on your mobile device in the form of a miniature image
Optimising the processes in your warehouse in synergy with the other feature of Mobile WMS
The Feature Locate Item in Mobile WMS Provides an Overview of the Items in Your Warehouse
When you are scanning item labels, you will get access to a wide variety of information about your items. This could be the location of your items, the total quantity of your items, the lot number of your items, the serial number of your items, and the expiration date of your items. It is also possible to see a miniature image of your items. This image is retrieved directly from your financial system and can be enlarged if you require a more detailed image. This is a great advantage if you need to locate items that look similar but have small differences. Since the final validation occurs when you scan your item barcode, you can always be confident that you have found the correct item.
The Locate Item-Feature Provides Useful Information and Optimizes the Workflow in the Warehouse
With the Locate Item-feature, you also have the option to get information about whether the chosen item is reserved for another sales-/production order or other planned activities such as Move.
We also support the printing of item labels via the mobile scanner. This feature does, however, require an additional Print Cloud license per printer. This license can be ordered separately. Printing can be done on both mobile and stationary printers via Bluetooth and via WLAN/WWAN (Wi-Fi and cable).