Bin Content in Mobile WMS shows the content of a specific bin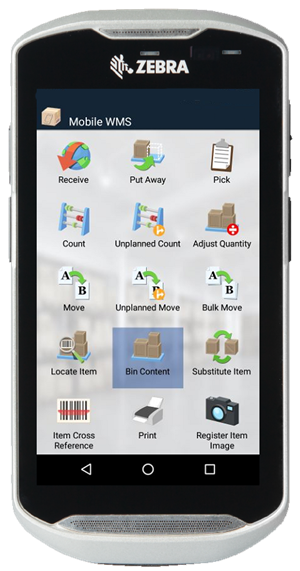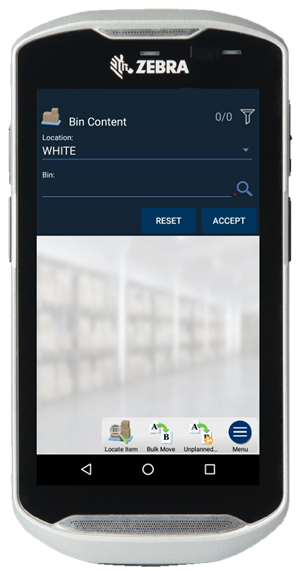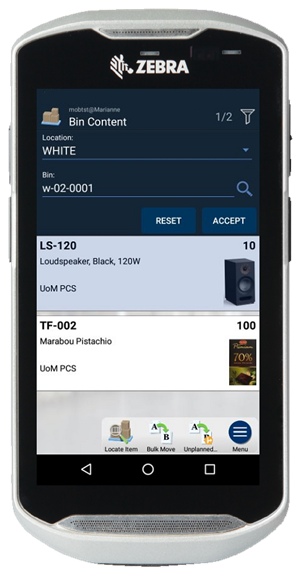 Bin Content
With Mobile WMS it is possible to find out the contents of a specific bin. You can do this directly from your mobile scanner and without the use of a computer. This will save you a lot of the unnecessary steps that would usually be required to get this information.
Bin Content in Mobile WMS supports:
Displaying items in a chosen bin
Displaying information regarding quantity, lot number, serial number, etccta
Manual entry in case of defective barcode
Visual display of items in a chosen bin in the form of images
Scan Bin Code and Get Data About Bin Content
Just by scanning your bin code, you will get relevant data about the bin content. You will see which items are registered in the chosen bin. You are also able to obtain information about quantity, lot number, serial number, etc.
In case the barcode on your bin is defective or otherwise unreadable, you are able to enter the bin manually. As an extra feature, you can also, via the scanner, initiate the print of a new bin barcode, so that you are maintaining your bin barcodes ad-hoc.
Visual Display of Items in a Chosen bin in the Form of Images
For the sake of clarity, we have also made it possible to show images of your items. The image comes from your ERP system and is displayed for each item line in the form of a miniature image. Should you prefer, you can choose to show the item in full size (full screen). This can be a great advantage if you have multiple items in a specific bin. The image can help you locate the item you are searching for.
In case you need to find a particular item, which can be located on other bins, this is also possible. All you need to do is to choose Locate Item via our shortcut menu. This feature enables you to see where the item is otherwise located.
Bin Content can also be of great help if you need to perform an Unplanned Move. The advantage here is that you, before completing the move, can get information about the total quantity of a specific item from your ERP system. In the case of a discrepancy, you will find out about this before you move the item and can then use the feature Unplanned Count to correct the error immediately.
This feature is a look-up feature, which is just one of many useful features in Mobile WMS.