Microsoft Azure Cloud Service
Build your next great solution 
Speak to an expert about migrating to Azure
Why choose Mercurius for Azure?
As a Gold Microsoft Partner, we are an excellent choice to help you get started with your cloud transformation.
We have a strong and stable team with good expertise.
24×7 Availability to support
Fast service and Response Time.
Cloud and On-prem infrastructure maintenance and support
Experienced /Certified resources
Benefits of choosing Azure
More than 95% of Fortune 500 Companies are using Microsoft Azure
With a flexible and secure platform, Microsoft Azure is a leader in the cloud market. It is ready to solve your business challenges, provide your cloud service needs, and unlock the possibility to innovate.
Why use Microsoft Azure?
Freedom to deploy apps as desired with open-source technologies
Protection with the most trusted cloud in the industry Integrated tools to accelerate app innovation
Valuable insights for every development phase
On top of this, Azure can be adapted to any kind of infrastructure and you only pay for what you use. Using the cloud also eliminates the need to invest in hardware like servers.
What Azure services Mercurius IT provides
At Mercurius IT we can provide the full suite of over 200 Azure products & services, with a particular focus on:
Hosting/Computing
Storage
On-Premise to Cloud Migrations
Networking
Security
Integration
Internet of Things (IoT)
Analytics
We cover the benefits of choosing the Azure platform in the blog linked below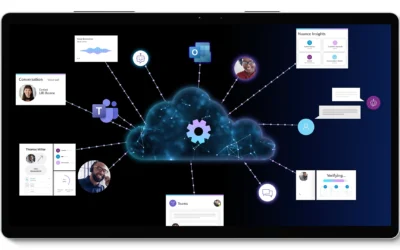 Recently at Microsoft Inspire, their annual partner conference, the Digital Contact Centre Platform was introduced. Wanting to build on the customer service services already on offer, the platform brings together existing solutions and services into a fully-fledged...
What is Microsoft Azure?
Microsoft Azure is a complete cloud solution to help you build, test, deploy, and manage applications anywhere, anytime. Use preferred programming languages, frameworks, and infrastructure – even your own data centre and other clouds – to achieve your goals.
Azure can be utilised as:
Software as a Service (SaaS)
Platform as a Service (PaaS)
Infrastructure as a Service (IaaS)
The infographic below explains the difference in management responsibilities between methods of deploying Azure, from On-Premises to SaaS and the hybrid models in between these two