Case Study on Den Hartogh
On-premises to Cloud-based ERP migration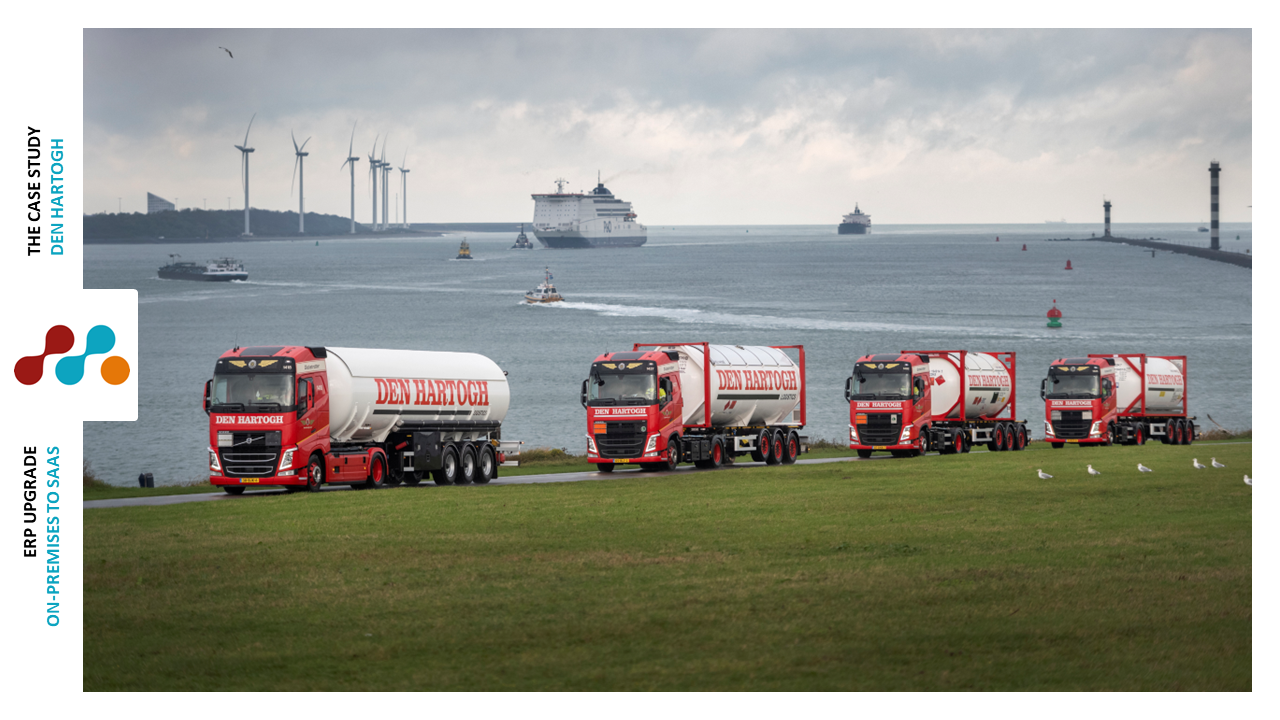 Customer
Den Hartogh
Country
United Kingdom
Industry
Logistics
About Den Hartogh
Den Hartogh Logistics is one of the leading Logistics service providers. They are a family-owned organisation that was established in The Netherlands in 1920. As a bulk logistics service provider for the chemical, gas, polymer and food industries, they combine the best elements to create the optimal solution for each situation.
Den Hartogh has a presence in every region of the world, with premises/offices in 50 locations within 27 countries. Their workforce consists of more than 2,000 people, and their modern equipment includes more than 24,000 tank containers, 5,750 dry bulk containers and specialised dry bulk trailers, 350 tank trailers and 650 trucks.
The Challenge
The infrastructure at Den Hartogh consisted of a Network/Server, Operating Systems, EOL virtual environment along with EOL hardware & conventional email system. They experienced performance issues because of outdated systems resulting in negative business impact. For this reason, they reached out to us for legacy infrastructure support.
The Solution
We started by providing offshore support for their legacy IT system. Providing Levels 2, 3 & 4 support remotely and guidance to their onsite IT teams.
We evaluated all the IT systems in preparation for the solutions required. Once the solutions were identified, we planned & implemented the solutions in areas such as OS upgrade, virtual environment upgrade/migration, database upgrade/migration, monitoring system, and backup solutions for on-prem & Cloud.
We then decommissioned all legacy systems, replacing them with edging server hardware, firewall, and switches.
We implemented a new AV, new server, and network hardware. Migration to Office 365, a cloud-based emailing system, was also implemented.
We implemented Active Directory upgrade & optimisation, including the implementation of Azure AD services, as well as migration from edging Citrix environment to MS RDS environment with RDS management & monitoring tool.
Migration of ERP system from on-prem to cloud SaaS-based module was achieved.
Guidance & assistance on cyber defence solutions were implemented.
A few months after our original support, we remotely implemented Azure Kubernetes Cluster, including Datacentre Rack consolidation planning, guidance, and implementation.
The Benefits
This being an IT Infrastructure modernisation project, we helped Den Hartogh establish a robust IT setup with new technology. We recommended and implemented the entire IT infrastructure.
Enterprise-level inventory management system helps consolidate assets information within their multiple locations.
They have experienced cost optimisation due to server and hardware refurbishment, including a warranty for peace of mind.
We continue to provide aftersales client support for all IT infrastructure recommended, planned and implemented.